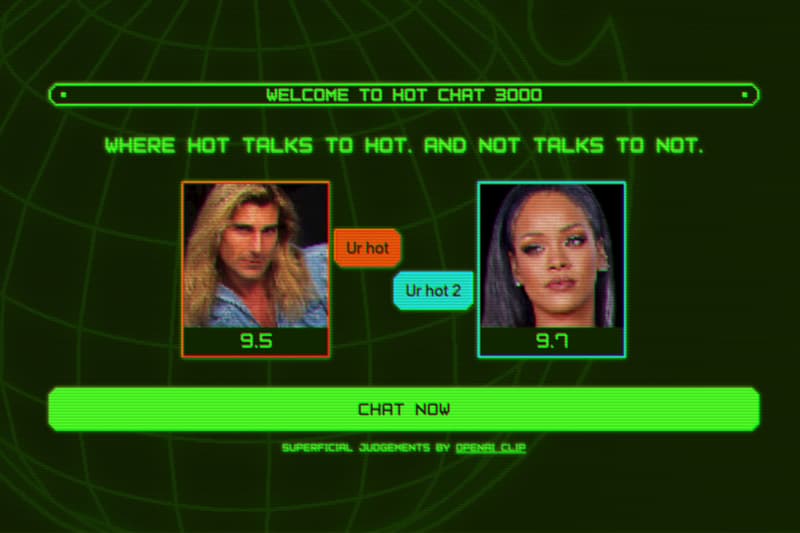 Tech
Hot or Not? Let MSCHF's New Online AI Chatroom Be the Judge
Prepare to find your perfect match.
Hot or Not? Let MSCHF's New Online AI Chatroom Be the Judge
Prepare to find your perfect match.
Following the release of its (frankly, genius) Tax Heaven 3000 dating simulator, art collective MSCHF is back with another unique invention, this time utilizing AI to create a new online chatroom site.
Titled Hot Chat 3000, the new site allows users to take a new photo or upload one from their own library before the chatroom rates the person's attractiveness. "MSCHF's creation has people in an absolute stir.  Hot Chat 3000 uses advanced AI to rate a person's hotness and match them with someone equally hot or not to chat with," explains the reporter in the trailer clip.
The prediction server rates the attractiveness of the person based on their submitted photo and generates a rating on a scale of 1 to 10. The user is then only allowed to chat with other people in their specific attractiveness range, i.e. if you're given a rating of five you'll be matched with those ranging from 5 to 5.9.
Trained by OpenAI on a dataset of 400 million image-text pairs, the machine-learning model pairs the user-submitted images with captions which then determine a score, based on the model's understanding of beauty — as explained by MSCHF. "The outputs of LLMs (Large Language Models) are a reflection of the data they were trained on. Hot Chat 3000 deliberately sets out to expose, visualize, and exacerbate theses biases," explains the group.
Have a glimpse at the new chatroom above, and head to the chatroom site to read the brand's full tech statement.
In other tech news, Balenciaga launched an augmented reality agriculture experience.
---
Share this article