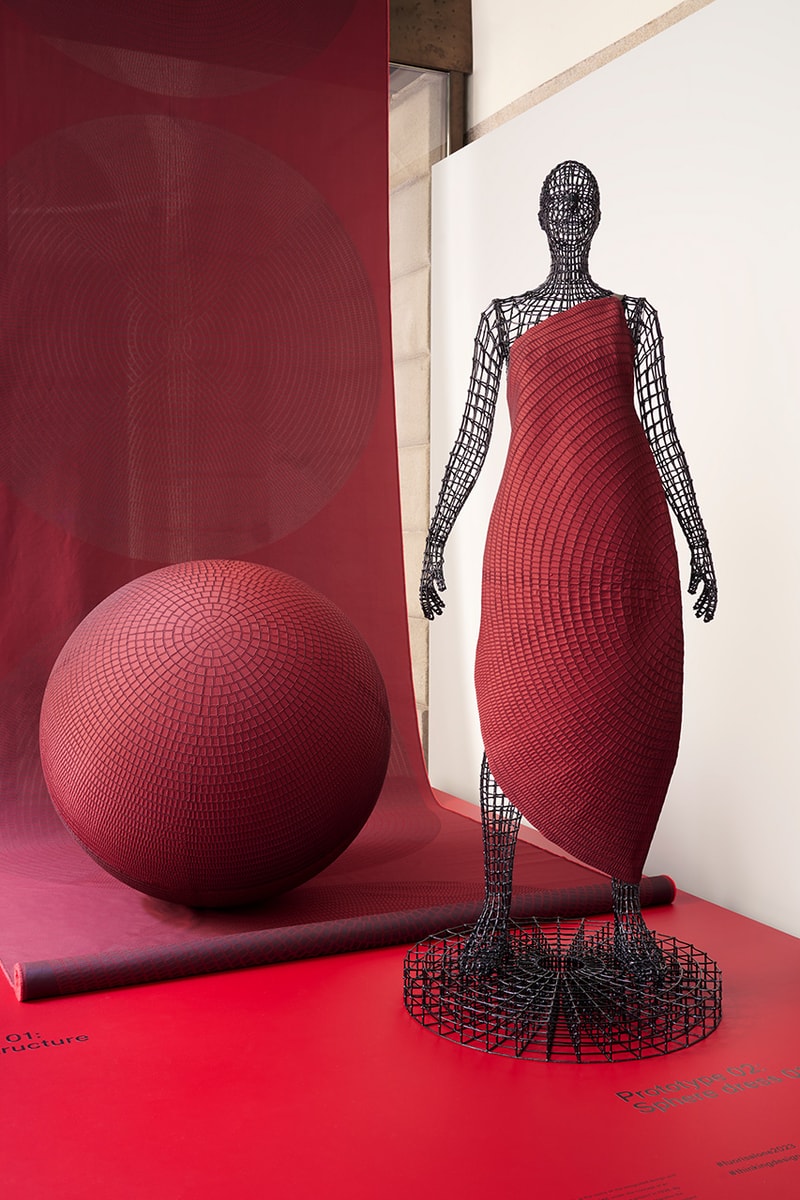 The Top 5 Fashion Exhibitions From Milan Design Week 2023
From Kiko Kostadinov's take on Kazuhide Takahama's "Naeko" collection, to A-POC ABLE ISSEY MIYAKE's advanced design.
Art & Design
The Top 5 Fashion Exhibitions From Milan Design Week 2023
From Kiko Kostadinov's take on Kazuhide Takahama's "Naeko" collection, to A-POC ABLE ISSEY MIYAKE's advanced design.
Milan Design Week, also known as Salone del Mobile, is undoubtedly the most extensive and distinguished design event worldwide, held annually in Milan, Italy. After three years of disruptions, the event returned with a bang, showcasing a plethora of exhibitions, installations and events from across a range of industries, making it a hub for creativity and innovation.
As it is hosted in one of the fashion capitals of the world, the event serves as a natural destination for both luxury fashion brands and emerging designers, to shape the future of thinking and making. It also provides them with an opportunity to interact with their consumers while allowing visitors to experience cutting-edge design firsthand.
From Chateau Orlando's eclectic mix of influences to Louis Vuitton's grand-scale exhibition, this year's edition was a celebration of fluidity, where contemporary art, tradition and innovation converged. Etro highlighted its tradition and heritage while pushing the boundaries of modern design. Meanwhile, collaborations between A-POC ABLE ISSEY MIYAKE and Nature Architects and Paradisoterrestre and Kiko Kostadinov demonstrated design's ability to evolve and adapt.
At Hypebae, we've handpicked the top five fashion moments from the week to bring them to the limelight, keep scrolling to discover them.
Chateau Orlando's "Narcissus at the Fountain" Collection
Chateau Orlando, the label created by English artist and designer Luke Edward Hall, showcased its best qualities of curiosity, color, optimism and romance at Salone del Mobile. Its latest small homeware collection, "Narcissus at the Fountain," featured a palette of soft, earthy hues that perfectly complemented the season. The collection included cushions, trays and a limited-edition poster adorned with motifs inspired by Hall's original drawings, as well as vide poche crafted by Ginori 1735, one of Italy's most distinguished porcelain manufacturers. The cushions, made using a jacquard technique, boasted characterful texture. As always, the collection artfully combined a diverse range of influences, including ancient and contemporary art, vintage clothing, folklore, mythology, flowers, books and travel, resulting in an eclectic mix that was both captivating and unique.
Etro Home Interiors and Home Collection by Marco De Vincenzo
Renowned for its textile research and meticulous attention to detail, it was only fitting for Etro to highlight its tradition and heritage during Salone Del Mobile. The esteemed Italian luxury house enlisted the expertise of its creative director Marco De Vincenzo to infuse his modern and poetic aesthetics into a range of hybrid furnishings, accessories, objects and fabrics. Etro's showcases were a sight to behold, from the captivating "Woven Spectrum" art installation, co-created with American artist Amy Lincoln, to the immersive set "Diving into Patterns," in partnership with the ONIRO Group, which explored the Maison's patterns in a new and exciting way. The domestic scenarios featured at the exhibition were characterized by vibrant colors, opulent fabrics and natural elements that gave rise to new worlds and innovative ways of living.
"THINKING DESIGN, MAKING DESIGN: Type-V Nature Architects" Project by A-POC ABLE ISSEY MIYAKE
"Thinking Design, Making Design: TYPE-V Nature Architects Project," presented by A-POC ABLE ISSEY MIYAKE, delved deeper than just visual aesthetics, exploring the crucial role of design in structure, materiality and production. Its collaboration with Nature Architects showcased a series of prototypes, highlighting the potential and innovative possibilities of a single piece of cloth. One of the standout pieces was a jacket that required minimal sewing and transformed from a flat fabric into a three-dimensional form when exposed to high-temperature steam. The joint project seamlessly integrated Nature Architects' latest design solutions with A-POC ABLE ISSEY MIYAKE's advanced design and manufacturing system, exhibiting the future of clothing production and offering prospects for its applications in furniture, lighting fixtures and even architecture.
Reimagining Takahama, Naeko Collection Special Edition by Kiko Kostadinov
Paradisoterrestre, the historic Italian design brand, enlisted menswear designer, Kiko Kostadinov to reimagine signature pieces from Kazuhide Takahama's renowned "Naeko" collection, resulting in a truly vibrant display. With Kostadinov's profound appreciation for Japanese visual culture and aesthetics, this collaboration presented a unique opportunity to witness his reinterpretation of Takahama's impactful oeuvre. Drawing inspiration from his partner Deanna Fanning, as well as the patterns used in her and her sister Laura's graduate collection, Kostadinov's signature aesthetic was a perfect complement to the rigorous structures that are characteristic of Takahama's work. The resulting objects paid tribute to the history of the Japanese architect's work while placing them directly into the new century, equally timeless and contemporary. Notable pieces from the collection include the "Naeko" ceiling lamp, sofa and armchair.
Louis Vuitton's "Objets Nomades"
Louis Vuitton was one of the luxury fashion houses to command attention during Milan Design Week due to the grand scale and ambitious nature of its exhibition. For its sixth-year edition, the French Maison presented the latest additions to its "Objets Nomades" collection of innovative and practical furniture and design objects. Louis Vuitton presented a range of breathtaking pieces, including Atelier Oï's "Origami Bowls" and the stunning "Quetzal," which showcased the intricate beauty of nature with remarkable simplicity. The iconic "Disco Cocoon" and playful "Mirror Bomboca Sofa" by Fernando and Humberto Campana also stood out, along with Marcel Wanders' elegantly designed "Capeline Lamps" and Studio Louis Vuitton's Bookends, created to mark the publication of Skin: Architecture of Luxury. To top it all off, Louis Vuitton enlisted Marc Fornes to continue its tradition of "Nomadic Architecture," resulting in a gleaming aluminum pavilion that became one of the week's most talked-about and widely shared moments on social media.
---
Share this article