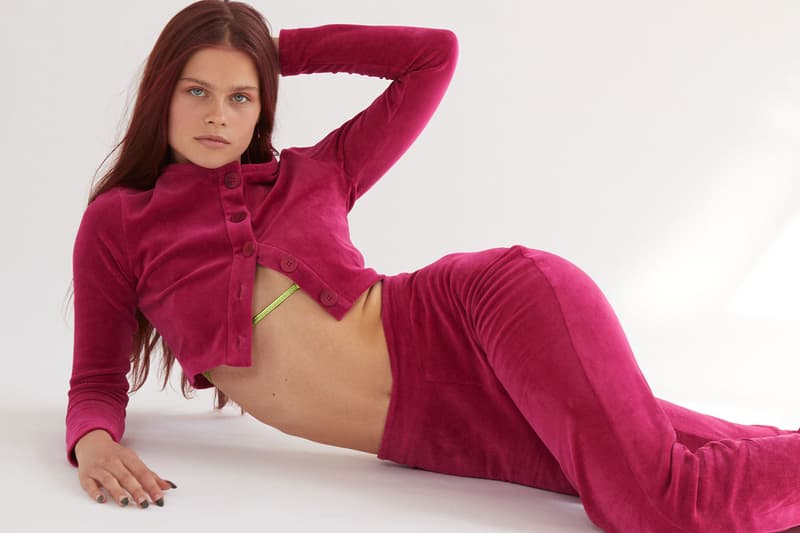 Fashion
Alterations App SOJO Wants to Make Tailoring Cool Again
The app just launched a new partnership with London-based label, Peachy Den.
Alterations App SOJO Wants to Make Tailoring Cool Again
The app just launched a new partnership with London-based label, Peachy Den.
For the longest time, professional tailoring was seen as something that only luxury shoppers could afford. Once reserved for society's elite, the concept of alterations is one that's seen a resurgence of late — likely due to an increase in sustainable mindsets coupled with the current cost of living crisis — and there's one company spearheading the trend amongst the younger generations.
Founded in 2021 by Josephine Philips, SOJO was born from frustrations surrounding the archaic garment-tailoring process, designed to update it and make alterations accessible and achievable for everyone. "It's one of the oldest industries in the world but it has remained more or less untouched, while other industries have modernized over the years through tech and digital innovation," Philips tells Hypebae.
The entrepreneur saw this as an opportunity to revamp and reinvent tailoring for a modern audience and in the last few years, SOJO has grown to over 20 employees. Its latest offering comes in the form of a partnership with London-based label, Peachy Den, resulting in a built-in function on the brand's website which allows consumers the opportunity to alter the leg lengths of their purchases. Born from feedback from Peachy consumers, who frequently express the desire for shorter Kernel jumpsuits, alterations will be available through the website and at the brand's upcoming Notting Hill pop-up.
View this post on Instagram
Speaking about how the partnership with SOJO came about, Peachy Den's founder Isabella Weatherby explains, "My inbox is flooded with partnership/platform requests, but SOJO caught my eye immediately. Finally, a platform that offers a seamless repairs & alterations service, where has she been? A few minutes into our first call, I knew we were in the safest hands with Josephine. I am so excited to offer our community the opportunity to alter new purchases and repair old pieces, giving them a new life."
We caught up with Josephine Philips, founder and CEO of SOJO, to find out more about how SOJO started, the rise and fall of convenience culture and how the partnership with Peachy Den helps to introduce tailoring to a new audience.
Scroll down to read the full interview.
Tell us a bit about how SOJO began and how the idea came about:
The idea for SOJO was born out of a personal need, I love shopping second-hand and would often find myself finding incredible vintage pieces that were perfect in almost every way, except fit. When I'd try to get the pieces tailored, the entire process was so arduous — the experience would be inconvenient to the point of putting me off trying. I wanted tailoring and repair to be an important part of my slow-fashion habits but the process just felt really archaic. It's one of the oldest industries in the world but it has remained more or less untouched while other industries have modernized over the years through tech and digital innovation and I saw a real opportunity in this.
View this post on Instagram
Alterations and tailoring can be an expensive addition to the modern purchasing process, how does SOJO ensure it keeps its service accessible and affordable?
In recent years, tailoring has usually only been commonplace in high fashion circles but part of SOJO's mission is to make the service accessible and affordable to more people. Many of our tailoring price points are around the £10-£20 mark and this is to try and make it a feasible add-on to many purchases in both the mid-market and mass market space. Having said that, we're not keen on making our prices too cheap for two reasons: the first is that we employ our tailors at our in-house studio and we believe that the people who make, tailor and repair our clothes should be paid fairly.
The second is that at SOJO we believe in a culture in which customers understand the true value of the clothes they wear and are committed to investing in their longevity – and given people are more likely to wear pieces that fit well and make us feel great, if you invest in tailoring at the point of purchase, the cost per wear actually goes down. How many of us have a pair of trousers that are a bit too long so you avoid wearing them on a rainy day in case they drag on the ground and get wet? Or are fit a little bit too snug on the stomach making them uncomfortable if you eat a big meal? Getting an item tailored means you won't be looking to "replace" that item anytime soon!
Despite the fact that tailoring used to be the norm, it feels as though tailoring is having more of a resurgence in recent times, what do you think has contributed to this rise?
I think there are quite a few reasons for the rise of tailoring. There's definitely a growing market interest in customers adopting a more circular mindset and tailoring is a key part of that as it's all about investing in the longevity of your item. I also think there is a direct correlation between the rise in second hand shopping and the rise in tailoring. Second hand comes in one size – if you find something that you really love but doesn't quite fit then tailoring is the only answer. I'd also be remiss if I didn't say SOJO! Start-ups usually come into spaces and make things so much easier (think Uber and what they did for getting taxis) and in turn that incentivises certain behaviour and cultural shifts.
View this post on Instagram
Outside of cost and convenience, what do you think stops consumers from mending and repairing their clothes? How does SOJO aim to change that perception?
I definitely think one of the things stopping consumers from mending and repairing is actually knowing what can be done! So many people think if they've had a big rip in their crotch that that's the end of that item, or if a moth has eaten away at the fabric that the jumper is destroyed — but there's always patching and darning that can be done and a big educational piece needed culturally for people to know that repair should be the go-to option instead of the bin.
Regarding SOJO's work to try and change perceptions, one of the downfalls of the convenience culture is that we have learned to expect things quickly and at a low price, which often means the most "convenient" thing to do is to choose to replace an item rather than repair it. At SOJO we want to promote a slower, more considered approach to fashion. We find that once a customer chooses to repair one item, they're so impressed and connected to that item that they will start to look at the rest of their wardrobe to see what else they might need to repair – hopefully catching items at an earlier stage of their wear before the worst damage is done.
SOJO is also trying to increase the amount that people place emotional value on the clothes that they buy and own and how repair can add to that story – so instead of quietly bragging about the bargain price you bought something for, you're loud and proud that you've owned this jumper for 10 years and had it repaired 3 times.
The new partnership with Peachy Den furthers SOJO's shift into the commercial sphere, how does working directly with brands help to encourage consumers to entertain the idea of alterations?
Partnering with brands such as Peachy Den is such an important part of the shift in consumer behaviour, particularly when it comes to fit. Brands have little choice but to produce clothing in binary sizes, but we know that humans are not binary in any way – we are all different heights, have varying waist to hip ratios etc which can often be a barrier for some customers to engage with certain brands that they see their friends wearing and looking great, but don't quite work for them.
We also know that fit is one of the leading reasons why customers choose to return a clothing purchase, especially when they've bought it online and haven't been able to try it on. By working with brands we're then able to get customers to start adopting tailoring right at the point they need it – when they open their highly anticipated parcel and try on their new beloved item but sadly discover that the fit isn't quite right.
View this post on Instagram
For more information about the partnership with SOJO and to purchase a piece with alterations, head to Peachy Den's website.
---
Share this article