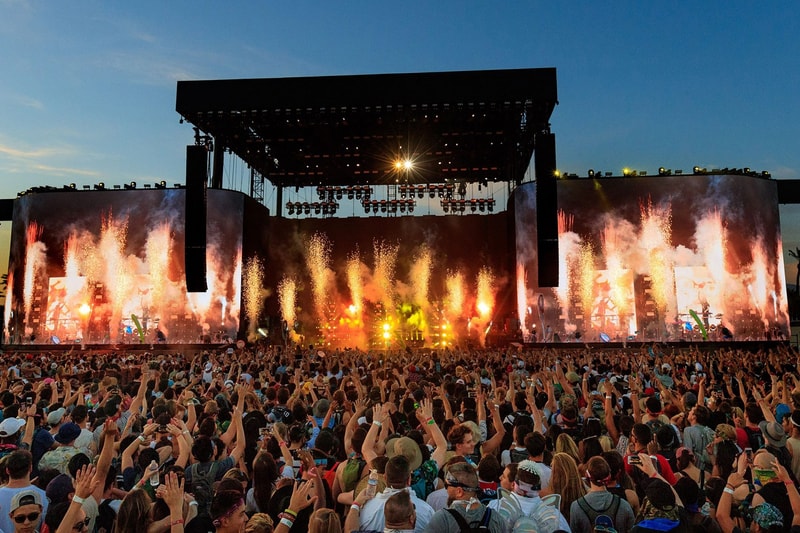 Music
Your Definitive List of the UK's Biggest Music Festivals Taking Place in 2023
And the best acts to watch at each one.
Your Definitive List of the UK's Biggest Music Festivals Taking Place in 2023
And the best acts to watch at each one.
Festival season is finally upon us and after a few years of cancelled shows and virtual performances, we're all ready to kick things into overdrive this time around. Of course, there are the UK mainstays like Glastonbury, Reading & Leeds and Isle of Wight, but each year, there appear to be more than a few underdogs that quickly end up becoming our favorite experiences. This year, we're gearing up for the return of All Points East, reclaiming its rightful place in East London's Victoria Park, while West London plays home to an all-new festival, dubbed Off The Rails.
In terms of who you can expect to see, major global acts like Lizzo, Kehlani and Billie Eilish will be making their way back to the UK this summer while London locals like Arlo Parks, FLO and RAYE will also be taking to the stage. As with all live music shows, festivals are the perfect place to discover emerging artists, with this season's line-up playing host to the likes of Olivia Dean, Tara Lily and flowerovlove — all of whom are definitely worth getting into.
Scroll down to find out more about all the festivals returning to the UK this summer and which acts to keep an eye on while you're there.
The Great Escape
View this post on Instagram
Acts to Watch: Bellah, JGrrey, Arlo Parks
Dates: May 10-13, 2023
Location: Brighton
Wide Awake
View this post on Instagram
Acts to Watch: Caroline Polachek, Arooj Aftab, Naima Bock
Dates: May 27, 2023
Location: Brockwell Park
NTS One Day
View this post on Instagram
Acts to Watch: JPEGMAFIA, Helen, Nala Sinephro
Dates: May 27, 2023
Location: Burgess Park, London
Cross the Tracks
View this post on Instagram
Acts to Watch: Tara Lily, Yazmin Lacey, Akemi Fox
Dates: May 28, 2023
Location: Brockwell Park, London
The Mighty Hoopla
View this post on Instagram
Acts to Watch: Dagny, Sophie Ellis-Bextor, Years & Years
Dates: June 3-4, 2023
Location: Brockwell Park, London
Parklife
View this post on Instagram
Acts to Watch: Little Simz, RAYE, Eliza Rose
Dates: June 10-11, 2023
Location: Heaton Park, Manchester
Off the Rails
View this post on Instagram
Acts to Watch: Jelani Blackman, Ebi Soda, Dellilah Holliday
Dates: June 10, 2023
Location: Shepherd's Bush, London
Isle of Wight
View this post on Instagram
Acts to Watch: Joesef, Sabrina Carpenter, FLO
Dates: June 15-18, 2023
Location: Seaclose Park, Newport, Isle of Wight
Glastonbury
View this post on Instagram
Acts to Watch: Cat Burns, Maggie Rogers, Shygirl
Dates: June 21-25, 2023
Location: Worthy Farm, Somerset
Love Supreme
View this post on Instagram
Acts to Watch: Greentea Peng, Obongjayar, Little Simz
Dates: June 30-July  2, 2023
Location: Glynde Place, East Sussex
Wireless
View this post on Instagram
Acts to Watch: FLO, Lola Brooke, Ice Spice
Dates: July 7-9, 2023
Location: Finsbury Park, London
Latitude
View this post on Instagram
Acts to Watch: Georgia, Mimi Webb, Flowerovlove
Dates: July 20-23, 2023
Location: Henham Park, Suffolk
Boardmasters
View this post on Instagram
Acts to Watch: Nova Twins, Beka, Lava La Rue
Dates: August 9-13, 2023
Location: Newquay, Cornwall
All Points East
View this post on Instagram
Acts to Watch: Haim, Olivia Dean, Tove Lo, Kehlani
Dates: August 18-28, 2023
Location: Victoria Park, London
Field Day
View this post on Instagram
Acts to Watch: Sudan Archives, Jayda G, TSHA
Dates: August 19, 2023
Location: Victoria Park, London
Reading & Leeds
View this post on Instagram
Acts to Watch: Rina Sawayama, Baby Queen, Muna
Dates: August 25-27, 2023
Location: Richfield Avenue, Reading and Bramham Park, Leeds
---
Share this article