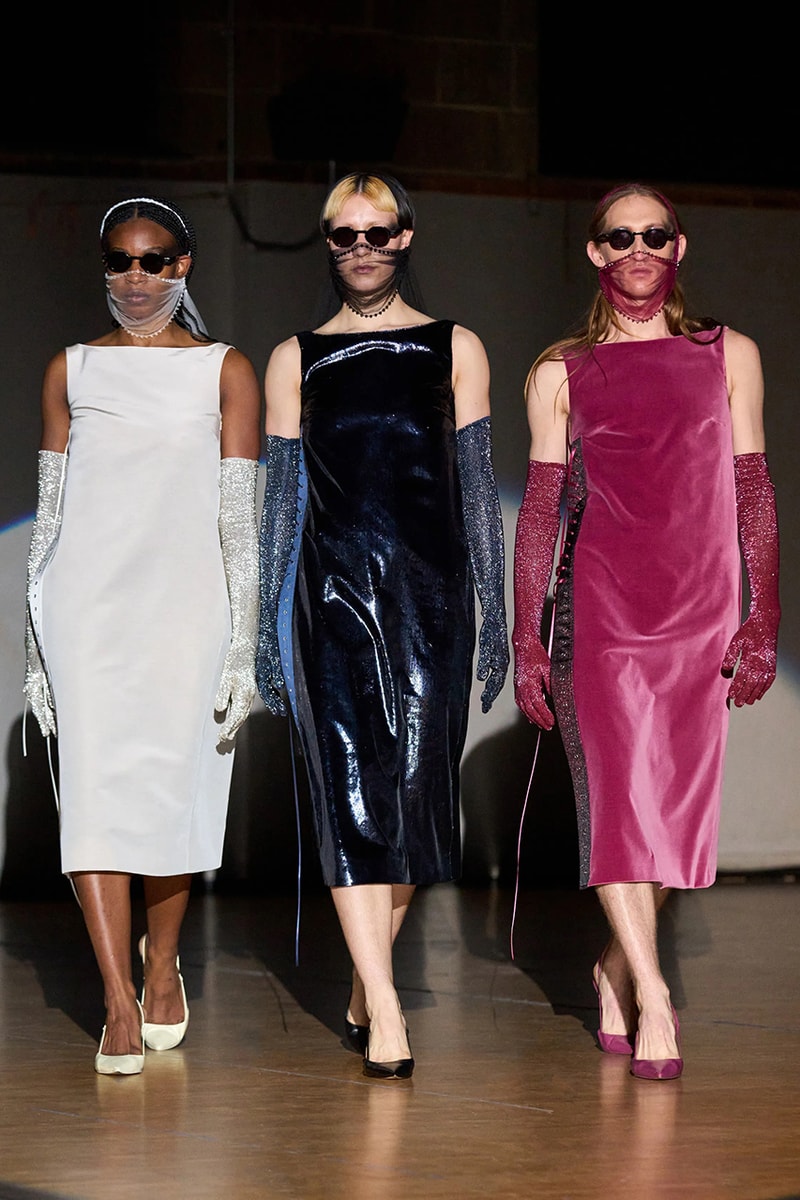 Trend Spotlight: Opera Gloves
A wearable manifestation of the finer life.
Although we're five months into 2023, it's feeling like we're in 1813 as regency-style opera gloves have taken over runways and red carpets.
The Bridgerton-esque trend has been having its royal moment since 2020 as the dainty accessory experienced a resurgence at the onset of the pandemic. The genteel garment may have enforced dress codes and gender norms in the past, but now it has taken on a life of its own, subverted for modern times. Leather iterations are a kinky must-have, whereas their slinky counterparts are ubiquitous with burlesque. When not evoking sex appeal, gloves have become Gen Z's favorite item to haphazardly layer, wearing the winter item year round, experimenting with their ensembles.
Gloves might seem like an unlikely accessory, but trends in fashion are nothing if not reflective of our times and collective mood. Continue scrolling to learn about how opera gloves have evolved over generations and their continued prominence today.
The History of Opera Gloves
Commonly associated with high society, gloves were originally designed to keep wealthy women's hands pristine and clean, repelling both manual labor and germs. Up until the 1960s, a woman would not be caught dead without her gloves as modesty was the main goal. As fashion history expert and luxury buyer Paige Rubin points out, "A woman wasn't considered fully dressed if she was leaving the house and she didn't have gloves on. Back then, it was only appropriate to have your gloves off if you were at home or if you were dining. Other than that, your hands were expected to be covered."
Because evening dresses only covered the wearer's shoulders, a lady of high standing had to shield the rest of her arms from peering gazes. While opera gloves indicated a specific genre of purity and femininity, their meaning has always been slightly sexual. Less is more when it comes to the accessory as its seductive powers lie in what the fabric conceals. Gloves played a major role in the golden days of the Old Hollywood era as icons like Marilyn Monroe and Audrey Hepburn were rarely seen without them as they signified elegance, beauty and desirability.
The sultry peeling off is a classic visual aphrodisiac because of what the act suggests — the slow reveal of skin, the often private act of undressing. Rubin adds that there is an inherent element of kink, continuing, "It comes from wanting or the ability to eroticize a body part simply from the fact that it's covered and that it cannot be seen. Burlesque references vintage style from 1930s cabaret, as well as the roaring '20s because there's something sexy about playing with the constraints of those eras."
While opera gloves have indicated a higher social, and sometimes moral standing, their meaning can and has been subverted to point to a particular breed of sensuality. Couture latex brand Atsuko Kudo knows a thing or two about the erotic as the studio specializes in the skin-tight material. Rendering the otherwise genteel statement piece in a such a hedonistic fabric instantly adds sex appeal, while harkening back to the carefully curated aesthetics of a more prim and proper time. The brand share, "The significance of couture latex is incredibly important because the material acts like a second skin, molding and adhering to the wearer like a soft and flexible armor. We want to make our latex pieces in a careful, beautiful and considerate way, so person wearing the latex items not only look but also feel beautiful, feminine and strong.
The accessory's connotation has evolved over time. When fabric was in short supply during the first World War, priorities changed, but gloves came back as flappers would still wear them with their tassled frocks, despite rising hemlines and shorter hairstyles. Meanwhile, satin elbow-length iterations were required of Hollywood and real-life royalty.
A Modern Interpretation
Once a tool for sterility, the pandemic sparked opera gloves' revival. While inflation may not allow many of us to live a life of luxury and leisure as our predecessors might have, the thought of contracting COVID-19 has led several to integrate rubber gloves into their outfit of the day, reimagining the fashionably hygienic tool. Model and creative director Zizi Donohoe was one of the first to glamorize her gloves in 2020, adding chic feather trims and press-on nails to the otherwise clinical accouterments. "With the pandemic, people started thinking about covering your hands, thinking about gloves as a campy accessory that can be fun and larger than life. Coming out of quarantine, people really wanted to capture and embody that main character energy," Rubin shares.
View this post on Instagram
The return to opera gloves also suggests a shift in our mindset. The pandemic and forced isolation that ensued pushed many of us to look at the past with a magnifying glass, discovering that our attitudes towards sex, fashion and essentially, how we show up in the world, needed some tweaking. From media's reckoning with the hyper-sexualization of young women in entertainment to the realization that our lives don't need to be Instagram-worthy at all times, incorporating opera gloves into everyday outfits communicates our collective evolution. Skin continues to be on full display yet there has been an overall shift towards dressing for yourself rather than dressing to be desirable. While we've reacted to hookup culture with celibacy, our choices in clothing are also a response to the bygone era of "sex sells." In the early aughts, watching Paris Hilton or Kate Upton seductively eating a burger in a bikini were commonplace billboard ads as Rubin recalls. "In many ways, [gloves] are a reaction to the era that came before it and also part of the awakening that we've had to how those hyper-sexualized images shape generational mindsets."
A cursory scroll through TikTok will demonstrate the individualism trumps sexiness in 2023 as dressing for the male gaze or to look "cool" is firmly out, while camp is very much in. Rather than looking to celebrities and influencers to set trends, we're opting for authentic self-expression, even if it comes at the cost of "looking bad" as there is a freedom in indulging in fashion for fashion's sake. "The trend cycle is heavily referencing 2005 to 2007, which was known as an era of bad taste. People are thinking very deliberately about breaking down class structures, so the idea of good taste just means that you're buying into a set of rules that have been prescribed to you. Being willing to embrace bad taste is powerful," Rubin states.
Danielle Combs, Senior Creative Editor, also asserts that opera gloves have become the new statement pieces, adding, "Fashion has become more surrealist and futuristic over time. There used to be a lot of emphasis on jewelry, but now the goal is to play with the clothes themselves, whether that be the addition or subtraction of fabric. Gloves are a seamless way of having an extension of what you're already wearing." While 2010 editorials were littered with arm candy and borderline obnoxious bangles, the 2020s have taken a step back.
Call it recession-core or a change of heart.
There may be a more romantic motivation at play as years of solitude and sweatpants have left us longing for the days of getting dolled up. Melissa Meister, celebrity stylist and founder of Seymoure Gloves, which has been featured in Emily in Paris, points to the care and etiquette that goes into wearing the accessory. As the youngest of seven children, she recalls her mother managing a household, while always being impeccably dressed, her beauty and maternal strength serving as inspiration for her luxury brand.
While gloves were a symbol of high society, Meister argues that there is also an emotive element at play, sharing, "Hands have a spiritual significance for humans. They're how we give, receive and connect. In terms of community, our hands are very important."  Acting in alignment with gloves' precious nature, Seymoure Gloves infuses its items with expert craftsmanship and love, hand making their pieces and carefully sourcing their textiles. As opera gloves become a streetwear staple, Meister emphasizes the accessory's inherently aspirational aesthetic, adding "It's giving them this sense of joy and vision for what they want to create in their life. Rather than referring to them as opera gloves, we call them "runway gloves" because the opera may not exist in the future, but everyone knows what a runway is and associates high fashion with that. Opera gloves capture the spirit of getting dressed up for a special occasion, even if you wear them with a tank top and a cut up pair of jeans — everyone wants to tap into that emotional side."
Ceremonial by nature, gloves have historically been reserved for special occasions — weddings, anniversaries and funerals alike. Their moniker says it all — opera gloves are designed to embody an innate sense of regality and ethereal beauty, instantly helping us exude an air of glamour and main character energy we didn't know was possible before. Like Aquamarine's starfish earrings, opera gloves are a wearable emotional support and confidence booster, transporting us to an eternal summer filled with tea cakes and champagne glasses.
---
Share this article