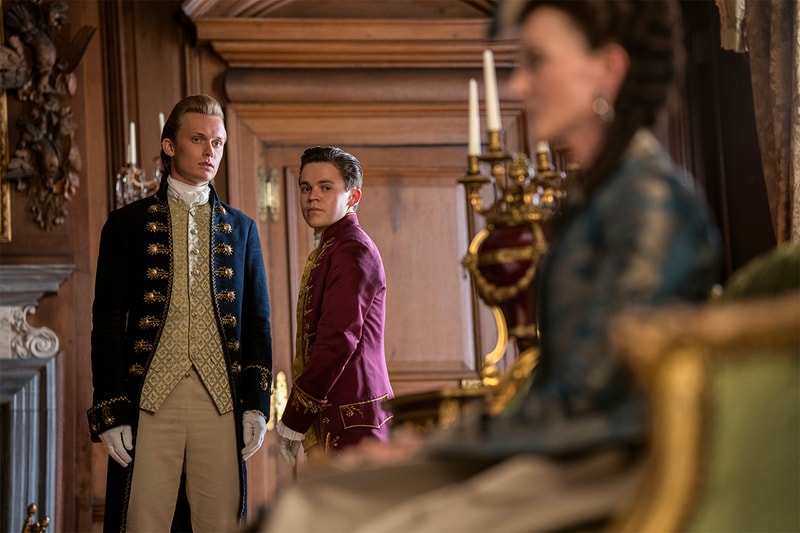 Sex & Dating
'Queen Charlotte' Stars Dish on Filming the Series' First Gay Sex Scene
As for what happens between Brimsley and Reynolds… we may need a sequel to the prequel.
'Queen Charlotte' Stars Dish on Filming the Series' First Gay Sex Scene
As for what happens between Brimsley and Reynolds… we may need a sequel to the prequel.
Shortly after Queen Charlotte: A Bridgerton Story aired, its sex scenes gained virality on social media. In a recent interview, actors Sam Clemmett and Freddie Dennis detail their onscreen romance.
When Shonda Rhimes revealed the prequel to her hit series Bridgerton, fans expected more of its usual heterosexual sex scenes. However, Queen Charlotte has blown every expectation out of the water and even delivered a queer romance between members of the King and Queen's helpers, Brimsley (played by Dennis) and Reynolds (played by Clemmett).
When discussing their intimacy scenes, Dennis and Clemmett revealed there was an intimacy coordinator onset, a common role after the #MeToo movement. With the help of intimacy coordinators, "They created such a safe space," Dennis revealed.
"Obviously with all intimate scenes, it requires vulnerability," he continued. "The conversations we had surrounding the scenes and the fact that they were there on set talking us through and choreographing us just made it actually sort of an amazing, amazing experience." He also noted that the coordinators not only facilitated conversations across the team but also provided him with tools to communicate with Clemmett.
"It just allowed us to be able to throw ourselves into the scene themselves and focus on what we needed to achieve," Clemmett added. "There's no way that could have happened without feeling comfortable and safe and respected."
For more on Queen Charlotte, sex and dating, check out our review of the prequel's sex scenes.
---
Share this article