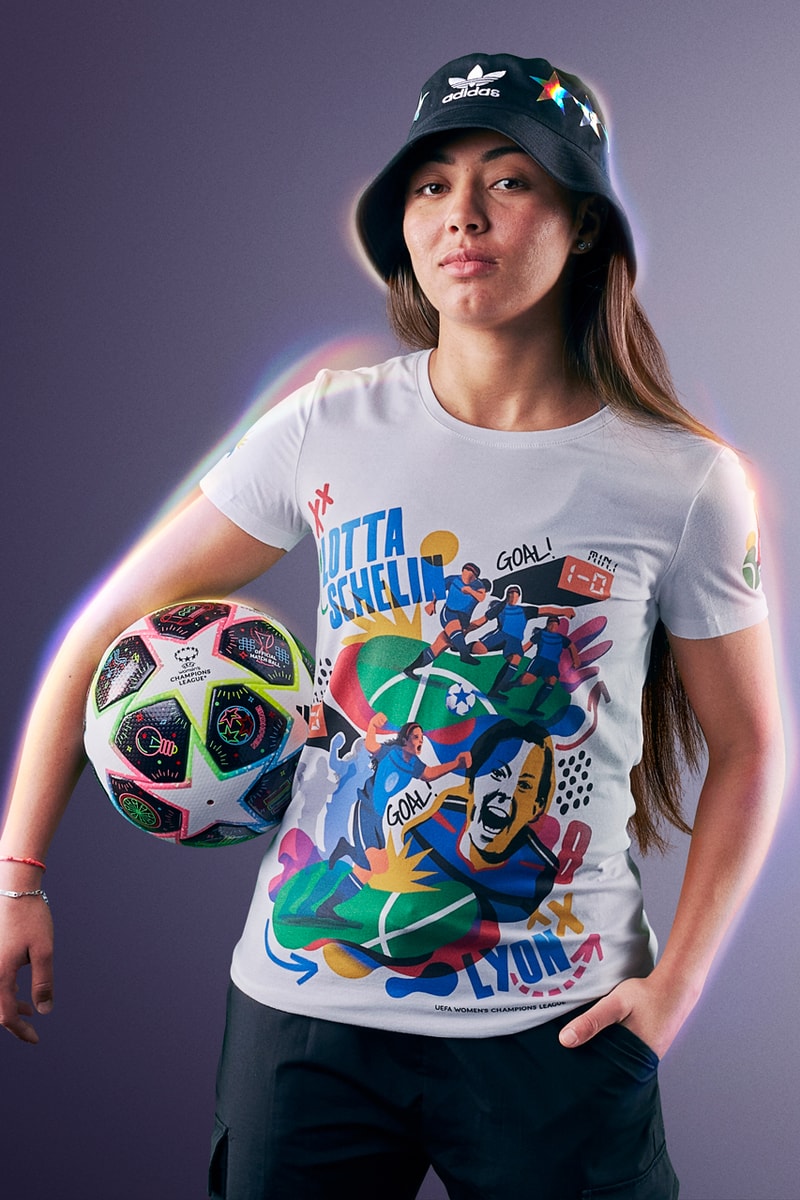 INTERVIEW: Selma Bacha Shares What It Takes to Be a Hero on the Pitch
In celebration of UWCL's "#QueensOfFootball" campaign, we caught up with the Olympique Lyonnais footballer to find out more about her journey.
Sports
INTERVIEW: Selma Bacha Shares What It Takes to Be a Hero on the Pitch
In celebration of UWCL's "#QueensOfFootball" campaign, we caught up with the Olympique Lyonnais footballer to find out more about her journey.
At just 22-years-old, Selma Bacha boasts one of the most inspiring – and youngest – tenures in the often overlooked world of women's football. Joining Olympique Lyonnais back in 2009 and seeing her first league final six years later, the French footballer has surpassed what it means to be a seasoned professional and now looks towards a future of being one of the greatest players of our time.
For Bacha, her rise to the top came from the support of those in her inner circle – made up of dedicated teammates, coaches and club managers. Above all, she lends her success to the players that have come before her, those who have laid the foundations for a more welcoming women's football landscape.
As part of the UEFA Women's Champions League "#QueensOfFootball" campaign, Bacha pays tribute to these legends of the game including Lyon's Lotta Schelin. It celebrates the pioneering performances of today's players, while recognising the trailblazers who helped elevate the game. In the campaign, Selma models the 'Greatest Moment Tee', paying tribute to Lotta's goals that took Lyon to the 2011 UWCL Final where they would win their first of a record eight titles.
A new interview with Hypebae sees Bacha dive deeper into her personal football journey sharing her stand-out moments, hardworking experiences and occasional battles that have compassed her rise in the short space of time, also reflecting on what can be done to shape the future of football for those following in her footsteps.
Hypebae: Tell us a little bit about how you came to play for your hometown which so happens to be one of the most prestigious teams in women's football?
Selma Bacha: I started playing football at the age of five. It was my brother who introduced me to the sport and later offered to train me. When I turned eight, I played against Olympique Lyonnais with my first club FC Gerland which was where I was scouted. I was invited to a football trial with all boys – because at first they thought I was a boy – and by the end they realized that I was a girl. I suppose they mistook me for a boy because of my aggressiveness and fighting spirit, oh and I had short hair too.
I joined Olympique Lyonnais after that. In my head, I knew it was a big club but I had no goals because at that age I just wanted to have fun. By the age of 14, I started training for the pro group, doing school and football back-to-back. This is where my career was gaining momentum, so I signed my first professional contract as soon as I could because of course it's a big club. From then, everything went really quickly for me including my first UEFA Women's Champions League match.
Olympique Lyonnais have been a dominant force in football for a number of years with a strong culture of winning. How do you feel you personally drive and add to that culture?
When arriving at a big club like this, we are taught what winning, hard work and excellence are all about. At each training session, we train to win so once you get on the pitch for a game, you already have the winning feeling. But, it's been ingrained in me since I was little. I hate defeat. I think that's what characterizes me right now and these values correspond to those of the club.
Women's football has grown massively since you joined the professional team. What are some of the biggest changes you have witnessed especially within the UEFA Women's Champions League?
The changes in the world of women's football are all very positive. Though I joined the pro group in 2017, I've seen a lot of changes since. The media are putting a lot of money behind female broadcasters so women's football is developing in every area and that's great. In terms of visibility, the UEFA Women's Champions League is the best advert for female players in football. We are often confronted with the best teams and the best players so there is no better place to watch women's football than this competition. What's more, if we win the UEFA Women's Champions League, that means you've won against the best teams in the world!
The UEFA Women's Champions League is magnificent, it definitely has a special feel.
What are the standout moments you've experienced that stay with you today?
For me, the best moments in football were last year's semi-final at the Parc des Princes in the UEFA Women's Champions League where we won 2-1 at home. Then, it has to be the UEFA Women's Champions League final against Barcelona. I always smile thinking about those times. There were a lot of supporters, a buzzing atmosphere and these are the times that I tell myself, "Women's football is WOW!"
The "#QueensOfFootball" campaign is all about highlighting the best of the best. Tell us a bit about those who have inspired you on the pitch.
Wendie Renard is my ultimate inspiration. She's played the most UEFA Women's Champions League matches and she's a hard worker. When I see her, I suddenly want to do better. Lotta Schelin is another player who inspires me. She signifies the history of women's football and the history of the club (as shown in Selma's conversation with Lotta on UEFA's website.) These two people represent a lot to me because I see myself in them. They have never given up and have done a lot for women's football. If we are where we are today, it is thanks to them!
Why do you think it's important to pay tribute to those who came before you, especially those who laid the foundations both in the UWCL and for Lyon?
They make us want to better ourselves and respect the heritage of the sport. When we talk about women's football 10-20 years ago, it was not what it is now. I'm lucky to come to a club where my skills are supported by the best club infrastructure. I know they haven't had that before. Today we must give those who paved the way the respect they deserve.
In what ways does football support a powerful and subversive image for womanhood? And, how do you think this encourages others to take part in the sport?
On a daily basis, we prove that we can be women who assert ourselves and reverse the prejudices. I know a lot of people who didn't watch women's football and now say that they are impressed with what we do. We show everyone that you can be strong, have character and the most important thing, feel good about yourself and channel your own personality. We do what we want!
Check out Selma and Lotta pictured in the #QueensOfFootball 'Greatest Moments' tees that depict Lotta's memories of playing in the UEFA Women's Champions League. For a chance to win one of these exclusive t-shirts, plus a limited-edition #QueensOfFootball x Adidas bucket hat and UWCL football, head to the UEFA website now.
---
Share this article