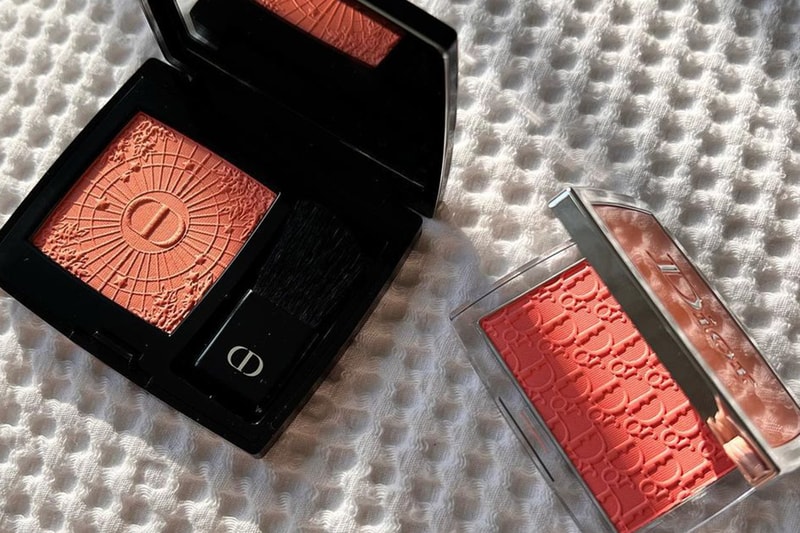 The 8 Best Beauty Drops of June That Deserve "The Hype"
Quality summer staples.
Honestly, it's becoming tougher and tougher to sift through the endless drops of moisturizers, mascaras, lipsticks and blushes coming our way each month. As someone who loves to keep up with the latest beauty trends, I can wholeheartedly admit that 2023 isn't shaping out to be the most exciting year for beauty brands in terms of innovations — but we move.
With June marking the official start of summer, protecting our skin from the sun's harmful rays is more important than ever. Indie Beauty brands like Koa and WARE are stepping up with game-changing mineral sunscreens that are perfect for the BIPOC community. And if you're looking to add a little glam to your look, Dior Beauty's newest blush is already making waves on TikTok and will give you that perfect sun-kissed glow. The products ahead speak loudly to the overarching theme for beauty enthusiasts this season: Understated, practical purchases with a bit of quiet luxury for added value.
As always, we'll have to keep our eyes and ears open and stay on top of the latest releases due to drop in July. In the meantime, keep reading for the six best beauty launches we're standing beside in June.
View this post on Instagram
Chanel Beauty's latest sunscreen is super convenient for that on-the-go person looking for an on-the-go application. The formula is a lightweight gel cream that easily glides onto your skin, making it look smooth with zero white cast. (We know how important this is.)
It also is equipped with SPF 50 to keep your skin safe from harmful UV rays and features a blend of blue ginger PFA and Tahitian gardenia extract to provide hydration and protect your skin barrier.
View this post on Instagram
I've noticed this blush from Dior Beauty all over my TikTok FYP lately and am totally obsessed.
As someone who loves blush, I can confidently say that Dior's Rosy Glow in the shade "Coral" is the way to go. This product blends like a dream and the pigment is seriously stunning. It'll definitely up your swipe game on Tinder.
View this post on Instagram
WARE's "SONNY" SPF40 is the ultimate solution for sun protection. Its ultra-light-weight formula delivers top-notch protection against UVA/UVB light while simultaneously evening out your skin tone.
Not only is it a mineral sunscreen that works on all skin types and tones, but it also eliminates the white cast fear from traditional mineral sunscreens. With its invisible application, you can confidently apply it daily without any worries.
View this post on Instagram
When it comes to hot summer days, keeping your makeup in place is non-negotiable and finding the he right setting spray is crucial.
Morphe's skincare-infused setting spray is a game-changer. This spray sets your makeup for up to eight hours and boasts key skin-loving ingredients like ceramides, potassium, magnesium and ginseng. Use it as a primer to prep your skin before makeup application and you won't be disappointed.
View this post on Instagram
Tower 28's latest addition to their SOS collection truly is impressive. The SOS Daily Barrier Recovery Cream is a must-have daily moisturizer for sensitive skin, but it's suitable for everyone.
What sets this cream apart is its cushiony formula, which acts as a protective layer for your skin. It restores your skin to its natural state, instantly soothes irritation, reduces redness, and strengthens the skin barrier.
View this post on Instagram
Koa has recently expanded the range of its Tinted SPF, catering to those with melanin-rich skin. The Tint 2 shade is the perfect option for individuals who often face the dilemma of choosing between mineral sunscreens that leave a white cast or chemical sunscreens that are potentially harmful to both personal and environmental health.
With Koa's Tinted SPF, you can enjoy safe and reliable sun protection without compromising on your skin tone or well-being.
View this post on Instagram
Buttah Skin by Dorion Renaud is expanding its product offerings with an anti-aging line specifically for melanin-rich skin. The Buttah Sterling Silver Kit is equipped with a retinol oil, eye cream and the brand's latest beauty tool, the Elevate Vibe Wand, which works in tandem with the eye cream for the most optimal results.
View this post on Instagram
Pattern Beauty partnered with fashion designer Sergio Hudson to create a hair wash day robe that features a highly absorbent, soft and lightweight waffle weave offering a plush and sustainable fabric.
The robe is designed with removable shoulder pads and highlights Sergio Hudson's signature silhouette of strong shoulders and a cinched waist.
---
Share this article