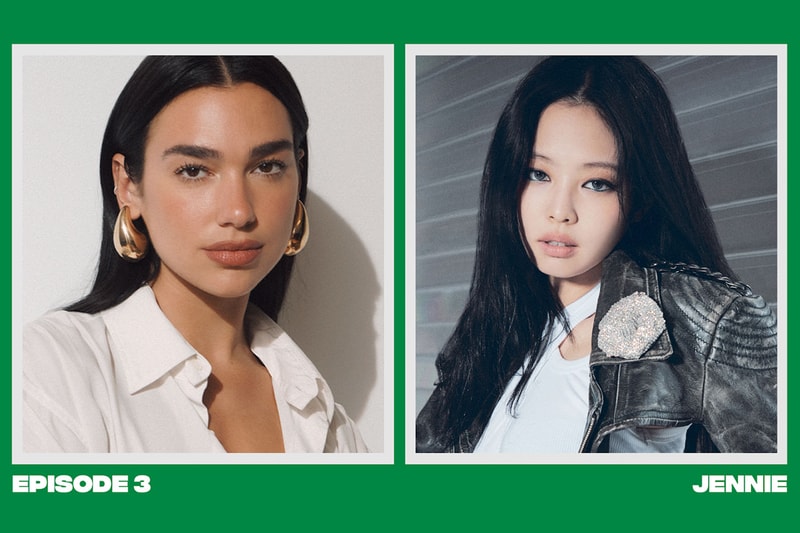 Culture
BLACKPINK's Jennie Spills the Tea on 'The Idol', Coachella and Her Rap Career
On episode three of Dua Lipa's 'At Your Service' podcast.
BLACKPINK's Jennie Spills the Tea on 'The Idol', Coachella and Her Rap Career
On episode three of Dua Lipa's 'At Your Service' podcast.
BLACKPINK member Jennie just made her first-ever podcast appearance, featuring on the new series of Dua Lipa's At Your Service. News that the K-pop star would be joining Lipa surfaced a few weeks ago, with fans eager to hear more about her acting debut on Sam Levinson's The Idol.
Speaking about her acting career and why she felt that it was the right time to explore it, Jennie told Lipa, "I think acting was definitely one of the things that I wanted to explore. But when I do something I decide to really go for it, I know I need to do it right, and first of all, I wanted the new acting part of my life to be authentic, rather than just me trying to grab any opportunities that came to me."
"I really was being patient with my first-ever acting job, which means when I was spending some time in LA, last year, I actually got to meet Sam (Levinson) in person, and he talked me through the role that he envisioned for me and everything. It felt really authentic and real, it moved me and it gave me the courage to believe that this was the right thing to do," she continued.
Alongside playing the character of Dyanne, Jennie had another life-changing event take place recently: making history with BLACKPINK by becoming the first K-pop group to headline Coachella. "It was the most exciting and nerve-wracking thing that happened in our lives, and this happened in the middle of our tour so that was also a big challenge," she tells Lipa.
"But to me personally, the hardest part was because we've performed the Sahara Tent four years ago, I had an idea of what Coachella was now. Because four years ago, I was like, I guess it's a festival where, you know, people just rock out and if you like your music, they would just you know dance along with you. And then I couldn't believe it at first, like I had to sit down with their girls and be like, 'Guys, this is happening.' I think it was my first time crying just as soon as I was off stage. It was so emotional, like, I was so proud, the hard work that we put in and just the overwhelming feeling that we got from the crowd and it was just a lot of emotions," the singer adds.
View this post on Instagram
Going back to her own experiences in BLACKPINK, Lipa and Jennie discussed the concept of the artist being "pigeonholed" as a rapper and as a result, experiencing burnout. "I've never really said this anywhere, but I've wanted to," the artist began. "After our debut, we did like six songs where I would just rap like, seriously rap and along the way, I kind of got confused because I came to realise that there's a big side of me inside that loves to sing, but I actually never had the chance to really explore that as a trainee because I got told that I should be a rapper, you know? So there was a phase where I would hate to rap. I was like, 'This isn't me like, this isn't the journey that I envisioned in my head like, I don't think I'm a rapper.' So there was definitely a burnout."
Finally, the duo seemingly began to explore a new chapter for Jennie, as fans have noticed a shift in the way she expresses herself. Amidst rumors of her leaving the group, fans appear to be noticing a change in the way that Jennie performs one song in particular. Speaking about "Tally," Jennie explained, "Starting my career in Korea as a K-pop artist has restricted so many sides of me where it wasn't just allowed to be shown because I'm a K-pop idol, and I was scared to express myself. As things grew over time, I was able to express myself and people would see it as breaking boundaries rather than doing something that I'm not allowed to do."
She continued, "That's when I realised, I want to break more boundaries for people in my culture to understand that you can express yourself as however you want. So I think the song 'Tally' was one of the first songs that we actually say the F-word and at first when I started performing the song, I couldn't even say it out loud. I was like, 'Oh, like what do people think, this is like not right', you know? And then more fans were loving the song and I was connecting with Blinks, like while I was on stage when I was singing that song, they were like 'yeah, do your thing' and they were the ones who gave me my confidence and support to really enjoy the song."
To listen to the full episode, head to Spotify now.
In related news, Dua Lipa stole the show at this week's Barbie premiere.
---
Share this article