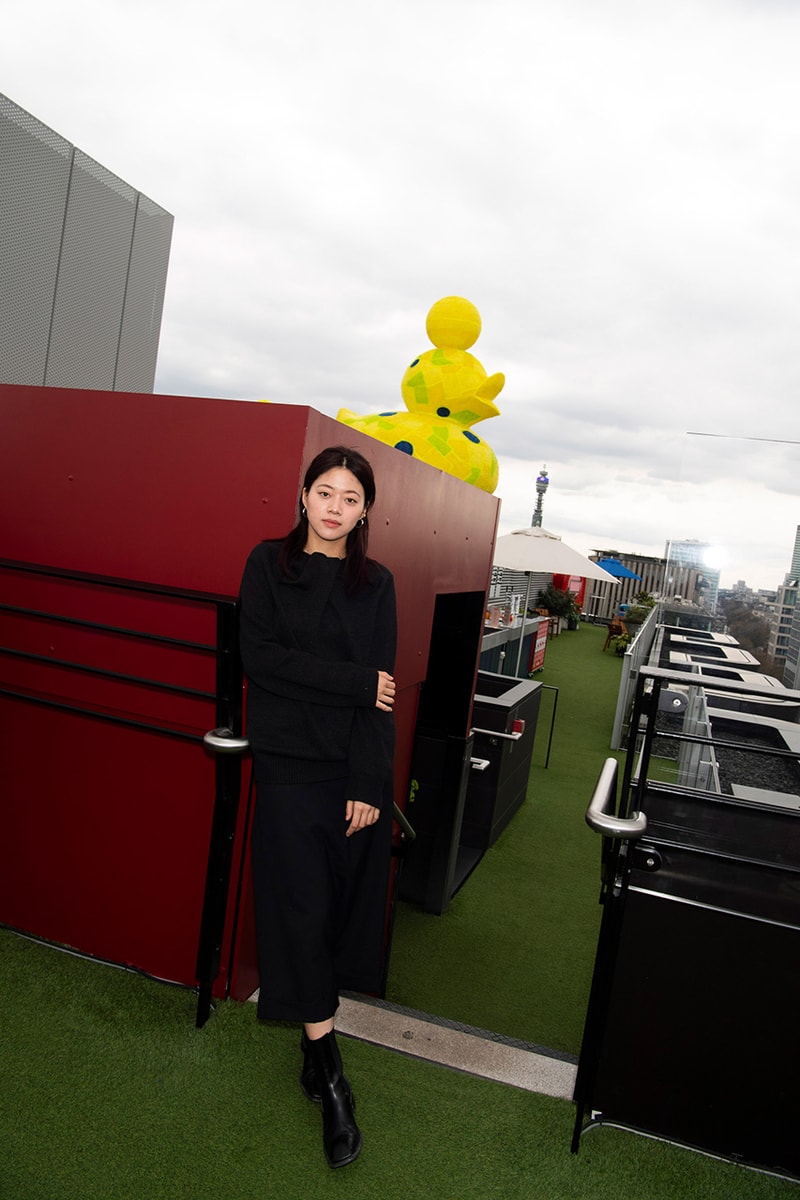 1 of 2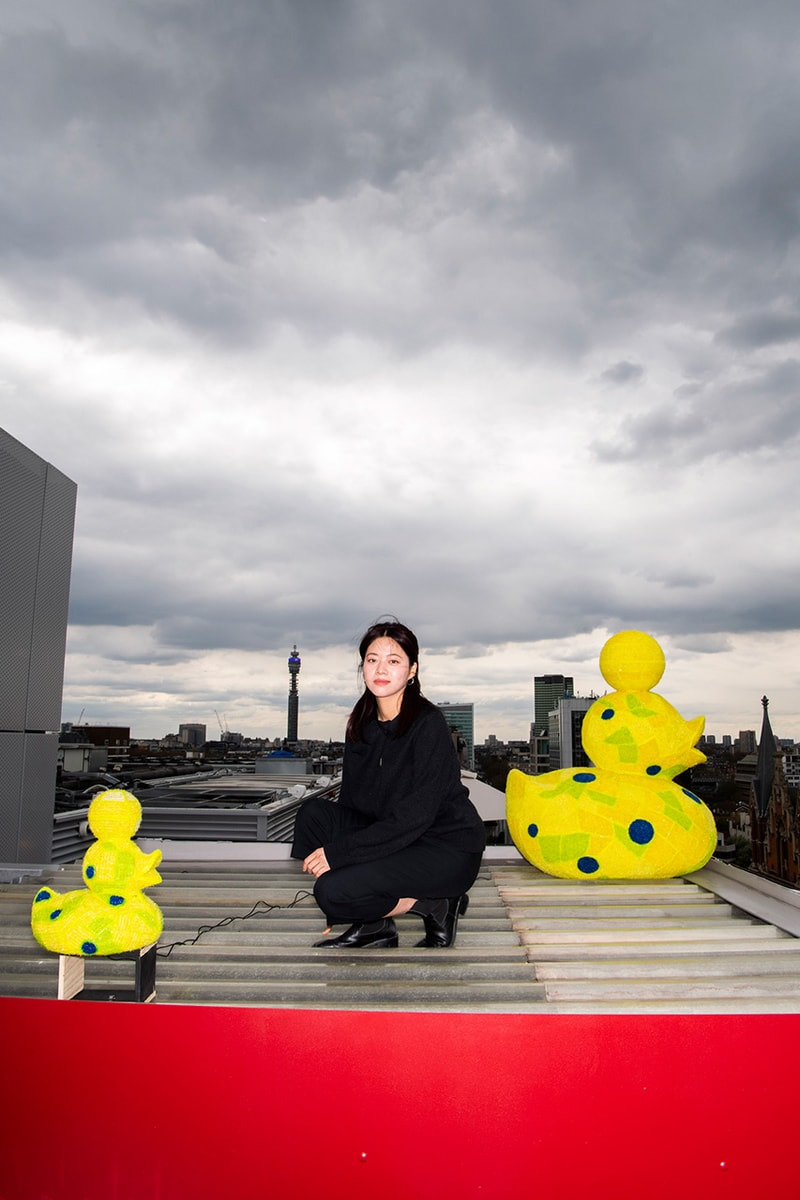 2 of 2
Art & Design
Jia Xi Li's Knitted Duck Sculptures Take Over the Standard's Rooftop in London
Hypebae speaks to the Chinese Canadian artist about making art that materializes memory and time.
Jia Xi Li's Knitted Duck Sculptures Take Over the Standard's Rooftop in London
Hypebae speaks to the Chinese Canadian artist about making art that materializes memory and time.
The Standard, London, located in the heart of King's Cross, recently unveiled "My Pet Ducks," a whimsical rooftop artwork created by textile artist Jia Xi Li. The 3-dimensional sculpture ingeniously combines knitted textiles, PLA filaments, fiberglass, resin and light components.
The Chinese Canadian artist, now based in London, is known for masterfully materializing memory and time through her biographical art. Represented by The Sarabande Foundation, her work has been exhibited in major cities worldwide. Inspired by The Standard's rooftop ambiance and the view of London's skyline, Xi Li crafted "My Pet Ducks" to playfully contrast with the summer sky and extend the hotel's tactile charm to the rooftop.
The sculpture's rubber duck motif symbolizes a significant memory period, sanctifying the everyday and overlooked aspects of life. According to Xi Li, objects hold profound stores of user information, making them compelling subjects for her art. Intrigued by the concept behind "My Pet Ducks," we had the opportunity of sitting down with Xi Li to gain further insight into her creative practice and the inspiration behind her installation.
Keep scrolling to read the full interview.
Could you introduce yourself and your creative practice?
I am Jia Xi Li, a Chinese Canadian textile artist based in London. My artistic focus lies in creating sculptures, wall pieces and installations using knitted fiber. Through my work, I seek to materialize memories and the passage of time in a biographical format. Knitting serves as the primary method of creation in my art practice. From my perspective, knitting represents a process of recording and expressing. The transformation from linear to surface and eventually to three-dimensional shapes constitutes a never-ending journey of creation, characterized by simple yet rhythmic gestures.
Why do you make art?
Every individual requires a means of expression. Some choose to write, while others prefer to speak. However, for me, art-making serves as a comfortable and effective way to convey my ideas to the outer world. I often describe myself as a "Slow" person; the pace of writing and speaking feels too fast and too direct for me. Instead, I find solace in the rhythmic flow of knitting and my art-making practice, as my mind naturally aligns with this unhurried process.
Your work seeks to materialize memory and time in a biographical form. How does the duck motif play into this and do you have a special connection to them?
My art-making process revolves around creating a private form of archive. To me, an archive represents the intersection where remembrance meets forgetting. These objects enclose traces of humanity, history and relationships. Each object is not merely recorded and molded just because of its singularity but because of what it means and does in relation to the other stored objects. Everything is like a mirror reflecting the stories of others. An object is not an individual entity but a compound structure of traces of time and reflections of life.
The duck is a significant motif that holds profound meaning within this intricate tapestry of memories in this memory palace. I come from a very traditional Asian family and no pets are allowed in the household. Rubber ducks were the most pet-like objects in my memory, so I named this installation "My Pet Duck." Its presence holds a profound nostalgic meaning, serving as a reminder of my plastic, vivid childhood that once thrived with innocence and wonder.
What is it like knowing your work is now overseeing the city you live in?
It was such a great experience working with The Standard London. The design team and technicians were very helpful and respectful. They were incredibly supportive when I wanted to create outdoor sculptures primarily using soft knitted textiles. As an emerging artist, I feel honored to have my artwork join the skyline of King's Cross. This commission experience has further encouraged my passion for public sculpture.
What's next for you?
I am currently working on a new project for my upcoming solo show. Before that, I will be participating in three group exhibitions this summer, including the Sarabande Foundation Summer Show: "SUM," which begins this August and is open until September.
In other art and design news, Together Apart by the Ritsch sisters captures an intangible side of human connection.
---
Share this article