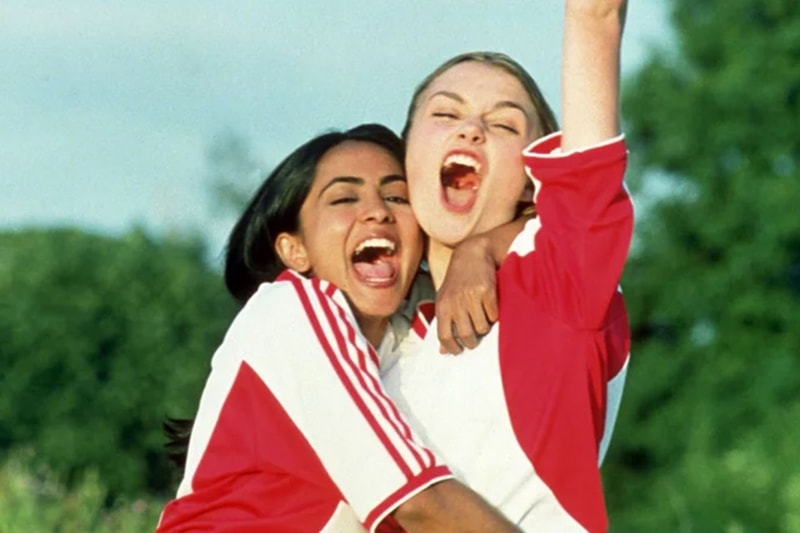 Culture
Where Are All the South Asian Women in Football?
We speak to the inspiring women making strides in the space to find out.
Where Are All the South Asian Women in Football?
We speak to the inspiring women making strides in the space to find out.
We've come a long way since the days of Bend It Like Beckham – or at least, we should have. Despite the fact that the film, which depicted a young South Asian woman fighting for her right to play football, was released over 20 years ago, representation within the sport at a professional level still seems to be lacking.
Take this year's FIFA Women's World Cup as an example. Out of 736 players from different countries, almost no players are of South Asian heritage. While India itself isn't one of the participating countries, teams like England and the USA don't appear to possess the diversity or representation that the sport so desperately needs.
The lack of visibility begs the question: where are all of the South Asian women in football, and why don't we see them enough? "We exist, but our numbers are small," Romance FC player Aneesha Dewshi tells Hypebae. "Over the coming years there has been a huge surge in South Asian women playing football on a grassroots level, however, the number of women making it professional is still incredibly low – and more needs to be done to change this reality," she continues.
View this post on Instagram
Dewshi also cites time and investment as two of the bigger, and more systemic barriers to entry. "More needs to be done to ensure South Asian people are offered the same opportunities without unconscious bias. I think there are several factors why there is a lack of South Asian women in football; limited access to teams and facilities, lack of role models that you can connect with and aspire to be like and lastly, the way that society sees South Asian women: often through stereotypes," the player adds.
"For a lot of us growing up, Jesminder from Bend It Like Beckham was our first introduction to seeing a South Asian woman playing football on TV, we could all relate to her struggles and sacrifices to play the game she loved. I know personally, I can't wait to see the day when the first South Asian Lioness plays for England," Dewshi adds.
In terms of role models that we do have, QPR's Assistant Head of Coaching, Manisha Tailor, is one of the few that the community has to look up to, as the only South Asian person in a coaching role, across 92 different clubs. According to Tailor, things are changing, albeit at a slower rate than many of us would like. She notes players like Chelsea's Sam Kerr, Manchester United's Safia Middleton-Patel and FA Women's Championship footballers Millie Chandarana and Simran Jhamat as some of the growing number of players rising within the space.
A firm believer in championing those who are actively making strides within the sport, Tailor reminds us, "There are more female players in youth academies than ever before. This is not to say that improvement in leveling the playing field isn't needed, however it is important to celebrate the success that we do currently have within the game."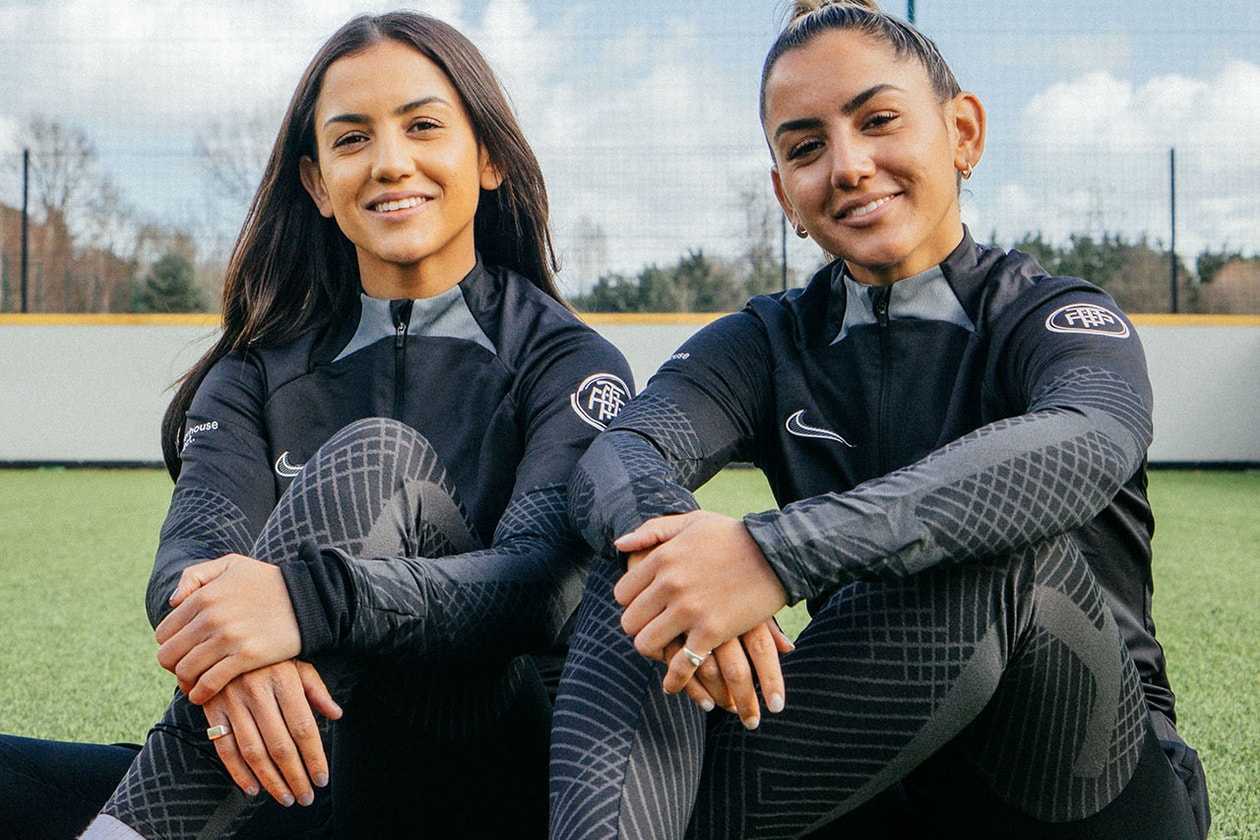 Alongside the lack of representation (and arguably, the reason behind this lack), traditional gender roles within Asian families do play a part. Offering "limited opportunities for women in football," Rosie and Mollie Kmita, sports broadcasters and ex-professional footballers, explain that gender roles typically "steer women towards other career paths like doctors, lawyers and teachers." Additionally, "the dominance of white women in women's football is partly due to football being more culturally accepted within that community," they explain.
For many of today's South Asian women in football, their journey into the sport began in the same way: playing with brothers or male friends at school. As a result, it's clear that a passion for football exists in these communities and that at a young age, the possibility of going professional or at the very least, continuing to play the sport into adulthood, is one that seems more than manageable. However, somewhere along the way, it changes and keeping up with the sport becomes harder to do, due to a lack of support in all areas.
Speaking about the barriers to entry, Dewshi notes that outside of big cities, the lack of opportunity and consistent access to teams and resources is one that plays a pivotal role. "On a grassroots level, there are some incredible South Asian women's teams and communities that have formed and are a success, as they provide a safe and positive space for women. However, they can only continue their success through real investment and funding to ensure access to training facilities, coaching, kits and outreach work to address challenging attitudes in and out of the community," she tells us.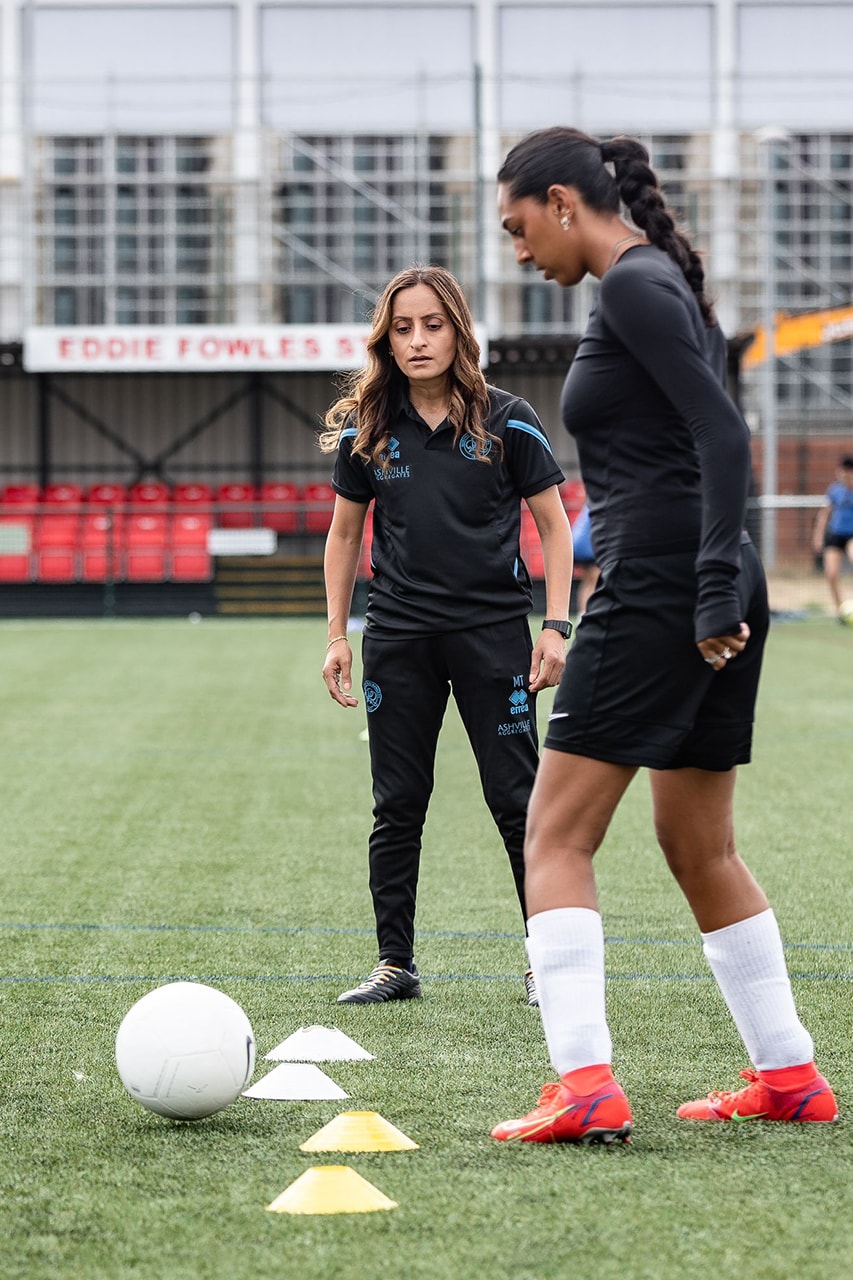 For both Dewshi and Tailor, unconscious bias appears to be one of the largest barriers. As a result, it's clear that more conversation and education on the matter is crucial. Similarly, the stereotypical portrayal of the South Asian community in previous years is one that has a ripple effect across multiple industries and disciplines. "It hinders progress when former leaders of football governing bodies make sweeping statements saying things like 'people from South Asian backgrounds would rather work in IT than play football.' These types of stereotypes and biases are incredibly harmful and will continue to hinder any progress," Dewshi notes.
Kaljit Atwal is an athlete and content creator, specializing in football. She believes that "Every story is different and not all South Asians face the same barriers, but there are common barriers that can be removed." Similarly, it's the lack of role models, the fact that the sport isn't actively promoted to the female South Asian community and limited access across the board, all things which she believes could be addressed from an earlier age. Normalizing South Asian women in sport plays a part too, something which can only add to encouraging the younger generations to take part and feel like they belong in that space.
View this post on Instagram
Despite these barriers, it's the growing community that's been intrinsic to their journeys into and during football for these women, an imperative avenue for investment in order to continue to support its growth. "Playing for Romance FC has been my rock," Dewshi explains. "We quickly understood the power of community and how to harness that to create a safe and welcoming environment, whilst also pushing the boundaries and barriers within the grassroots game. As the interest in the game and participation in the sport has increased, it's been amazing to see so many grassroots teams pop up all over the UK and within Europe too. The elite level of the game has a lot to learn from grassroots communities and organizations."
"Community cohesion is key in working towards a common purpose," adds Tailor. "In my case, it's about ensuring that the game of football is truly one for everyone. A community of champions is desperately needed in order to continue to push for cultural change," she continues.
For the Kmita twins, they've been able to see first-hand the impact that access, community and support can have on not only their own careers, but on the visibility of the sport as a whole. "Our experiences as players have allowed us to build a strong network of inspiring and talented women in the football world. This community has become our support system," they explain.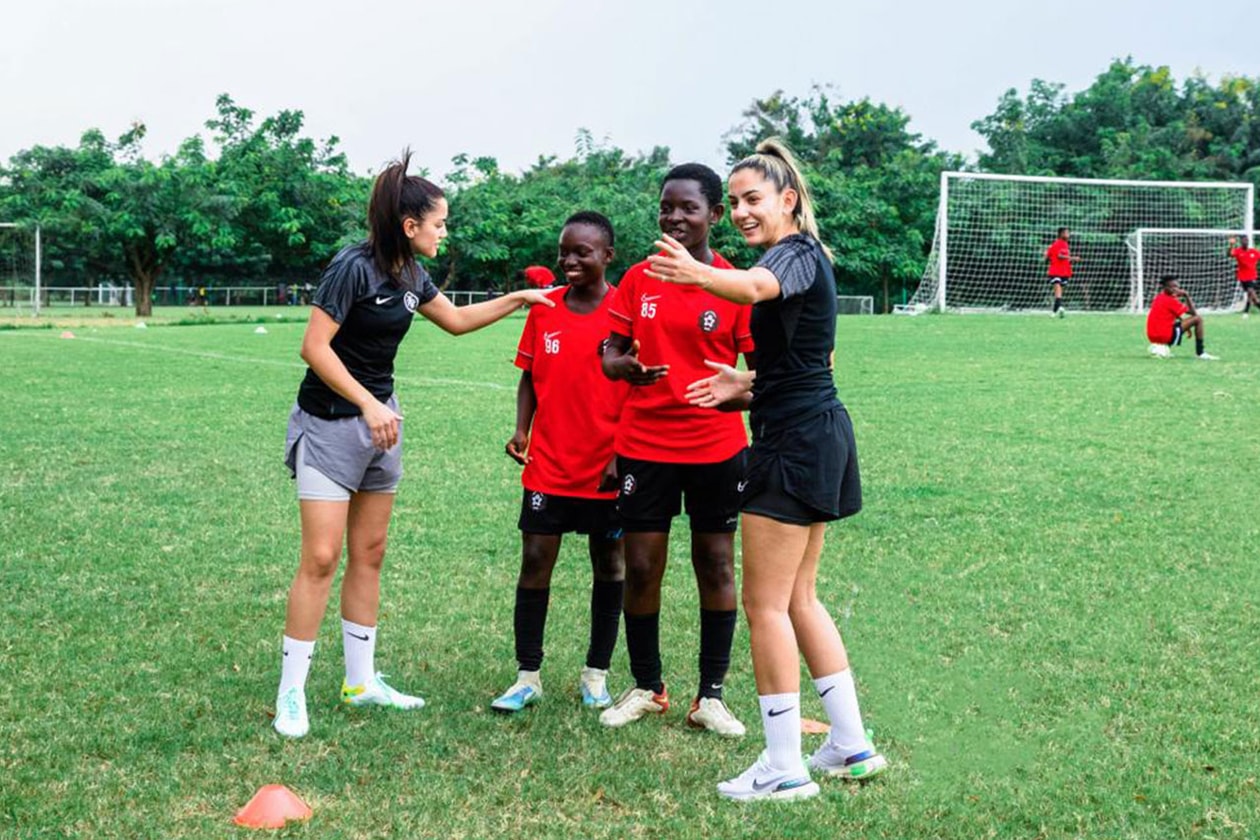 "We've been so privileged to work with prominent organizations such as Nike, The FA, and Sky Sports. These partnerships have granted us unparalleled access to the industry we cherish and as a result, we've been part of significant events like the WSL, Euro 2022, and the Women's World Cup, all of which have been deeply meaningful to us."
It's for this reason, that in 2021, the twins founded The Powerhouse Project (PHP) with the backing of Nike and The FA. With the aim of "creating lasting positive social impact through community engagement, projects and partnerships," the PHP plans to support women from all backgrounds, ultimately hoping to contribute to creating a more inclusive and diverse football landscape.
So in terms of where the South Asian women in football are, they exist and will continue to exist, thanks to the creation and cultivation of grassroots communities, changing perceptions of culture and tradition and increasing role models within the space. However, it's the funding, investment and support of bigger clubs, brands and media owners that's truly the most instrumental to their growth and ability to exist in professional capacities — something we hope to see becoming more and more prevalent as women in football continue to thrive.
---
Share this article