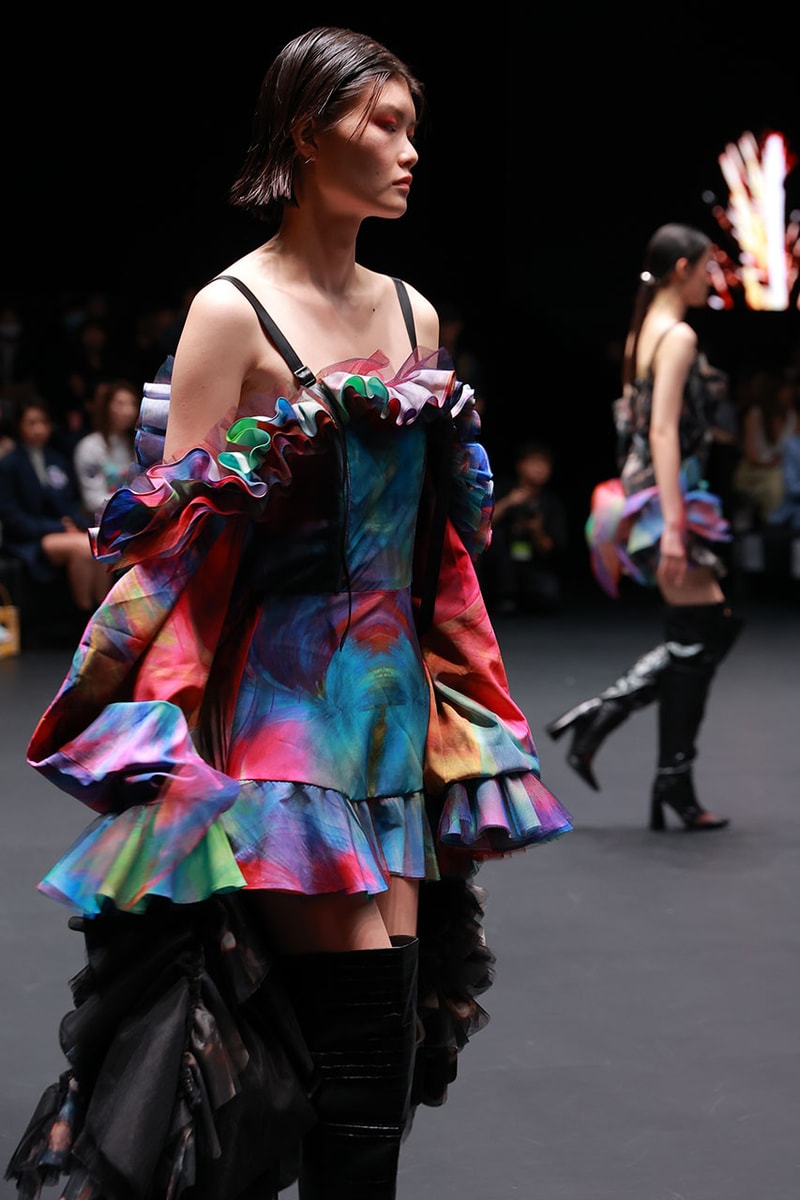 Must-Know Brands From Hong Kong's Biggest Fashion Showcase, CENTRESTAGE
From REDEMPTIVE to SUN=SEN, meet the emerging designers climbing to heights as tall as Hong Kong's skyline.
Fashion
Must-Know Brands From Hong Kong's Biggest Fashion Showcase, CENTRESTAGE
From REDEMPTIVE to SUN=SEN, meet the emerging designers climbing to heights as tall as Hong Kong's skyline.
The raging fashion storm, a.k.a. fashion month, is here again. We're in the midst of New York Fashion Week and still to come are London, Milan and Paris Fashion Week. While those cosmopolitan cities are known as the big four fashion capitals of the world, it's time for the severely stylish metropolis that is Hong Kong to join that list.
Hypebae recently voyaged to the spellbinding, skyscraper-studded city to check out one of Asia's most significant fashion events, CENTRESTAGE. Hundreds of established and emerging brands–from all over but mostly from Asia–revealed their Spring/Summer 2024 collections at the four-day extravaganza, which featured runway shows, presentations and seminars on trends and sustainability. Presented by the Hong Kong Trade Development Council (HKTDC), the larger-than-life annual fashion showcase and trade show took over the Hong Kong Convention and Exhibition Centre, a colossal venue that overlooks the psychotically picturesque Victoria Harbour.
Now in its eighth season, Hypebae-approved brands, who've previously shown their collections at CENTRESTAGE, include New York City's Altuzarra, Tokyo's FACETASM, Seoul's JUUN. J, Shanghai's FFIXXED STUDIOS and Hong Kong's Anaïs Jourden. This year's theme was all about "radiant wellness," explored immaculately at Fashion Hong Kong, a group runway show spotlighting a few rising local designers, where dancers from the Hong Kong Ballet performed choreography among the show's models. And yes, everything was radiant.
As for us? Ouch, we're looking and feeling especially rough and unwell-ish after our 16-hour flight home. Our broken circadian rhythms may never recover, but our quick trip was worth it. Ahead, meet the CENTRESTAGE designers who are rising as tall as Hong Kong's ever-climbing skyline.
Buzzy Hong Kong designer Angus Tsui's eponymous label is known for its crazy, sexy, cool duds. The coolest part? Tsui utilizes sustainability in every aspect of the design process, like working with environmentally friendly ink for digital printing. For his SS24 collection, "#XenoFuturist Vol.2 Mystic Legion," he really nailed it in the sci-fi-chic, shadowy show department. An army of brooding models, many sporting slicked-back locks and alien-eye shades, stormed the catwalk clad in thigh-high boots and a psychotic sea of acid-wash denim numbers, including immaculately oversized trenches. ANGUS TSUI is the streetwear brand for fearless fashion types, with creative silhouettes and futuristic elements that you will inevitably want to add to your shopping cart–and that will make you feel like a bonafide global pop star.
Since launching in 2018, REDEMPTIVE has become one of Hong Kong's streetwear brands to watch and obsess over. Titled "OUT OF SERVICE," much of designer Wilson Choi's SS24 collection was influenced by Lars Tunbjörk's series on the nightmarish world of office culture, in which the Swedish photographer documented crazily cluttered desks, mountains of paperwork, and overworked employees. At the brand's latest outing, Choi's penchant for imaginative, multifunctional designs was very much on display in a magnetically moody manner. Models took the runway clad in office-gone-wild fits as an industrial soundtrack suitable for a warehouse rave blared. In the mix were lots of loose ties, deconstructed blazers, and pieces that looked like they'd been put through the paper shredder. The collection was sleek, sporty, and sculptural yet highly wearable, particularly on a vodka-drenched dancefloor. According to the show notes, with this collection, Choi "aims to inspire individuals to rediscover the beauty of life, embrace new opportunities and strike a balance between and seek freedom in their work and personal life." Mission majorly accomplished.
In recent collections, lauded Hong Kong brand 112 mountainyam has offered endless theatrical, kaleidoscopically colorful pieces that celebrate confidence and individuality. Designer Mountain Yam continued that exploration this season for his synonymous brand's SS24 collection, aptly titled "Firework." This season, the in-your-face, lunatical (in a good way!) looks were infused with sorbet-colored hues and psychedelic acid Barbie prints, with eye candy highlights including Betsey Johnson-y, fancy garden party-ready explosive tulle dresses and skirts paired with killer over-the-knee black boots.
Beloved Hong Kong superstar and glamorous '90s fashion icon Faye Wong, a.k.a. "Queen of Canto-pop," was the muse for FETICO's SS24 collection. Tokyo-based designer Emi Funayama named the collection "Do Not Disturb," which makes sense when learning that an additional influence for this season was French provocateur Sophie Calle's 1981 art book, The Hotel, a series of voyeuristic photographs of untidy hotel rooms that she shot while working as a chambermaid in Italy. As for FETICO's cinematic and thrilling runway show? It oozed sophisticated sexiness. Models strutted out in a va-va-voom variety of boudoir-chic numbers–many of which gave us Madonna "Justify My Love" music video vibes and all of which were fit for a femme fatale–as well as floor-sweeping lace-knit dresses, fashion-week-fête-friendly duds, and pajama-style shirt and pant sets with hotel wallpaper-inspired peony prints. If you're a fan of the timeless wearing-underwear-as-outerwear trend, then this collection is for you. And don't get us started on the "It" brand's exquisite accessorizing, from the clogs that glittered with studs and rhinestones to the impossibly hip Faye Wong-esque oval-shaped shades (made in collaboration with Japanese eyewear brand 817 BLANC LNT) that made us need to immediately rewatch Chungking Express.
It's still typhoon season in Hong Kong, but SUN=SEN kept things bright and playful at its SS24 runway show. The emerging Hong Kong-based streetwear label, launched in 2016 by designer Sun Lam, presented a lighthearted and downright trippy collection called "Lazy Forest Club," featuring unexpected fabrics, eye-catching layering choices, and vibrant colors. Fun tops with flower-shaped hoods, fuzzy bags, and extra-droopy (and extra-quirky) sun hats came down the runway. The refreshingly kooky yet, comfy collection gave off a more-is-more and DIY attitude with a sartorial side of trippy Cabbage Patch Kids-meets-Etsy vibes. In other words, moody minimalists, this is not the brand for you.
---
Share this article