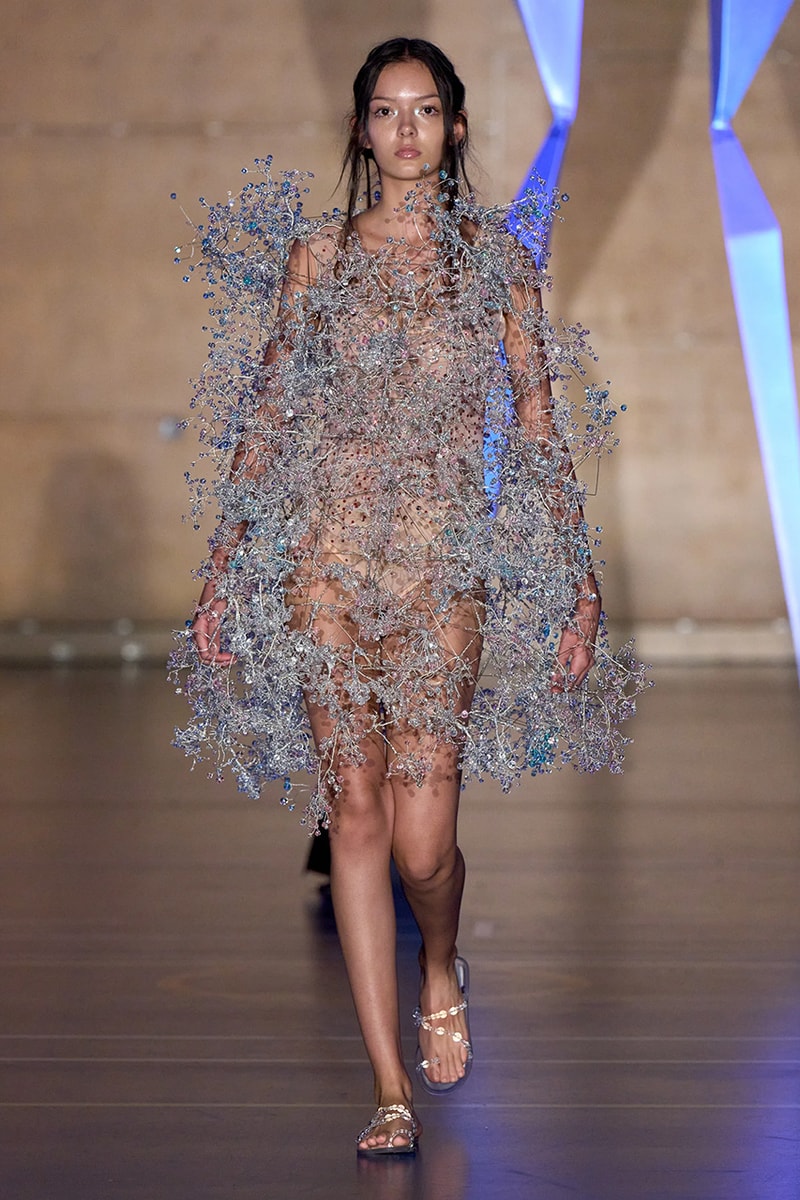 1 of 6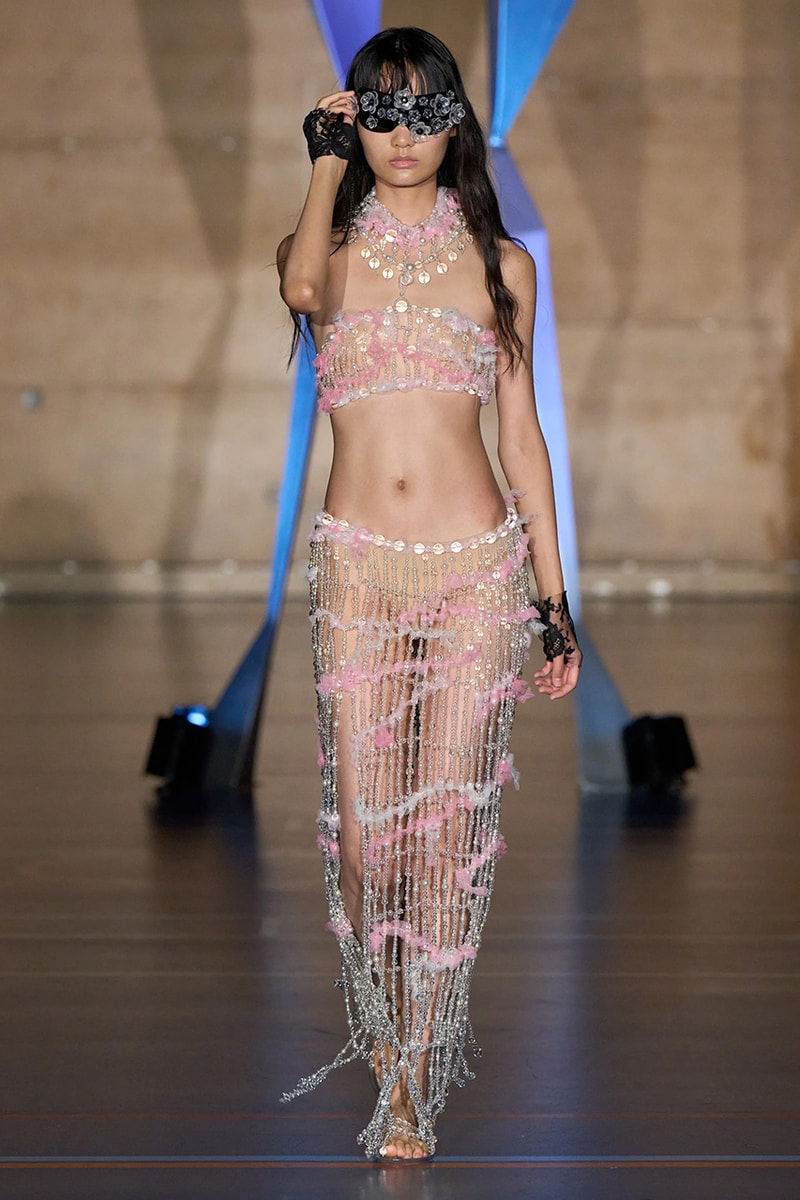 2 of 6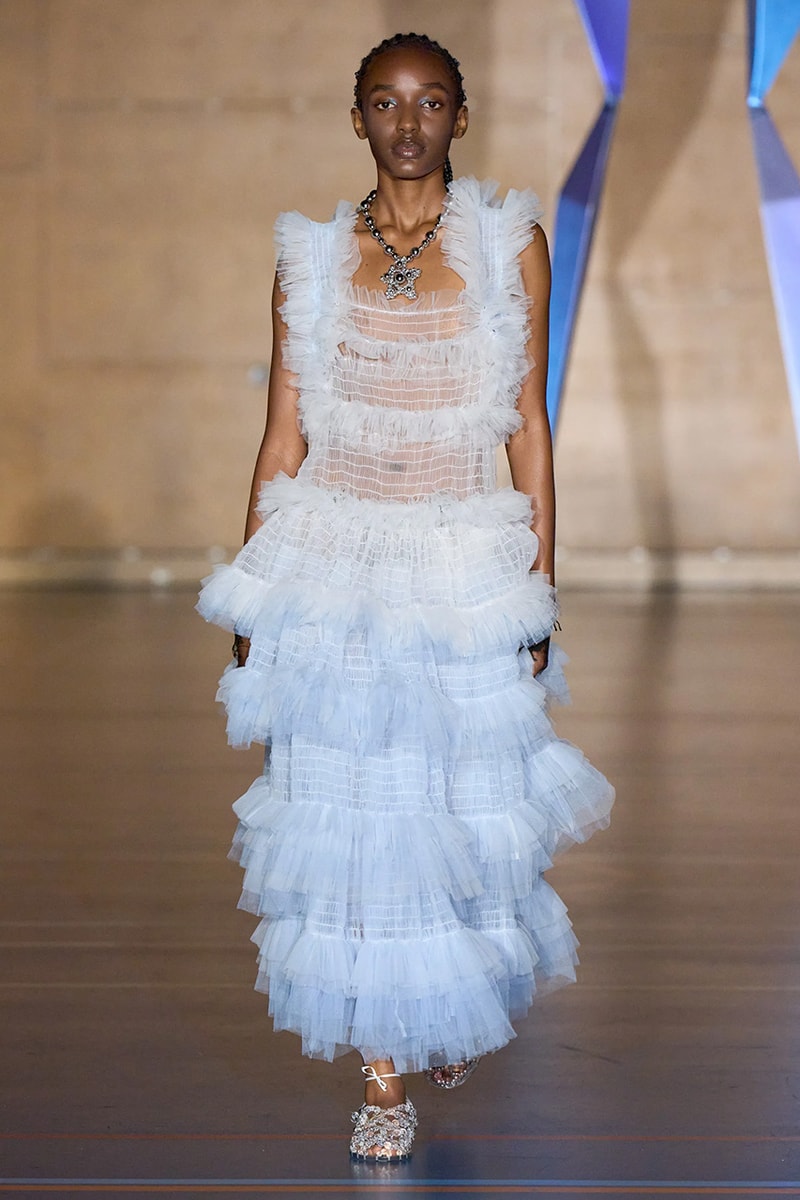 3 of 6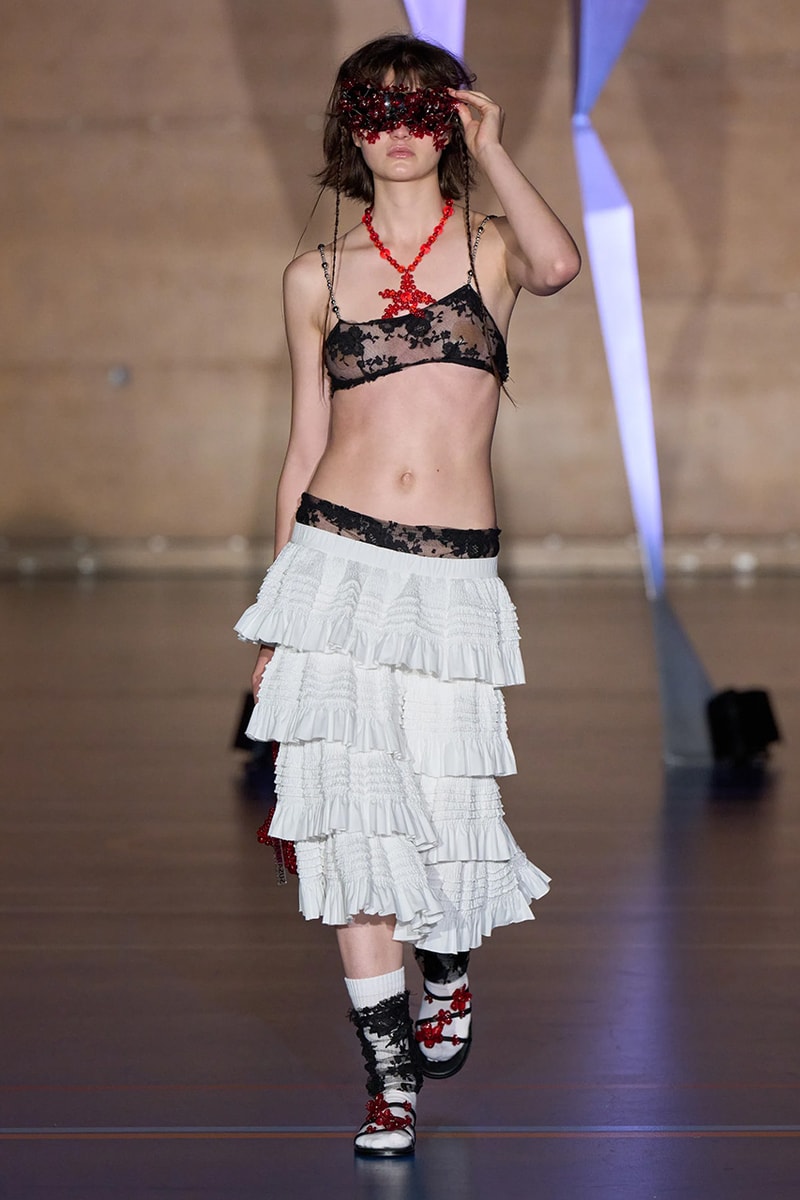 4 of 6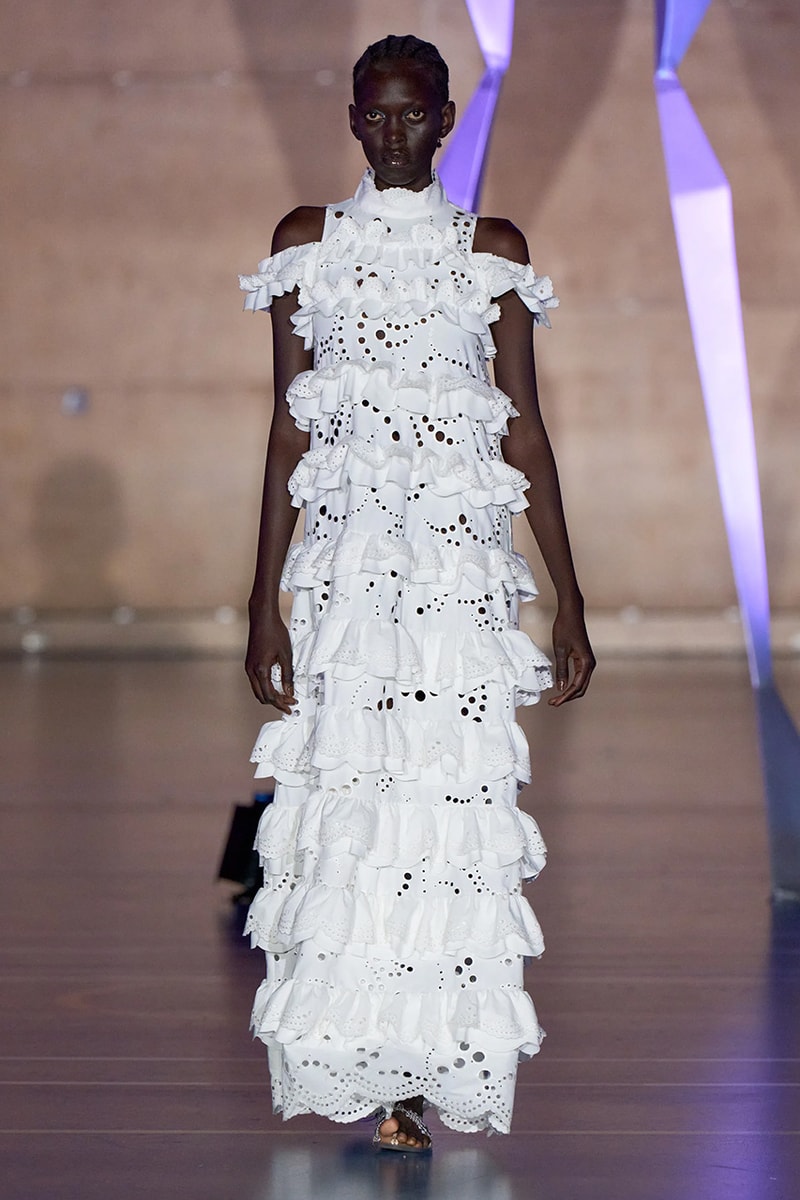 5 of 6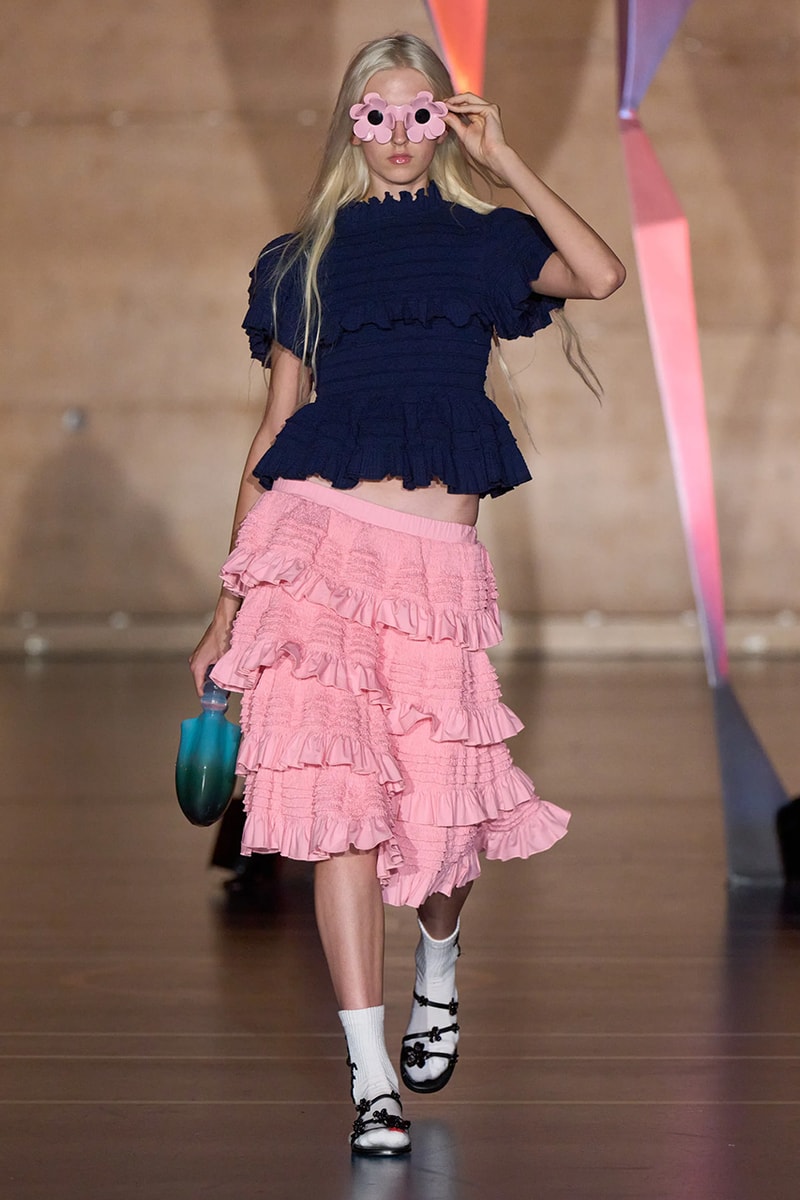 6 of 6
Fashion
Susan Fang SS24 Asks, What if AI Had Dreams Too?
Hypebae sits down with the creative to discuss childhood, moms and blending human creativity with machine learning for SS24.
Susan Fang SS24 Asks, What if AI Had Dreams Too?
Hypebae sits down with the creative to discuss childhood, moms and blending human creativity with machine learning for SS24.
There are very few designers like Susan Fang, capable of conveying such strong emotions through their work. The flourishing Chinese creative has become a favorite for a craft that radiates knowledge and acknowledgment of her culture's tradition, as well as a deep respect and curiosity for others. Her signature positivity and optimism are translated this season into a growing debate about nature versus AI, something Fang describes as "a new-age belief system."
Set against a 20-foot metal and fabric structure resembling a robotic angel, constructed from kites, the Spring/Summer 2024 lineup presents a stark contrast. The collection feels soft and delicate, yet a new energy is present across see-through lace dresses, computer-generated prints mixed with hand-drawn flowers and air-weave smocking-made garments, which combine mechanics and craftsmanship, giving the skirts and dresses a dreamy quality.
Fang's also expanding her accessory line with some futuristic-looking eyewear decorated with nature-inspired flowers and resin clutch bags, each with its unique energy. Sustainability remains central to her ethos, using materials sourced mainly from leftover fabrics and surplus. Fang's style is evolving, but she's also sticking to her values and her hands-on approach to exploring new creative avenues.
Before her show, which happened at the Little Venice Leisure Center for the second time, we had a chat with the designer. We talked about what's been inspiring her lately, her recent campaign in Mexico and how her mom plays a big role in her studio. Plus, she gave us a sneak peek of her upcoming exhibition featuring art from indigenous communities.
Keep scrolling to read our full interview with Susan Fang.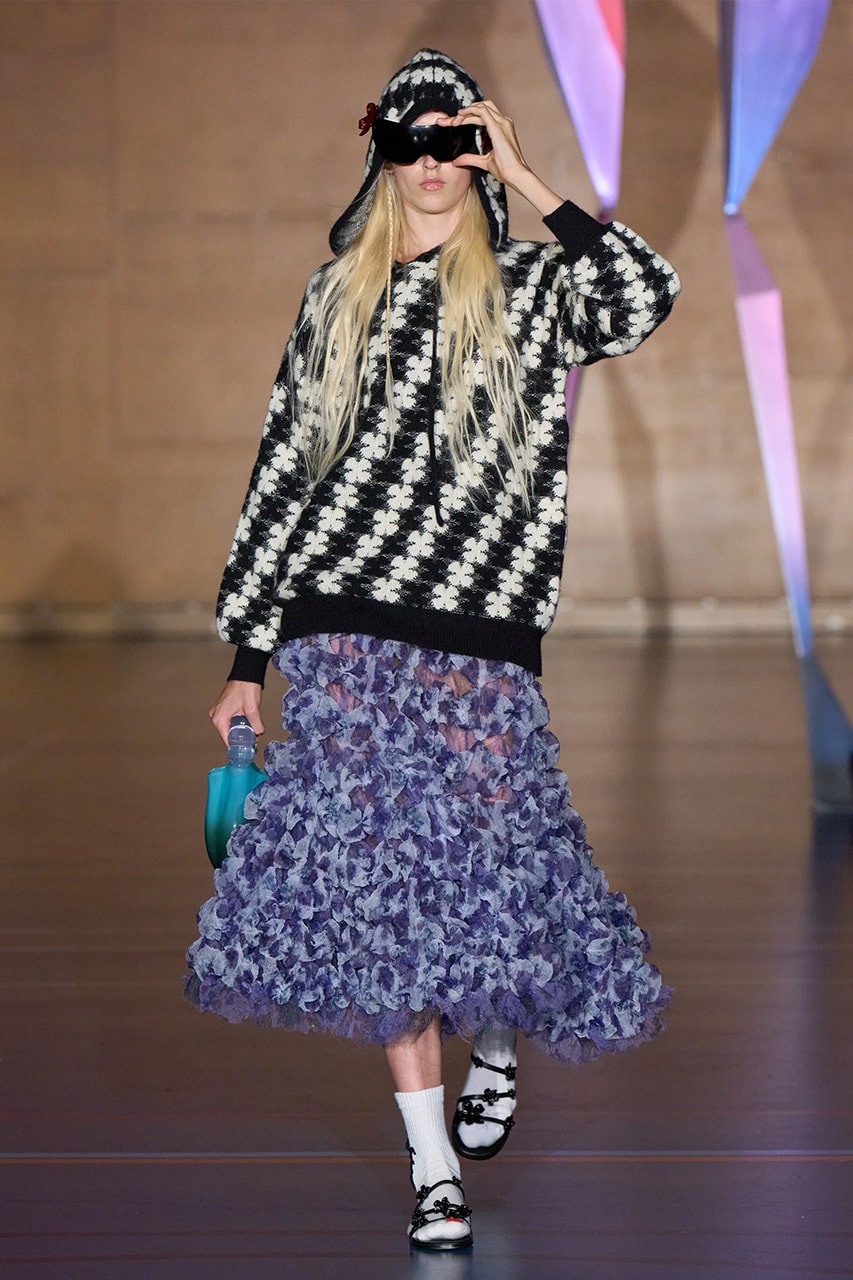 How are you? How are you feeling about your upcoming show?
As always, we're getting ready for the big event, but luckily, this time it doesn't feel as hectic. We've had some extra time to add those last-minute touches to our collection, which is awesome. It's funny how we rushed a bit more in the beginning, but now we can take things more calmly. Plus, we're buzzing because we've got the set design for the venue, and we'll be putting it all together the day after tomorrow, just a day before the show. We're also fine-tuning the final styling details. All in all, we can't wait to see how everything comes together for the show.
Well, to begin with, we know your brand is very rooted in beauty. And we're interested in hearing what has been inspiring you lately.
During my second year of university, I was in a bit of a contemplative phase, questioning the whole idea of beauty. I found myself asking why we define it the way we do and how we collectively agree on what's beautiful. It was during this time that I had a bit of an "aha" moment. It struck me that everything we perceive as beautiful is, in essence, a reflection of nature, our roots and our connection to it.
Fast forward to a recent project we did in Mexico, and towards the end, we hit a snag when we couldn't find a model. Over breakfast one morning, a street musician with fiery red hair and silver curls caught our eye. She had this intriguing kind of beauty that went beyond the usual standards. So, I plucked up the courage to approach her and asked if she'd be willing to model for us, even if it was just for an hour.
When she came back to us, we were blown away by her presence. The way she rocked our clothes transformed her into something straight out of a '50s movie. In our conversation, I complimented her on her amazing physique, and she humbly mentioned that she had shed a lot of weight after her husband passed away. However, as the day went on, she became increasingly open and lively. She danced around in our outfits, practically radiating joy.
At one point, she burst into song and dance while we were having lunch. She told us that she thought she'd never dance again after her husband's death, but that that morning, she heard this inner voice pushing her to step out and embrace life. This whole experience still fills me with inspiration today.
It was such a heartwarming exchange of love and positive vibes. We gave her our love, and in return, we got it back tenfold. It became crystal clear that true beauty isn't just skin-deep; it's about embracing life, sharing love and reciprocating positive energy to become more beautiful together.
That's beautiful. Would you say that experience influenced the way you've approached this new season?
Definitely, it really brought out the spiritual side of being human. It's pretty mind-blowing how clothes, with all their shapes, sizes, textures and colors, can transmit vibes and energy. This got us thinking about AI, which is interesting because it can stir up both fear and admiration, almost like a new-age belief system. We wanted to dig into this connection between energy and technology and give AI a touch of soul, kind of like our fascination with flying kites, a timeless dream for humanity.
So, in our creative process, we decided to use Midjourney and get a bit experimental this season. We took drawings from my mom and boyfriend's childhood drawings and ran them through the software. Then, we mixed them with our traditional hand-painted designs to see if we could still capture that human emotion.
We leaned towards designs that had a handmade, watercolor-like feel to them and we translated those into nostalgic shapes that bring out a sense of childlike innocence in adults. We sprinkled in some sparkle, like beads and subtle rhinestones, to symbolize the visual representation of electricity. It's a reminder that, despite all our tech advancements, we're still driven by emotion.
We also had some fun with accessories, like retro-futuristic 3D-printed flower sunglasses and bubble bags, trying to blend dreaminess with a spiritual vibe. Our bags featured gradient colors inspired by nature, like the pinks and purples of a sunset, the calm blues and greens of the sky and grass and the transition from earthy browns to cosmic blues from outer space.
In the end, we put together a unique piece that combined miniature bubble trees crafted by local minority and indigenous artisans in China with our own handcrafted stuff. It's a symbol of the interconnected spiritual energy we all share. Our message is pretty clear: even though technology and AI are doing incredible things, there's still something incredibly beautiful about being a soulful being and feeling connected to each other on a deeper level.
Would you say our creativity as children was purer and free?
Absolutely, I think many of us can relate to those moments when we're just lost in the pure joy of the present. It takes me back to my high school days when I'd stroll to the dining hall with my friends, wearing mismatched flip-flops and laughing like there was no tomorrow. Those moments are a lot like the carefree days of childhood when you might have bare feet, your clothes are all over the place or your hair's a mess, but you couldn't care less. It's all about living in the moment, discovering new things and enjoying the thrill of it all.
As we get older, the weight of responsibilities starts to creep in, and being mature often means following the path that promises stability and a long life. Finding a balance is important, but it's also a shift in mindset. I've noticed this in my mom, who, despite being all grown up, still has that childlike spirit. She often reminds me that the most important thing is to find joy in what you do. It's a bit like how kids live–if they're happy, they show it and if they feel like crying, they don't hold back. Sometimes, reconnecting with that inner child in us can unlock a world of imagination and a belief that anything is possible.
You've mentioned your mom a few times. What inspires you the most about her, and how involved is she in the brand?
Oh, absolutely, she's become a real cornerstone of our brand now. Honestly, I see her as one of our main designers. First off, being the elder that she is, she brings this wisdom and a sense of calm to the table, which is a total contrast to my often stressed-out self. She takes her role seriously but adds this beautiful simplicity to our work. Her main gig here is to support me and she's a huge help with our business development, separating tasks, embroidery work and our showpieces.
It's kind of interesting because she didn't come from a fashion background; she retired instead. However, she's got these incredible skills when it comes to crochet and all sorts of techniques. Whenever we throw a new fabric into the mix, she's up for the challenge and actively figures out ways to make it even better. I think moms have this knack for practicality and always seem to find the best solutions.
Why would you say collaboration and interconnectedness are so important to you?
When I was growing up, I had to constantly adjust to living in different countries every one to three years, and let me tell you, it was a real challenge. Dealing with diverse cultures during my formative years was pretty intimidating at first. However, as time rolled on, I started to embrace these changes. It hit me that what we sometimes see as racism often comes from not knowing and misunderstanding things because we're just not familiar with them.
My own life experiences have taught me that effective communication and diving headfirst into different cultures can break down the walls of racism. Unfortunately, during the COVID-19 pandemic, physical connections between countries became less frequent, and it seemed like political divisions were straining the ties between nations. Deep down, people really crave positive connections and a sense of togetherness.
On the flip side, I found it absolutely fantastic to just go with the flow of life instead of rigidly sticking to a predetermined plan. Those moments often led to some incredible encounters with locals during our travel adventures. It's like they have this special connection with the natural world that makes everything harmonious. The collaborations and friendships we've formed with them have been super inspiring. To this day, one of our local models still reaches out to share photos, and it amazes me how they seem even happier with fewer material things.
What's next for you?
I'm currently knee-deep in preparations for an art exhibition happening next month. The art world is brimming with incredibly talented artists, and our mission is to create something deeply meaningful in our upcoming project.
To make this happen, we teamed up with a charitable organization and joined forces with indigenous communities residing in mountainous regions, some of whom are going through tough financial times. Through this partnership, we gathered 3,000 tiny trees crafted from bubbles, gold and silver wire. These trees not only contribute to their daily livelihood but also ensure sustainability. We've taken these mini masterpieces and fashioned them into various sculptures.
In our art, what we're trying to get across is the inherent spiritual connection among humans. These sculptures, crafted by indigenous moms and women, act as abstract representations, embodying the essence of a soul, new life or the concept of light. It's a unique mix that, in our view, captures the idea of how we're all interconnected in our shared human journey.
---
Share this article