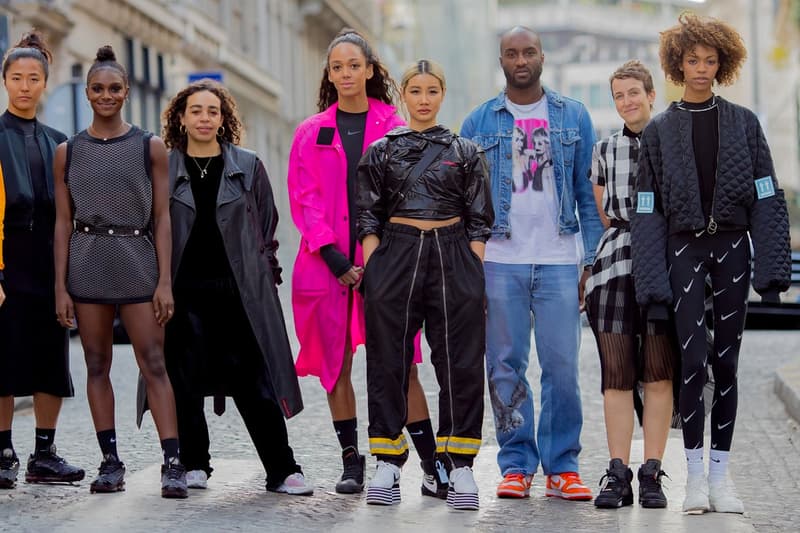 Fashion
UPDATE: Yoon Officially Teases Her Upcoming AMBUSH Collab with Nike
Swoosh will also be partnering with Martine Rose and Sarah Andelman.
UPDATE: Yoon Officially Teases Her Upcoming AMBUSH Collab with Nike
Swoosh will also be partnering with Martine Rose and Sarah Andelman.
UPDATE: Yoon has taken to Instagram to provide a first look at her forthcoming collaboration with Nike. The teaser shows dual branding on what appears to be either a black tag, or perhaps zipper. On the background is a blue-grey, fur-like material. Although the exact date has not yet been revealed, the designer announces that the collaboration will officially be dropping in December 2018. You can see the full post in the image below.
Nike is no stranger to collaborations. However, one may point out that its slew of covetable partnerships with designers such as Riccardo Tisci, Virgil Abloh, Kim Jones, Jun Takahashi, John Elliott and Matthew Williams have been missing a bit of a feminine presence. Up until this point, COMME des GARÇONS' Rei Kawakubo and Sacai's Chitose Abe have been two of the sportswear giant's scarce female collaborators (although tennis legend Serena Williams was a co-collaborator of Virgil's recent court-ready Off-White™ capsule). However, we are definitely happy to see Swoosh transitioning into a (hopefully enduring) new era that will introduce a slew of new collaborations with women at the forefront. The vanguards of this new territory are none other than AMBUSH's Yoon, designer Martine Rose and Sarah Andelman of the now-retired boutique, colette.
"My relationship with Nike has been a very organic one and that's what is the base for the most successful relationships. I am really looking forward to what we can do together in the future," Rose tells Vogue. "It was really nice being able to celebrate the amazing Nike track and field and soccer athletes that were a part of Paris Fashion Week this season. I feel proud to be part of the Nike conversation and celebrate female voices and sport."
Yoon also tells the publication that her collaboration is heavily inspired by the daily goings-on in her life, which is of course heavily rooted in sartorial creativity and imagination. "I consider myself a creative athlete. When preparing for a show or creating a new expression, you have to be mentally and physically strong to execute your vision and that takes a commitment of time and energy akin to any athlete perfecting their craft," she said.
These projects are definitely a long time coming and as a cherry on top, the new collaborations might just be arriving sooner than you think. Rose and Yoon's Nike capsule collections are slated to be revealed by the end of 2018 – each program will include both ready-to-wear and sneakers, of course. Andelman's concept will comprise of an exclusive curation on the Nike Unlaced website, sure to be just as distinctively exceptional as the beloved idiosyncrasy of colette.
Although details are still sparse regarding an exact release date for the collaborations, stay tuned here as we find out more. For more of the latest news from Swoosh, don't miss Rei Kawakubo's SS19 show, which debuted sneaker jewelry as well as a new Nike collaboration.
Share this article