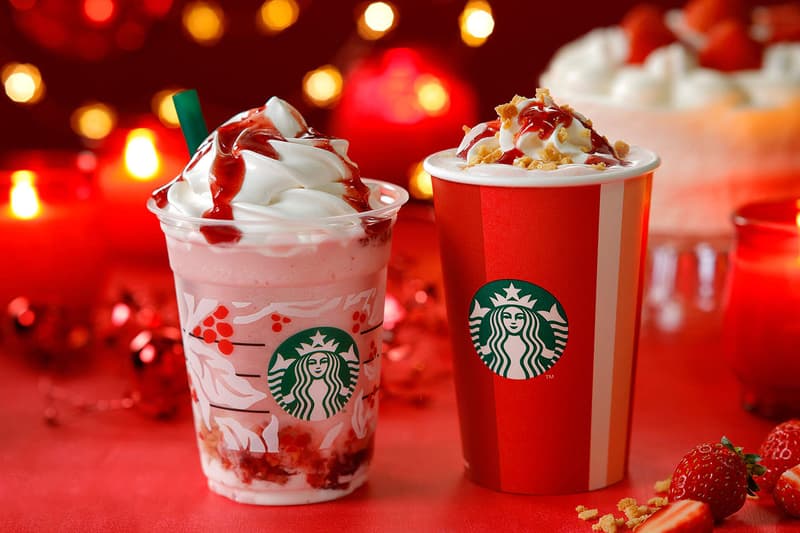 Food
Starbucks Gets Into the Festive Spirit With the Christmas Strawberry Cake Frappuccino
Happy Holidays!
Starbucks Gets Into the Festive Spirit With the Christmas Strawberry Cake Frappuccino
Happy Holidays!
Halloween hasn't even ended and Starbucks has already teased us with its delicious lineup for Christmas. Of course, the brand's signauture Frappuccino blended drink gets a festive makeover, as do milk and tea-based options for those who'd prefer to stay warm this season.
Inspired by traditional Japanese Christmas cakes, which are sweet and strawberry-flavored unlike the dense fruit cakes favored in places like the UK, the Christmas Strawberry Cake Frappuccino sounds and looks as good as we hope it tastes. It features a creamy, milk base with tart strawberry sauce swirled in. There are also baked biscuit pieces mixed in, for a cake-like texture and it's rounded off with snowy whipped cream and more strawberry sauce on top. If you'd like a similar flavor but prefer hot drinks, there's also the Christmas Strawberry Cake Milk which has similar ingredients but is served piping hot.
Alongside this, Starbucks will be re-releasing the cult-favorite and undeniably festive Gingerbread Latte and the Joyful Medley Tea Latte which proved popular last year. At the moment, it appears this selection of drinks will only be available at Starbucks locations in Japan from November 1 but stay tuned for updates on other festive beverages that will be releasing worldwide.
In related news, have you seen Starbucks Korea's Violet Roasted Sweet Potato Latte?