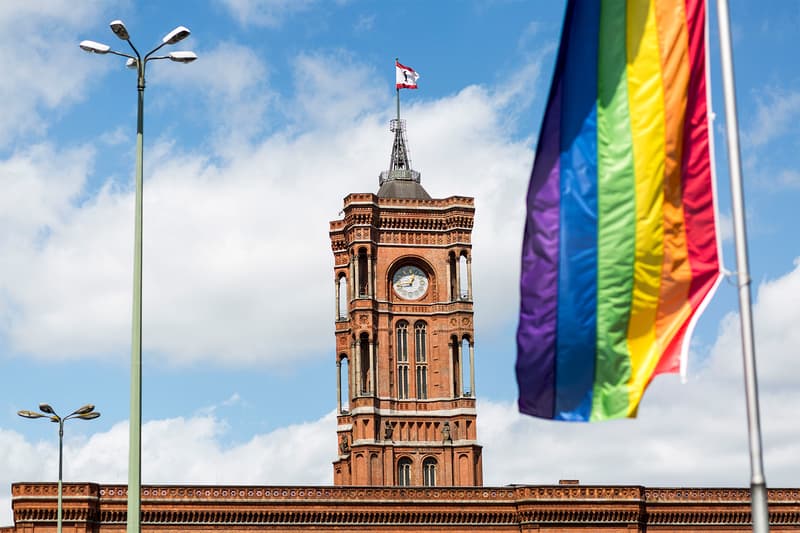 This Entrepreneur Is Changing the Way That LGBTQ Individuals Travel
Mathieu Jost, founder of misterb&b, is prioritizing safety for gay travellers.
Holding your partner's hand in public. Giving your significant other a quick peck on the lips. Going on vacation and requesting a double bed instead of two single beds. These are all seemingly inconsequential acts, just a small part of any normal day. No one would think twice or question any of these gestures. However, for countless members of the LGBTQ community, any of the aforementioned actions are are considered immensely risky and even potentially life-threatening. For those who do not fit into the accepted definition of a "normal" couple – essentially the traditional heterosexual pair comprised of a cis male and a cis woman – it is still, unfortunately, very common to experience discrimination. Or worse.
According to the World Economic Forum, there are currently 73 countries in which homosexual activity between consulting adults is considered illegal. In eight of those countries, homosexuality is punishable by death. That's not to say that we're not experiencing progress, however. In December 2017, Australia became the 26th country to legalize same-sex marriage. Yes, the progress is very (very) slow, but let's be honest: fixing bigotry and ignorance is a tremendous task.
Contributing to the forward progression of LGBTQ equality and visibility is Mathieu Jost, founder of misterb&b – think Airbnb, but gay-friendly. The platform is described as the world's largest short-term rental marketplace dedicated to the gay community. Jost came up with idea for his tech startup when six years ago, he and his partner booked a room in Barcelona and were confronted by an immensely homophobic host. Feeling unsafe, the two returned home earlier than expected. Soon after, misterb&b was created and then incubated in Silicon Valley through 500 Startups. Jost successfully raised $13.5 million USD in funding and the platform now includes 200,000 hosts in over 135 countries.
The primary mandate of misterb&b is to provide safety – allowing equal opportunities for LGBTQ travellers and to foster a sense of security for all globetrotters, regardless of sexuality. By connecting the global gay community within an array of different cultures, misterb&b is blowing the doors wide open to a world that may have otherwise be completely unaccessible to gay travellers who are afraid to be themselves in a foreign environment.
Matthieu is without a doubt tackling an enormous undertaking. He is changing the way that LGBTQ individuals travel and regard the world around them. We recently had a chance to catch up with the entrepreneur to learn more about misterb&b and how he hopes to change LGBTQ lives for the better with his concept. Read on to find out how Jost is bringing us one step closer to safe gay travel.
Although #20GayTeen saw vast improvements for LGBTQ visibility, there is still plenty of room for growth. Why do you think it's important to have services like misterb&b in our current socio-political climate?
We've come a long way! But we still have a long way to go. It was easy to let our guard down with the previous administration – we were making really excellent strides in getting closer to achieving LGBTQ equality. But just in the last couple of years, we seem to have gone backwards in time. Hate crime incidents went up by 17-percent from 2016 in the US (reported by the FBI's yearly "Hate Crime Statistics" report) – 20.6-percent of these were due to sexual-orientation, and 1.9-percent to gender identity bias. This was the largest reported increase by the report in almost 20 years.
What's more, the risk is even more acute abroad – homosexuality is illegal in a third of the world and in eight countries, it is punishable by death, with multiple horrific attacks and murders across the world. I think this signals that somehow, we've suddenly started to relapse to a time not long ago when it was dangerous for us to live our day-to-day lives. And this is why services that help and support and empower the LGBTQ community in every aspect of their lives, even as they do everyday things like travel.
Can you talk more about your encounter with a homophobic host in Barcelona and how that experience prompted you to start misterb&b?
I created misterb&b after an awful experience while on a wonderful vacation in Barcelona. At the time, my partner and I had booked a room in a home through a third party rental website. We were horrified to realize that the host was surprised, and visible angry. She even asked us, "Are you going to sleep in the same bed?" This weekend at her place was such a painful experience for us that I thought, why isn't there a solution that keeps our community safe? And I dreamt up and later created this platform, which has now grown incredibly. We're at 210,000 hosts in over 135 countries. That means hundreds of thousands of people in our community can travel to many places in the world and not have to worry if their host is anti-LGBTQ or if the neighborhood is safe for gay men, women and non-binary people.
What are some obstacles you've had to face while working on misterb&b? What is it like to develop an LGBTQ-focused endeavor in Silicon Valley?
The company was initially created in France. Early on we needed funds to fuel our growth but unfortunately, we were not able to raise funds there: serving the gay market was clearly an obstacle given that French VCs did not believe in a gay-oriented short term rental service (which did not exist at the time). So we decided to take our chance and move the company to the US, where the LGBTQ market is a reality. The VCs in the Silicon Valley believed in the concept, and we were able to raise our first seed money, then be accelerated in one of the world class startup incubators, 500 Startups.
What has it been like to connect with LGBTQ hosts and travellers alike from all over the world? What are some of the most emotional stories you've come across?
Since we started the company, we have received hundreds of messages from people thanking us for launching. Our early success showed that there was a real need for misterb&b. Our community wants to travel safely and be welcomed everywhere they go. They don't want to be afraid each time they send a booking request that the host isn't gay-friendly. So I'm proud to lead a company with a purpose and help create a more welcoming world for the LGBTQ community.
Yes, misterb&b has is a great way for hosts to make new friends from around the world, but the most powerful stories we hear are of the beautiful life-changing connections: for example, some hosts have even met their husbands on misterb&b! We're also a great tool for solo travellers to connect with a reliable point of contact when arriving in a new destination, so we always hear about people being thankful that they have that life line when they're in a new place. It makes them feel protected.
What are some precautions that misterb&b takes to protect hosts from experiencing discrimination, since their information is made public on the site?
misterb&b is open to everyone, not just gay folks and to men, women and non-binary femmes. We only require open mindedness and "gay-friendliness" and have zero tolerance for discriminatory behaviors. We have complex systems in place to verify profiles, detect unwanted people on our platform and the community of users is also very vigilant in reporting suspect activity. Reviews left by the users about hosts and guests has also proven to be an excellent way to protect the community against any harassment.
There is a strict privacy setting too: users who don't feel comfortable sharing their profile picture with the rest of the world can also make sure that only logged users see it.
How do you see tech paving the way for positive LGBTQ change?
Tech has changed the way LGBTQ folks meet through dating apps like Grindr or HER. With misterb&b, hosts are able to earn some extra money and live a better life and connect with the global gay community. In that sense, tech helps build up and empower the LGBTQ community. Tech has also made us more visible, but tech is not always a very open environment and we still lack more role models like Tim Cook. This is why the work of organizations like StartOut in empowering LGBTQ entrepreneurs is so important.
What are some of your favorite gay-friendly travel destinations and why?
Spain is one of the most gay-friendly destination in the world and offers a wide choice of amazing cities and islands such as Menorca or Formentera. Tel Aviv is a super friendly destination in the Middle East. I loved my trips to Vancouver, Cape Town or Bangkok, but my favorite destination remains to be the US.
What do you envision for the future of misterb&b? For gay-friendly traveling, in general?
misterb&b is in an exciting place. We've grown a ton, especially this past year, and will be looking to help travellers who don't only like to stay at b&b's. I can't tell you much about this now, but you'll be the first to know. We're also supporting LGBTQ allies: our holiday project is the launch of our misterb&b gift card. Using these credits, which start at $25 USD, allies with LGBTQ loved ones can design and instantly email their loved ones the freedom to book a spot at the home of a gay host and among safe, gay-friendly neighborhoods. So, in essence, we're giving allies the opportunity to gift their loved ones safety during travel.
I predict two ways in which gay-friendly travel will change in the future. One, I think countries and cities are understanding what an incredible and powerful community we are. They're getting smart about marketing their locations to our community and making sure it's a safe and inclusive environment. Maybe part of this is because they are figuring out that we also have plenty of disposable income and love to travel. Two, I predict that each year you'll see more and more tech solutions and innovative startups solving the problem of "traveling while gay".
Maybe one day in the future, we won't have to worry that at the next beautiful spot we visit, there may be someone who hates us just for being who we are.
Share this article