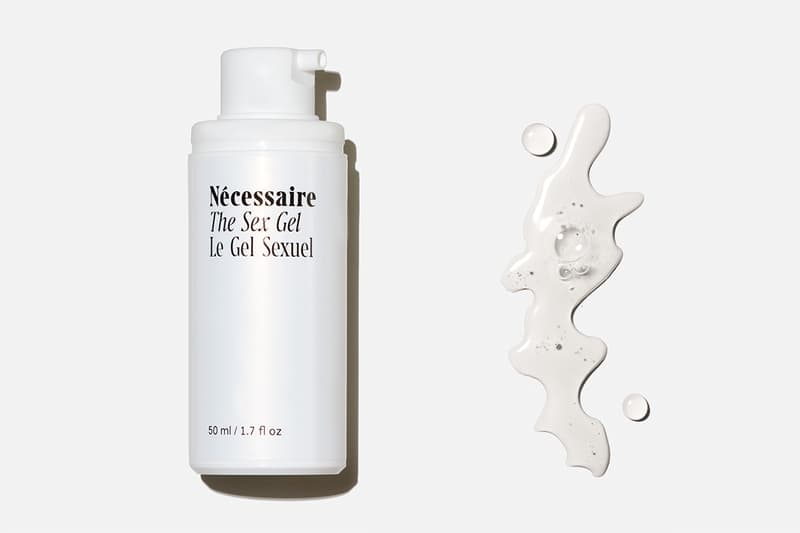 Meet the Body Care Brand Behind the Chicest Lube You've Ever Seen
They call it The Sex Gel.
It seems as though body care is always secondary when compared to skincare for your visage. Even the most dedicated beauty lovers who perform their skincare routine religiously tend to forget to take care of their skin from the neck down. Nécessaire is here to change that.
Founded by former Into the Gloss editorial director Nick Axelrod and Estée Lauder alum Randi Christiansen, the new beauty brand makes the often overlooked body care products its priority. Driven to create effective and high quality products for the body by using a high percentage of active ingredients and by cutting out ingredients that could be toxic and unsafe, Nécessaire not only offers a lineup of body washes and body lotion, but it has also created the most minimalist-chic lubricant for your pleasure.
Dubbed The Sex Gel, the clean, water-based lube is able to add moisture, glide and pleasure. Formulated with Distilled Deionized Water, Organic Aloe and Sodium Hyaluronate, the product doesn't stain nor does it cause dreaded stickiness. Packaged in a aesthetically pleasing high-gloss bottle, this lubricant will blend in perfectly with your other bits and bobs on your bedside table. Finally, there's a lube that you don't have to hide.
To shop The Sex Gel for yourself or someone special, head to necessaire.com. A 50 mL bottle retails at $20 USD.
We caught up with the co-founders of Nécessaire to chat about the philosophy behind their brand, their favorite products and more. Continue reading for our entire conversation.
How did Nécessaire come about? What was the inspiration behind the brand?
Nick: I had just moved from New York to LA and I was really dedicated to going clean in all aspects of my life, from skincare products to cleaning supplies to what I ate. Just cleaning it up. Something about LA does it to you. When I met Randi, who had moved to LA a few years prior to me, she was doing the same thing.
Randi: I wanted to create a brand that would provide the innovation and the motivation for people to care for their body. Body care was never the first thought — it was most often an afterthought. I thought it deserved another level of attention. The critical question became, "What might it look like if we were to treat our body like our face? How would we develop a product? And, how might we define "body" as bigger than body wash and body lotion?
What are you most excited about with the release?
Randi: I am excited we have taken the first step in making clean, effective skincare for the body accessible to everyone. I feel we are delivering a great product with great integrity. The environment pulls my heartstrings and while we still have far to go, I am excited about the sustainable practices we were able to adhere to this early in our journey.
Nick: The online community around self-care was inspiring to me, the conversations happening around wellness, fitness and beauty. I want to create a bigger movement with Nécessaire — to bring body and sex into the broader wellness conversation. Sex doesn't need to feel like an icky, sterile, or Kama Sutra-type thing. Likewise, body care isn't only about yoga or chakra readings. Body care and sex care are about self-care, and self-care is a necessity for all humans. Self-care is awesome. I was inspired to create a platform for people to practise self-care and feel like they are part of a reframing of a cultural conversation. Everyone has a body and everyone has something to say about self-care.
Both Randi and I felt it was important we didn't look and feel like a typical beauty brand. We wanted to flip the script. We brought in Brian Roettinger, a graphic artist who designs album covers for JAY-Z, Childish Gambino and a ton of others, to create our logo, our graphic and visual identity. Brian worked with Randi on our packaging design and with me on our visual and content choices. Also, we shot our campaign visuals with the British fashion photographer Charlotte Wales.
Which products are your favorite?
Randi: I'm very excited by The Body Lotion. It is like a daily multi-vitamin for skin health. There are several vitamins and nutrients coming from the three oils we're using in the formula: marula, cacay and meadowfoam oil. The niacinamide is a powerhouse ingredient and helps strengthen skin. And then we added a high concentration of skin signal peptides to actually firm and tone skin over time. These peptides are mainly used in facial skincare, but we felt it was worth it. We say "Treat your body like your face," so we wanted to walk the walk.
Nick: The Sex Gel, hands down. We always knew we had to launch Nécessaire with a personal lubricant, it was a given. It's water-based and has this cushiony texture, so it's great for all types of sex. And it looks great — not like you picked it up on the bottom shelf at the drugstore. You won't be embarrassed to pull it out. We also wanted to bring a new level of design to the category. To create a product that can actually add to the look of your vanity or nightstand. The Sex Gel stands out from other lubricants on the market in that it is clean as well. It does not contain parabens, glycols or silicones, but it has the glide you want from a lubricant. We added organic aloe and hyaluronic acid to provide moisture and give it that slip. We went through the FDA approval process for our Sex Gel, which was a long journey but a successful one. The Sex Gel is FDA-approved, safe for use with condoms, and made for all genders. It was important for us to have the FDA stamp of approval because the concept of safety is core to our brand philosophy. And it won't stain your sheets. I've had too many nice Matteo sheets stained by silicone and oil-based lubes.
While you are here, check out 12 very chic bath and shower products that'll make great gifts this holiday season.
Interviewer

Tora Northman/Hypebae
---
Share this article