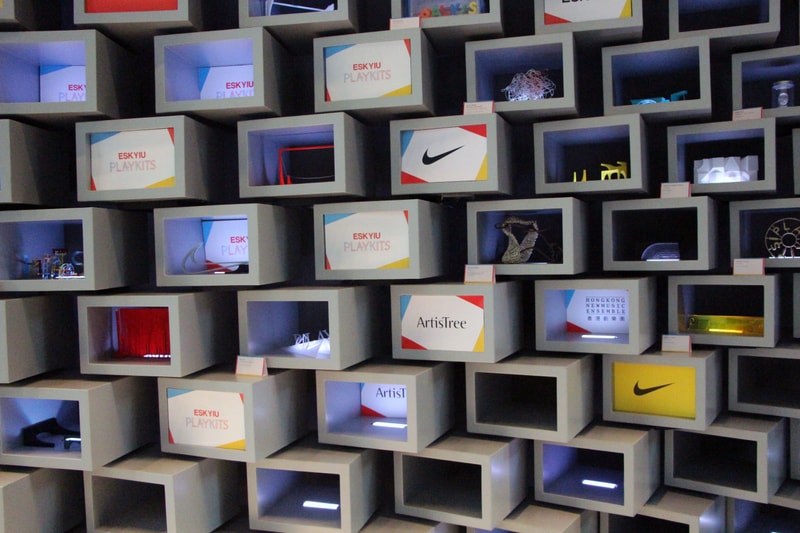 Fashion
Nike's Female Athletes on Sustainability, Women in Sports and Their Love for Sneakers
Catching up with Hilary Tsui, Stephanie Au and Vanessa Garcia Brito.
Nike's Female Athletes on Sustainability, Women in Sports and Their Love for Sneakers
Catching up with Hilary Tsui, Stephanie Au and Vanessa Garcia Brito.
In November, Nike put on an exciting "Playkits" event in Hong Kong which highlighted both sustainability, as well as a range of female athletes and creatives. The transformable interactive exhibition focused on a space where people could come to try out a range of sports and activities, from yoga to table tennis, and explore Nike's latest sustainable initiatives as well.
We got the chance to sit down with Olympian Stephanie Au, marathon runner and fashionista Hilary Tsui and Vanessa Garcia Brito, the VP of Nike Global Communications, Community Purpose and Partnership, to talk sports, being a woman in the industry and favorite sneakers.
As women in the industry, have you faced any challenges solely because you are women?
Stephanie Au: It's funny, because I feel the opposite way. In sports, we're already separated by male and female events and I don't feel like we are treated unequally, especially for swimming. It's the only sport that doesn't have to go against gravity, so swimming itself has a lot of movements that anyone can do in the water, whether they're male of female.
Vanessa Garcia Brito: I've been really lucky because early on I had a mentor who taught me not to think about limits, but to think about them the same way we think about sustainability and challenges, don't think of them as limit but think of it as an opportunity. I also realised early on that being a woman is actually a super power and that changed my approach. If there's a glass ceiling, I'm not looking at it. I'm also lucky that I've had sport in my life since my early years, because it makes you really resilient.
Why is it important that a big brand like Nike is pushing for more exposure and a platform for female athletes? Where do you see this growing in the future?
SA: It means everything. Nowadays, you definitely have to have big support and a lot of exposure for any launches or new concepts, and Nike has always been a strong force on taking this initiative further. The label has also been in the forefront of female empowerment, which is so important. I love the Nike family.
Hilary Tsui: I think it is important that Nike is highlighting a wide range of athletes, especially women. This event is inspiring, and will keep growing bigger and bigger.
VGB: At Nike we always think about how we use our platform to give a voice to people and causes we care about, and women is one of those causes that we're always going to be committed to, forever. We've been the leading sportswear brand for women for a long time, and we're able to represent international voices.
Sustainability is another focus for Nike, why do you think sustainability is so important?
SA: On a personal level, I actually studied sustainability as my major. I never realized that sports and sustainability could go hand in hand until this event, but they go together. There's so much that can be done with sustainability, the sky is the limit.
HT: Sustainability is a part of my daily life, I think a lot about it day to day. Like the other day, I went to get a drink and refused to get a straw. It's all about incorporating it into your life, and it is so important that Nike is also highlighting it
VGB: For me sustainability is everything. If we don't have it, we don't have fresh water, clean air, and we can't have sports or athletes or anything like it. A world like that is unimaginable for me, and it's unimaginable for Nike.
As athletes and women in sportswear, what do you look to when choosing your gear?
SA: I always look for sneakers to match the mood of my day. I don't really have a fixed style, I go from black and white to bubblegum pink, but that doesn't matter because you don't need to limit yourself when it comes to styling. Sneakers are the most comfortable thing to wear, so I enjoy mixing and matching with my kicks.
HT: It usually depends on my mood, where I'm going, and what I'm going to do. If I go for a run I wear a sleek sports bra and shorts, and proper running shoes. It's important to wear the right shoe, depending on which exercise you're doing. If I go to work, I usually just wear something I feel comfortable in. I always start from the sneakers, and match from bottom to top when I get dressed.
VGB: It's got to have performance, and it has to look good. I'm really active, so I'll be going from a very early day into my evening, so I want something that is comfortable and versatile. I'm always wearing sneakers, and I always love to wear something that's a little bit distinctive that expresses my personality.
Do you have a favorite Nike silhouette that you wear a lot?
SA: The Air Max 270.
HT: Lately I've been wearing a lot of the Air Force 1 shoe, but I also really like Nike's Air Max silhouettes, especially the Air Max 270.
VGB: I'm an Air Force 1 girl at heart, I'll admit. Although, Michael Jordan has always been one of my favorite athletes so there's always a space for some Jordans in my closet.
What is one piece of advice you'd give to young girls out there looking to pursue a similar career to you?
SA: Believe in yourself. As a kid, I never thought I would be an athlete, but I still worked heard even though I never dreamt to be Michael Phelps, but I believed I could do it. That's the way to do it.
HT: This generation is very lucky, they really can do whatever they want. My daughter really likes photography, so I got her a camera so that she could pursue her interest. The most important thing is to always stay focused, and put 100-percent into it, always.
VGB: make sure its your passion, you really need that grip. Be curious, because you'll face so many different challenges and be able to explore so many things. And always be resilient.
---
Share this article