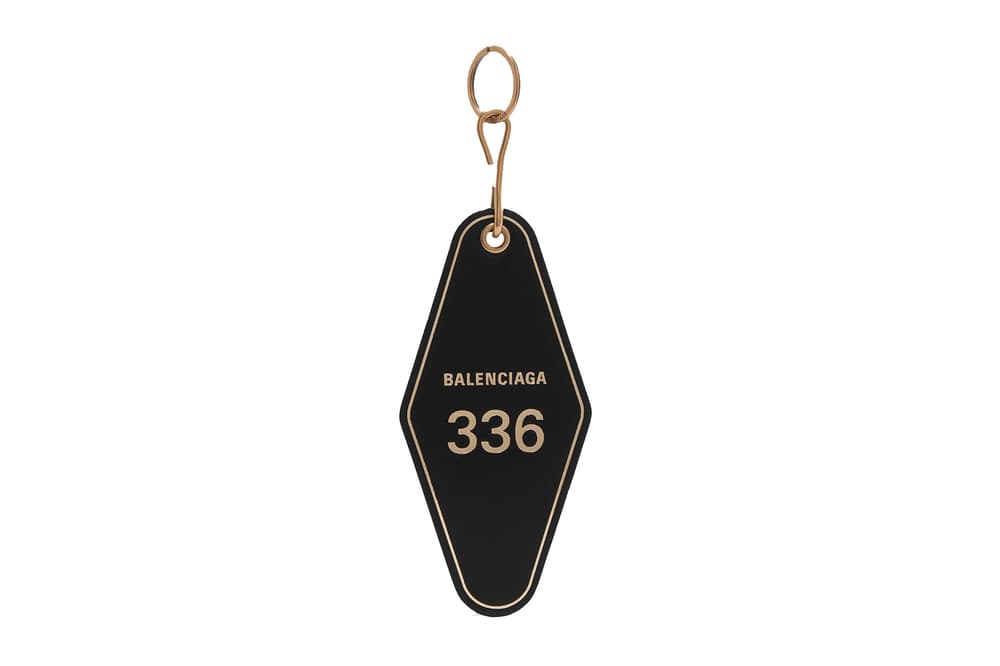 Fashion
Check in for a Luxe Stay With Balenciaga's $250 USD Hotel Keychain
Welcome to the Hotel Balenciaga.
Check in for a Luxe Stay With Balenciaga's $250 USD Hotel Keychain
Welcome to the Hotel Balenciaga.
Demna Gvasalia is renowned for his subversive approach to fashion – something he's applied in abundance to both his own label Vetements and during his tenure at Balenciaga. Pieces like outrageous platform crocs and the adorable puppy-print Knife boots are a prime example of the designer's outré sense of style and are just some of the many reasons he's being hailed as fashion's modern-day enfant terriblé.
Our latest Balenciaga obsession comes in the form of this oversized leather keychain. Evidently inspired by retro hotel room tags, this luxury rendition is constructed in Italy from soft black leather. It boasts a gorgeous metallic border around the diamond shape and has both Balenciaga's text logo and the number 336 – a reference to the brand's flagship store address on Paris' iconic Rue Saint Honoré –printed in glistening gold. Completing the look is a gold-tone ring fastening – instead of just adding this to your keys, why not hang it from one of Balenciaga's new handbags for an ultra-chic look?
You can pick up your own Balenciaga hotel keychain from NET-A-PORTER for $250 USD. Don't forget to peep this practical belt bag by the brand, too.
---
Share this article