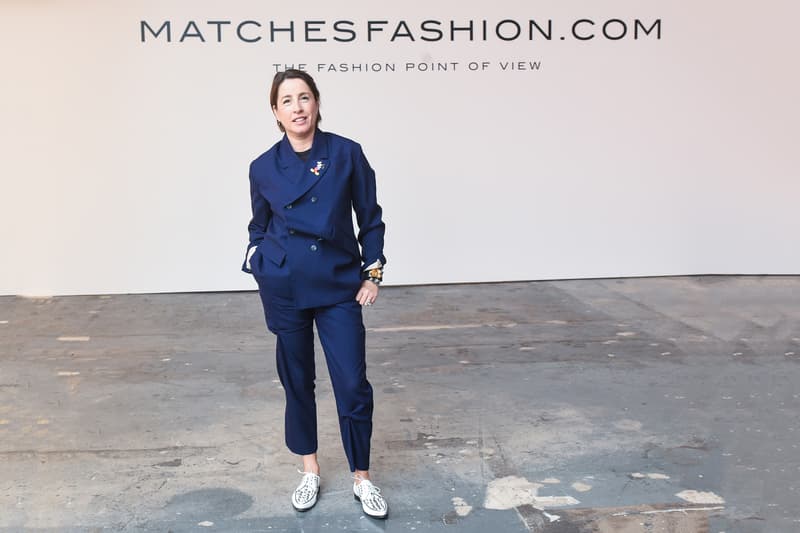 Fashion
MATCHESFASHION's Natalie Kingham on Her Creative Career and What It Takes to Work in Fashion
The retailer's Fashion Buying Director tells us how she got her start.
MATCHESFASHION's Natalie Kingham on Her Creative Career and What It Takes to Work in Fashion
The retailer's Fashion Buying Director tells us how she got her start.
To many ambitious onlookers, a Fashion Buying Director position of a top magazine or e-commerce company is a highly coveted role. The job is undoubtedly filled with traveling, appointments, invitation-only fashion shows and more tedious behind-the-scenes work. In this day and age, what's important to millennials is being able to understand how one actually goes about attaining this dream job. Fashion isn't a career path you wake up and decide to just hop into. It takes years of connecting with the right people paired with proving your tangible, unique skills.
As part of our "How Did You Land That Job" series, we've spoken to MATCHESFASHION.com's Fashion Buying Director, Natalie Kingham. Kingham looks back on her childhood as her first inclinations that fashion would be the career path she'd chose to make a living. Growing up in South London, she remembers always being interested in what people wore and admiring the personal style of the women in her immediate family. Back in the early '80s, Notting Hill was where she notes she was further introduced to fashion as a way of self-expression. Later on, she led a unique career path filled with stints in creative roles which ultimately led her to her current position at MATCHESFASHION.
MATCHESFASHION one of the top independent fashion retailers of the moment, and was originally created by husband and wife duo Tom and Ruth Chapman back in 1987. Beginning as a brick-and-mortar store, the brand has grown into a global platform with multiple storefronts carrying many of the world's top luxury brands. Last year, according to Business of Fashion, the company sold with a valuation of approximately $1 billion USD. With over 25 years in the luxury fashion industry, BoF reports that MATCHESFASHION brought in £204 million GBP (approx. $277 million USD) in 2016.
Read our interview below for Kingham's thoughts on the fashion e-commerce industry, how she expresses her career path and more.
How would you explain your career trajectory?
It's been an exciting journey. I applied for a place at fashion college but you needed to have an art background and I was hopeless at drawing. I decided instead to try my hand at photography and got a job assisting a photographer. I was also working in the Joseph shop at Brompton Cross, a major fashion hub at that time, and an incredible opportunity came up when Joseph asked me to find interesting British labels for him and to help with the buy for the store which was so exciting. Patrick Cox was a favorite of mine, as well as Alexander McQueen – I attended some of his first shows and bought the collection promising Joseph it would be a success. I have also been a stylist, had my own line of clothes and wholesaled collections so [I] have had a diverse cross-section of jobs within.
What originally attracted you to your current role at MATCHESFASHION.com?
When I first started my role at MATCHESFASHION.com eight years ago, the business and luxury fashion landscape was evolving and the digital business of MATCHESFASHION.com was growing at a rapid pace, so it was an exciting opportunity be part of this journey with Tom and Ruth.
During your creative career journey, what has been your most rewarding moment?
I find it incredibly inspiring working with young designers and discovering new talent. It's such an honor to see raw creativity and to watch it develop into a collection and then sell at retail. Fashion has also become so viral that yesterday's secret is today's trend almost overnight so being fully aware of all this is very important. Social media has transformed the way women dress and what they want to buy — a buyer needs to be very trend driven and always one step ahead of the curve. This is part of my job that I love the most; launching The Innovators and working closely with the likes of Matty Bovan, Horror Vacui, Claire Barrow, Art School, Wanda Nylon and Charles Jeffrey is so inspiring.
Travel is also a major role in my working life — thankfully I love traveling and experiencing different cultures but it means I have to be super organized in my everyday life and to have a team that does the same to make what we do successful.
What difficulties did you experience in your path and how did you overcome that?
Probably the timescale. When you start to view collections and get orders together is a very intense short time. You have to be very decisive and sure of your decisions. You have to view a collection very quickly and need to be very efficient at getting all of the information you need.
What skillset has continued to open doors for you throughout the years?
I have been lucky enough to have had entrepreneurs as my bosses. This has meant that I have been privileged enough to learn that determination, belief, hard work and talent will enable you to do a good job. In my opinion the most important thing for a buyer to remember is to buy with a strong point of view and belief and to keep things fresh and exciting.
Do you believe the fashion e-commerce industry has shifted over the years? How so?
Retail has changed a lot and the customer lifestyle has also changed — women are on the move a lot more, multitasking all day between work, motherhood, travel and everything in between. When buying it's important to always think about what your customer wants to wear and how it will enhance her life. We will increasingly shop in a digital way. As our lives become ever more busy, it will be essential to be able to shop in a way that works for the individual. Whichever way you choose to shop, whether in a physical or virtual space; on your phone whilst on the go; at your desk at work; in your lunch break or at home, the processes will continue to get easier.
In addition, the merging of commerce with editorial and virtual with physical will become increasingly important. At MATCHESFASHION.com we want all of our clients to enjoy the same immersive experience, whether in one of our stores in London or online.
Social media has transformed the way women dress and what they want to buy – a buyer needs to be very trend driven and always one step ahead of the curve.
What is the most important advice you've ever received?
To believe in yourself!
What would you like to say to budding creatives who are looking to leap into the industry?
The same advice as I was given; the career you dream of may change over time, and it is important to be flexible. Fashion is a changing industry and to change with it is key in order to learn all aspects. I would also say, to push yourself, take risks and enjoy it!
Share this article