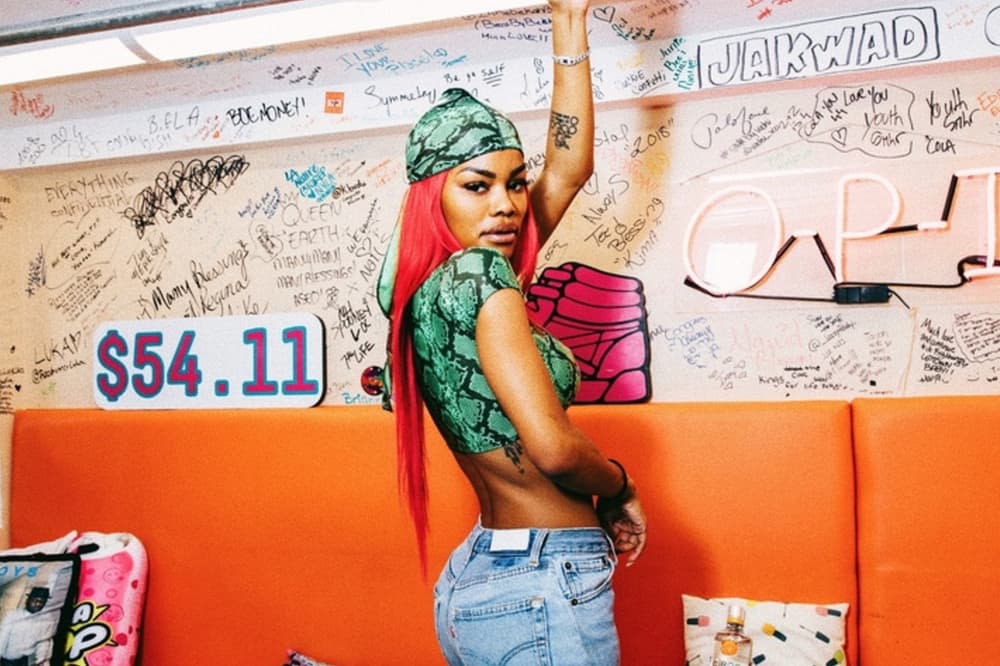 Music
Everything You Need to Know About Teyana Taylor's Ballroom-Inspired Track, "WTP"
Meet the other voices who contributed to the sample-heavy song.
Everything You Need to Know About Teyana Taylor's Ballroom-Inspired Track, "WTP"
Meet the other voices who contributed to the sample-heavy song.
Dancers began to circle Teyana Taylor at her Los Angeles listening party for her studio album, Keep That Same Energy. As the refrain "work this pussy" rang out on repeat, one of the dancers made a figure 8 effect with their hands, while another jumped up in the air and then brought themselves to the floor, one leg bent under him with another extended in a move called the dip. Taylor and Kanye West were in the midst of creating a moment for the ballroom scene sampling lines from the 1989 house track "Work This Pussy" by Ellis D. 
The ballroom community is a longstanding subculture created by queer people of color in the 1970s and is explored in the 1991 film Paris is Burning. Known primarily for a style of dance called voguing, which inspired Madonna's "Vogue," the ballroom scene is prime for a mainstream resurgence. This week saw the finale of Viceland's My House, a 10-episode docuseries about the modern day voguers, while Ryan Murphy's latest, ongoing FX series Pose is a fictional story set in the '80s ballroom scene. And now, comes Teyana's "WTP."
Notably on "WTP," which appears as the final song on the album, Teyana isn't the only voice. Following the sample in the background, the first voice we hear is Mykki Blanco, a queer black rapper who mimics the style of ballroom commentator saying: "She's a motherf*cking international sensation." In the ballroom community, commentators serve as equal parts rapper and master of ceremonies. His introduction of Teyana falls along the lines of a ballroom tradition called LSS or legend, statements and stars, where commentators hype up the crowd by giving praise and reciting accolades for the crowd.
"She's not your average showgirl," Blanco continues. "Allow Miss Taylor to sing the Blues."
In the last minute a hopeful voice starts speaking. "I believe there's a big future out there," she says. "With a lot of beautiful things. I want so much more. I want my name to be a household product in the high fashion world." The voice is that of Octavia Saint Laurent, a legend and icon in the ballroom community, sampled from a Paris Is Burning interview.
Octavia was a transgender woman of color, featured prominently in Paris but she also made the rounds in a few other film projects. With dreams of stardom, she made quite the impression on the community, becoming a semi-celebrity in her own right. To this day GIFs keep her presence alive online as her physical presence and vibe communicate a certain type of elegance, glamour and resilience. St. Laurent is also a touch stone in music. Most recently her voice has been used by other queer musicians like Cakes Da Killa who sampled her on his 2013 mixtape The Eulogy. That particular clip, which comes from the 2006 documentary How Do I Look, showed a different side of Octavia who took Hollywood to task for homophobia and transphobia. Even outside of queer artists, Dev Hynes dedicated his first album Coastal Grooves to her and sampled her voice on Freetown Sound.
Ballroom's legacy is much wider than just Octavia though. The subculture has been weaved into entertainment and the music we enjoy today. Frank Ocean has sampled drag queen Crystal LaBeija and even invoked her by name on his "Raf" verse. Leikeli47 name checks Buffy Khan on "Attitude" and had him co-star in the video. Beyoncé has borrowed Leiomy Maldonado's moves; and even Kanye West seems to pull from the sound of commentators (particularly Jay Karan Pendavis) on "Feel The Love" from Kids See Ghosts.
Octavia St. Laurent died nine years ago but her legacy lives on. When she was alive, she had dreams of being a singer, but unfortunately none of her music was taken seriously. As the ballroom scene begins to get the attention it deserves, perhaps the new generation of the ballroom community will have the chance to birth its own stars. 
Editor

Esiwahomi Ozemebhoya
Image Credit

@divad