Kylie Jenner Is Seen with a Custom Pair of the adidas Falcon "Triple White"
Is something in the works?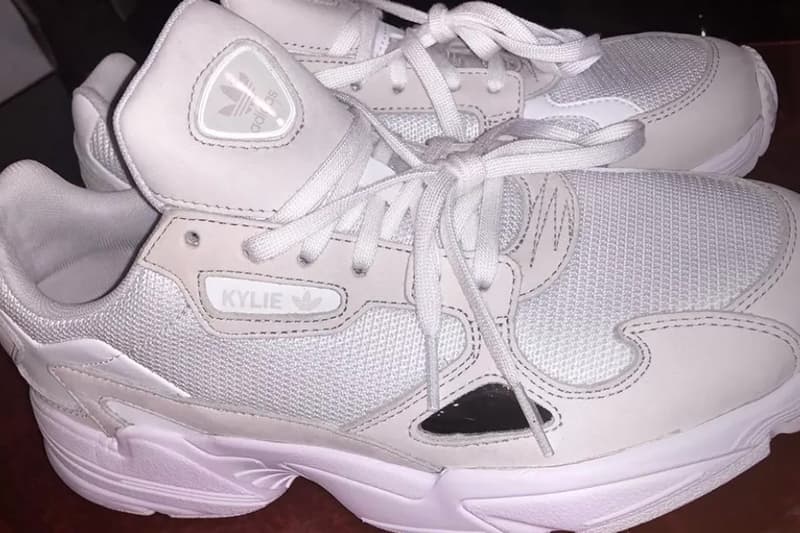 Having already taken to Instagram earlier this week to provide a teaser of an upcoming blush product release from Kylie Cosmetics, social media queen Kylie Jenner now takes to the platform to show off a custom pair of the adidas Falcon "Triple White." In the image, the crisp white sneakers are seemingly without any notable adjustments. However, upon closer inspection, it is clear that a subtle amendment has been made to the silhouette's branding details. In place of the typical adidas text logo in a rectangular plate immediately below the eyelets is instead the words "KYLIE" accompanied by the Trefoil logo.
Seeing as her sister Kendall Jenner is an ambassador for Three Stripes – not to mention that brother-in-law Kanye West is the mastermind behind the adidas-fuelled YEEZY footwear line – it's no surprise that Kylie would be gifted with custom shoes from the sportswear giant. With her departure from PUMA in mind, however, we can't help but wonder whether King Kylie might be the next addition to the adidas family. We'll just have to wait and see.
As you ponder the above, why not also check out Kylie's full tour of her jaw-dropping purse closet featuring Hermes, Louis Vuitton, Prada and more.