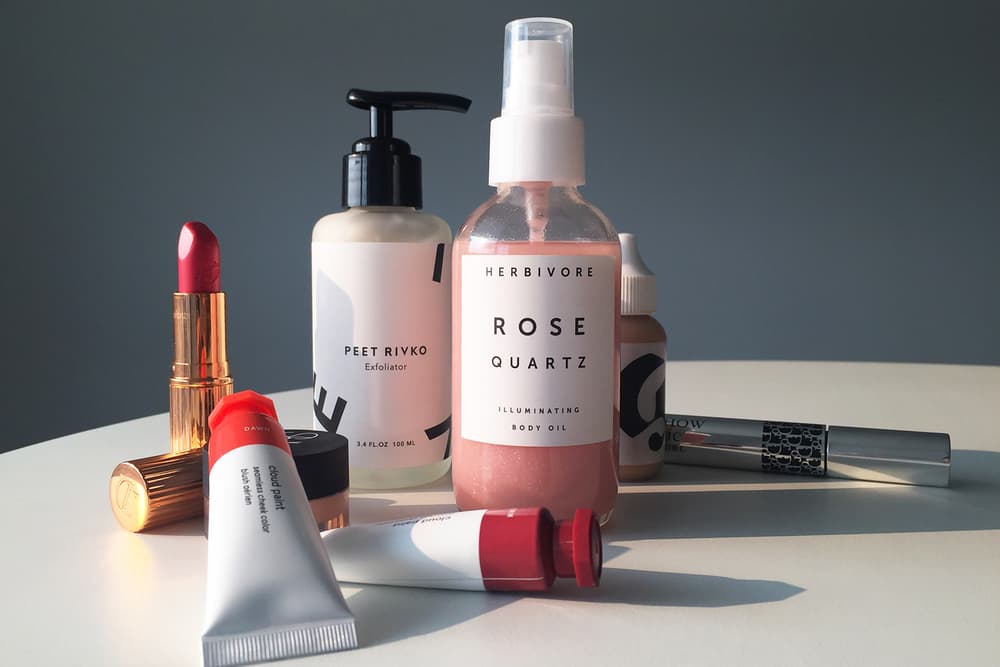 Beauty
21 Skincare & Makeup Products That Are Made for the Summer
HYPEBAE editors share their favorite beauty essentials at the moment.
21 Skincare & Makeup Products That Are Made for the Summer
HYPEBAE editors share their favorite beauty essentials at the moment.
Summer seems to be ending far too soon. As we're enjoying the last bit of warm weather, our editors look back on all the makeup and skincare gems that worked for them during this scorching season. From a body highlighter and SPF, to glow-giving serums and luxurious shower products, we might be a little over-the-top with our beauty game but all that matters is that we feel great every time we use these products. Take a look at our current favorites below and let us know yours in the comments section.
If you've been doing a lot of travelling this vacation season and need a little pick-me-up for your skin, check out these cult-loved eye masks and affordable face creams.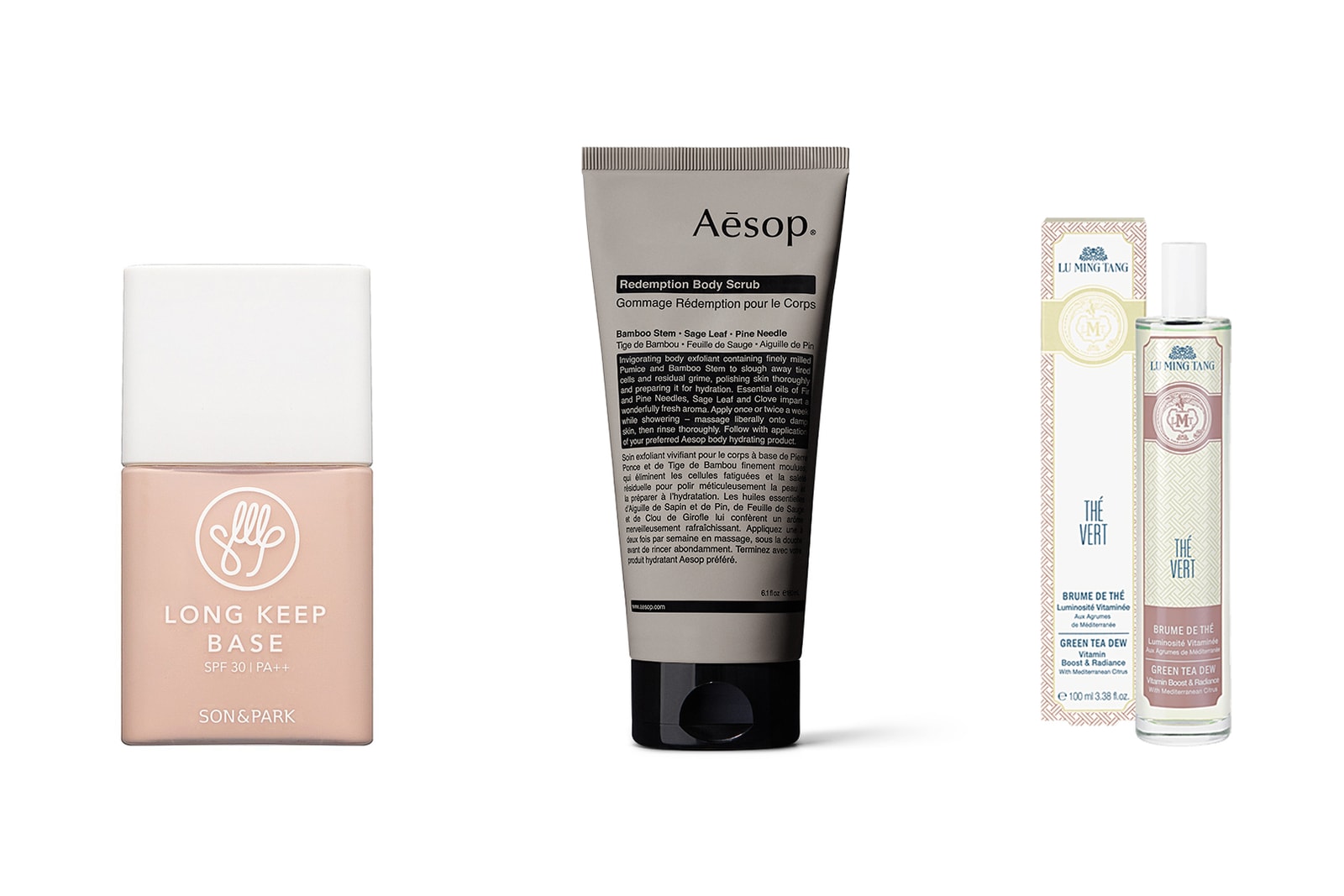 1. Lu Ming Tang Green Tea Dew with Mediterranean Citrus
If there's one thing that refreshes me like no other during agonizingly hot summer days, it's a good ol' facial spray mist. Designed to both quench and reinvigorate your skin, Lu Ming Tang's energizing Green Tea elixir is infused with mediterranean citrus for a truly reviving scent that will instantly wake you up. I like to use this in the morning after cleansing to plump up my skin, as well as to brighten my complexion. The formula is also perfect to prep my face for the day, as it contains anti-oxidant properties that help to protect my skin against pollution. You can purchase a 30ml bottle for ¥98 CNY (approximately $15 USD) or a 100ml bottle for ¥198 CNY (approximately $29 USD) at Lu Ming Tang's web store.
Effortless, dewy skin is always a go-to beauty look in the summer and with Son & Park's Strobing Base, it couldn't be easier. Despite being a drug store brand found at any Olive Young location (think the Duane Reade of South Korea), this luminizing primer is one of the most effective products I've tried for an absolute glow-up. I usually use this right before applying foundation. Although its pearly sheen doesn't seem like much when first applied onto the skin, it makes a world of difference when combined with your typical makeup routine. Oh, and did I mention it also provides SPF 30 protection? Give this K-Beauty secret a try now at select stockists such as myskincleanser.com, where it retails for $28 USD.
3. Aesop Redemption Body Scrub
Summers in Hong Kong are great if you're into the whole 40-degree weather thing with 100-percent humidity for the majority of the year. Despite being a haven for prime subtropical conditions, you'll find that at the end of most days, you're craving a good old head-to-toe deep cleansing shower. One of my favorite rituals is using Aesop's Redemption body scrub. Thanks to its luxurious blend of finely milled pumice stone, bamboo stem and pine needles, the product effectively exfoliates your skin while providing much-needed aromatherapy at the same time. The brand recommends that you only use this once or twice weekly, due to its intensely exfoliating properties, so you can be sure that I definitely look forward to this skincare ritual every time. After each use, my skin is left feeling soft and hydrated. You can treat yourself with a bottle of body scrub for $43 USD each, found at all Aesop locations in-store and online.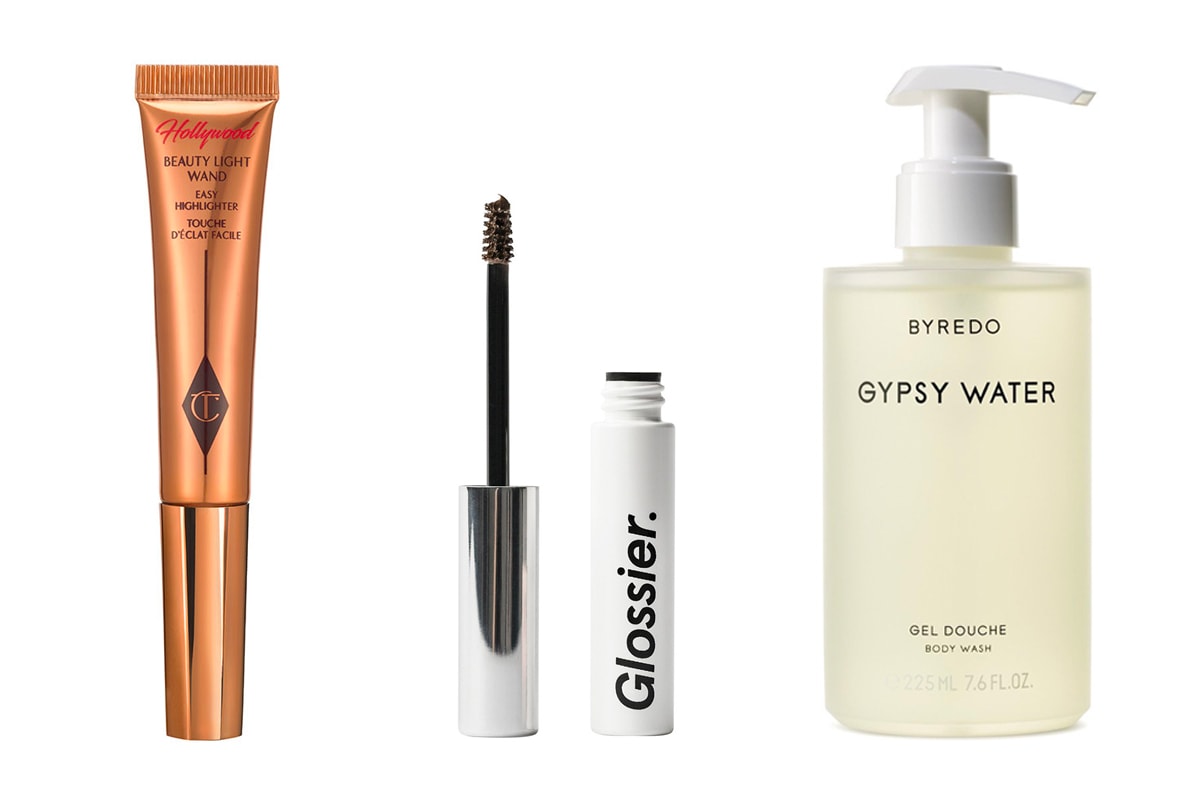 1. Charlotte Tilbury Hollywood Beauty Light Wand Highlighter
During summer I rarely wear makeup, but sometimes I just want a bit of extra shine — and that's when Charlotte Tilbury's Hollywood Beauty Light Wand comes in. The formula is easy to apply, and comes with a gorgeous glow that doesn't show up glittery on your skin, leaving a natural yet blinding sheen. I've been using it almost every single day, and it makes me feel gorgeous. It retails at $38 USD, but that's a small price to pay for the perfect glow.
I'm not going to lie, if there's a part of my makeup routine that I spend time on — it's the brows. I've previously been loyal to eyebrow pencils, but for some reason something about eyebrow gel intrigued me, and after trying the Glossier Boy Brow I was instantly hooked. Perfect for summer, the gel is quick to apply and leaves a natural yet visible tint that will give you brows on fleek. Ideal when you're on the go or need a quick touch-up, you won't be disappointed. You can get yours online at Glossier where it retails at $16 USD.  
3. BYREDO Gypsy Water Body Wash
This summer I spent a lot of time outside in the heat, and nothing felt better than coming inside to take a cold shower. I'm usually quite picky when it comes to scents. I never want anything too sweet or too floral, and finding the perfect body was has proven to be difficult. It wasn't until I splurged on BYREDO's Gypsy Water Body Wash (the same scent as my everyday fragrance) that I knew I'd found the perfect one. Not only does it smell heavenly, it also feels moisturizing and smooth on your skin and leaves you feeling fresh all day long. At $50 USD, the body wash is definitely expensive, but sometimes you need to treat yourself.
I spend most of my summer weekends at the beach and by the pool, and while that's nice and fun, at the end of the day my skin feels like it needs deeper cleansing than usual. I've been trying to use exfoliators regularly and Peet Rivko's newly-released version has been my go-to lately. The physical exfoliant is made with ingredients like jojoba beads, oatmeal and rice bran that helps get rid of dead skin when used once or twice a week. Not only do I love the gentle texture of the product and its non-offensive scent, but I'm also impressed with the results it gives. My skin feels instantly refreshed and baby soft every time after I use this exfoliator. For $34 USD, you may pick up a 3.4 fl oz bottle at Peet Rivko's website.
2. Herbivore Botanicals Rose Quartz Illuminating Body Oil
My obsession with "the glow" has obviously reached new heights. During the summer months when my arms and legs are exposed from wearing sleeveless tops and denim cut-offs, a few dabs of highlighter on the face simply isn't enough. Herbivore Botanicals' Rose Quartz Illuminating Body Oil is the perfect product for those who'd like to achieve luminous skin from head to toe. Vegan, all-natural and cruelty-free, the body oil gives a subtle, shimmery glow to your body that's especially noticeable under the summer sun. The product also keeps my skin moisturized throughout the day without making it feel greasy or heavy. Get yours for $48 USD over at Herbivore Botanicals' website.
I'm a creature of habit. Ever since I tried out Glossier's Cloud Paint when it launched last spring, I've been using the product religiously as my everyday blush — because it's that good. While I typically gravitate towards the light pink "Puff" shade, this summer I've been playing around with the latest additions to the Cloud Paint line, including the burgundy-hued "Storm" and the cheerfully orange "Dawn." The gel-cream formula is absolutely foolproof and wears beautifully on the cheeks, giving them a natural flush of color. You can shop for your favorite shades online and in-store at Glossier's retail locations for $18 USD each — or, make it a duo for $30 USD.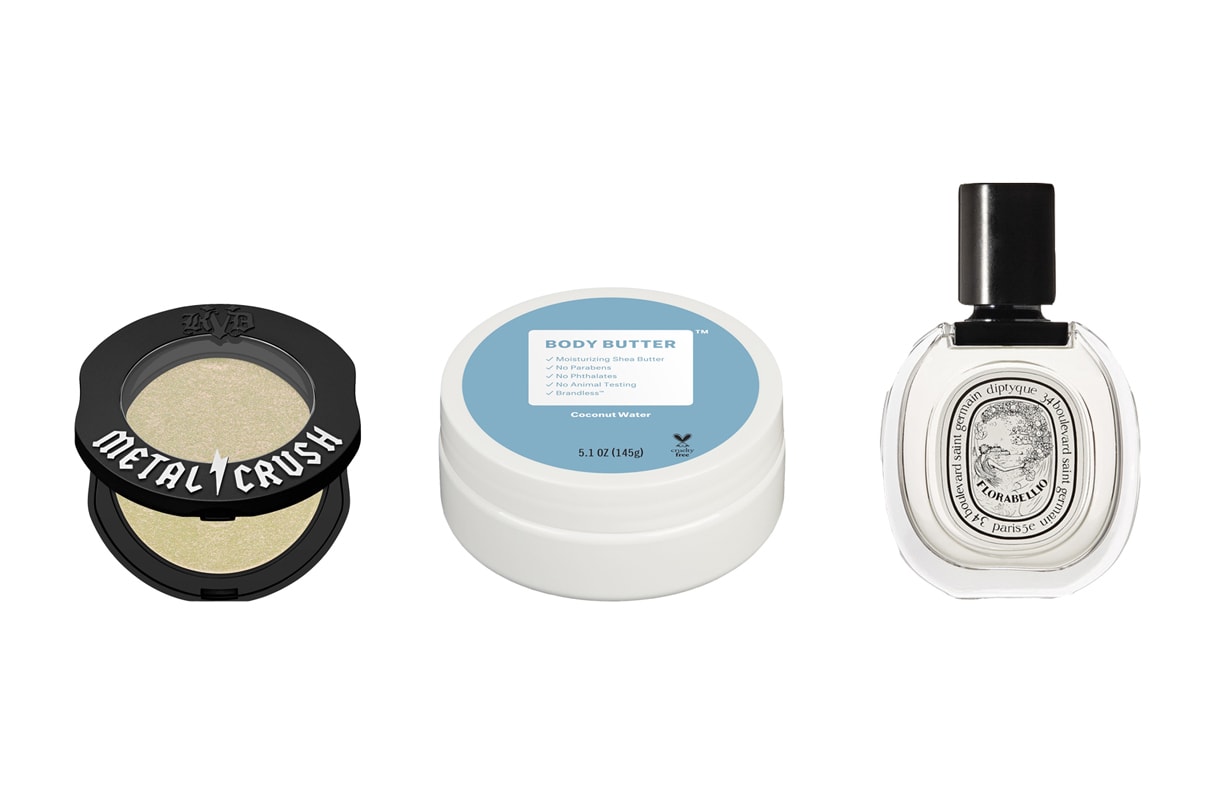 1. Kat Von D Beauty Metal Crush Extreme Highlighter
I love a good highlighter. I thought I had sworn off of attaining new options since I'm really into the iterations which I rotate whenever I feel like glowing all day long, but Kat Von D Beauty's Metal Crush Extreme Highlighter is the ideal pick for me. I tried it out recently to see if the glow would last throughout the day, and to my surprise it actually did. I'm anxious to try it out a bit more with more than just two swipes. In particular, I liked it because it did not look clown-ish on my skin tone. It added a delicate, ephemeral glistened look to my foundation. Head to Kat Von D's web store to purchase Kat Von D's Metal Crush Extreme Highlighter in "Gravitron" where it is available for $30 USD.
I've begun realizing that keeping my hands moisturized and soft throughout the year is my thing. Here enters Brandless' Body Butter, a ultra-soft, refreshing moisturizer. I keep this goodie at my desk in case I forget to apply lotion or hand cream before I leave the house. This particular pick is perfect if you're looking for something light that doesn't leave too much of a smell (I'm big on smells). Head over to Brandless' web store to purchase the Body Butter where it prices out at $3 USD.
3. diptyque Florabellio Eau de Toilette
I'm pretty much enamored with this fragrance. I discovered it over a year ago and never looked back. When I was a bit younger, I never really thought I'd find a perfume that would work for me, but when I first smelled this scent, I had finally found my signature scent. It's packed with hints of apple blossom, marine accord and even coffee which I find interesting. It's possible that these cues triggered something in me over a year ago. I haven't grown sick of it, and I think it's perfect year round, not just as a summer fragrance. Head over to Net-A-Porter's web store to purchase the diptyque Florabellio Eau de Toilette where it prices out at $95 USD.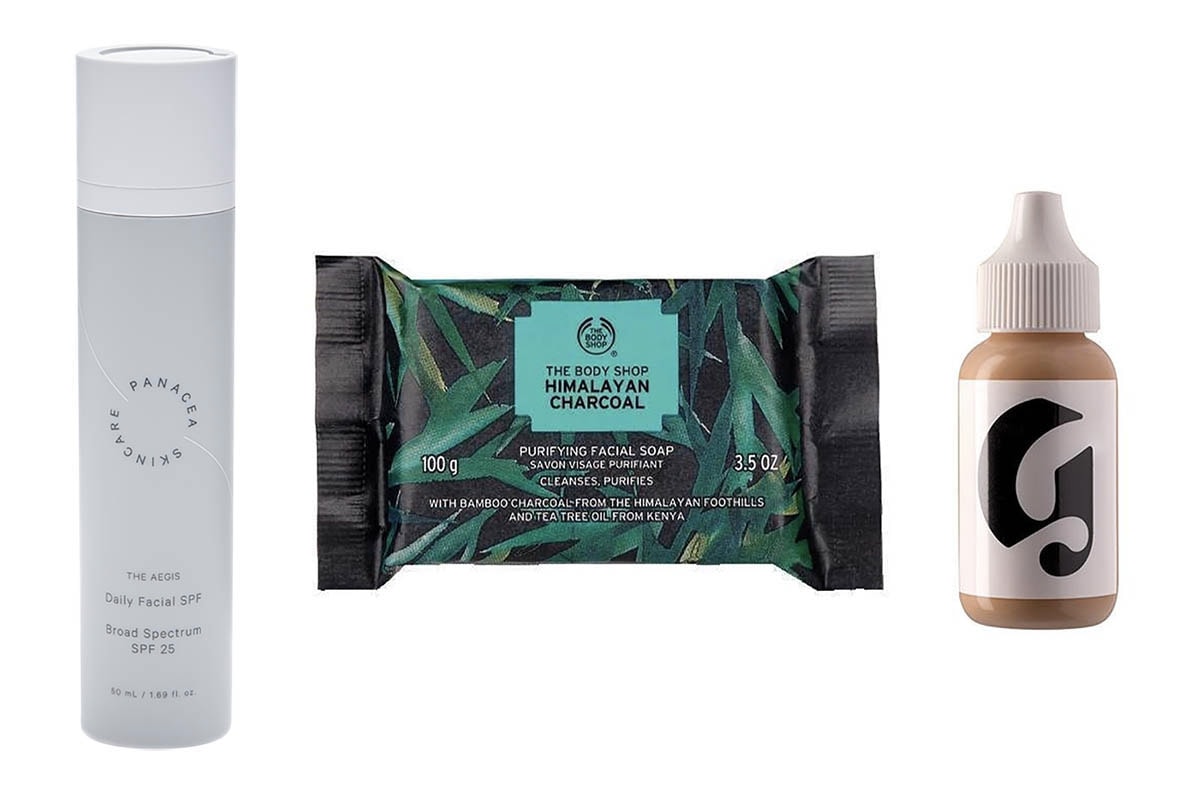 1. The Body Shop Himalayan Purifying Charcoal Facial Soap
When it comes to warmer weather, it's all about skincare. I try and minimize the makeup (since it will come sliding off in the heat anyway) and focus on nourishing and cleansing more. Although I use Glossier's Milky Jelly Cleanser in the evenings, my morning routine kicks off with The Body Shop's Himalayan Purifying Charcoal Facial Soap. At just $6 USD, it's a real bargain and it does a great job of removing impurities whilst also leaving me fresh-faced — it's truly become my everyday go-to.
You should be using SPF everyday, regardless of the weather or where you live, but of course it's even more imperative during summer. My new fave has got to be Panacea's Daily Facial SPF ($30 USD); not only is the branding and packaging minimally beautiful, this lightweight formula glides on easily without leaving your face feeling greasy or clogged with product, and it works as the perfect base for layering your makeup over, too.
3. Glossier Perfecting Skin Tint
As I mentioned, I try and keep my makeup to the bare minimum this season but my skin can always do with being evened out a little. This is where Glossier's Perfecting Skin Tint ($24 USD) comes in. I opt for the "Dark" shade, and lightly blend a few drops across my face to add a subtle touch of color and brighten up my face. It leaves my face looking naturally dewy rather than shiny and means I can forgo being caked in foundation and embrace a more natural glow.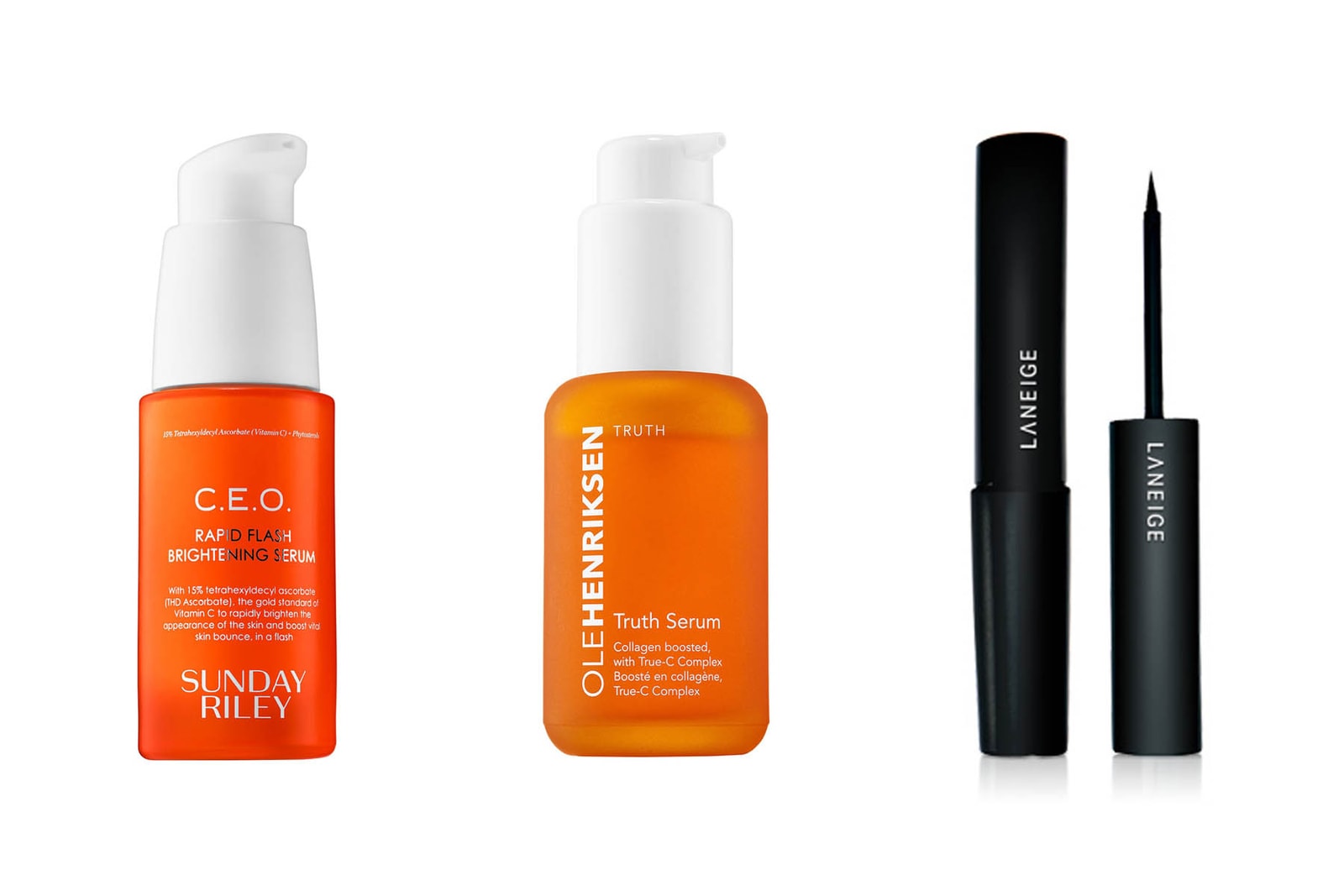 1. Sunday Riley C.E.O. Rapid Flash Brightening Serum
I recently reviewed Sunday Riley's cult-loved Good Genes and I was convinced that I had to try its other products. In winter, I lather on moisturizer, but in summer, it's more important to use a strong serum. On particularly humid nights, I apply serum alone. Sunday Riley's C.E.O. Rapid Fashion Brightening Serum contains vitamin C, and promises to reduce dullness, dark spots and discolorations. I woke up to plumper, polished skin that sang praises to Sunday Riley, once again. I top the brightening serum with Good Genes, twice a week. It's not cheap at $85 USD, but you can use sparingly like me, and one bottle will last.
Following up with another serum you need to know is Ole Henriksen's Truth Serum. The anti-aging solution also contains Vitamin C and collagen to support bright and hydrated skin. It absorbs into the skin with no residue and controls oil. Ole Henriksen calls it a "daily multivitamin." I use it in the morning topped by Iope's Bio Hydro Cream. The 30 ml bottle is $48 USD and the 50 ml size costs $72 USD.  
3. Laneige Extra Easy Eyeliner
Extra easy is right. For context I started wearing eyeliner at 18, and in the years since, I've liked some, disliked other, and thought that I had a match in Laneige's Natural Eyeliner. But I recently tested out its Extra Easy Eyeliner and the lasting power and easy to remove nature convinced me otherwise. I had a new go-to. The sponge tip distributes the liquid with ease, and without any clumps. The liner is available in-store at Aritaum, priced at approximately $13 USD.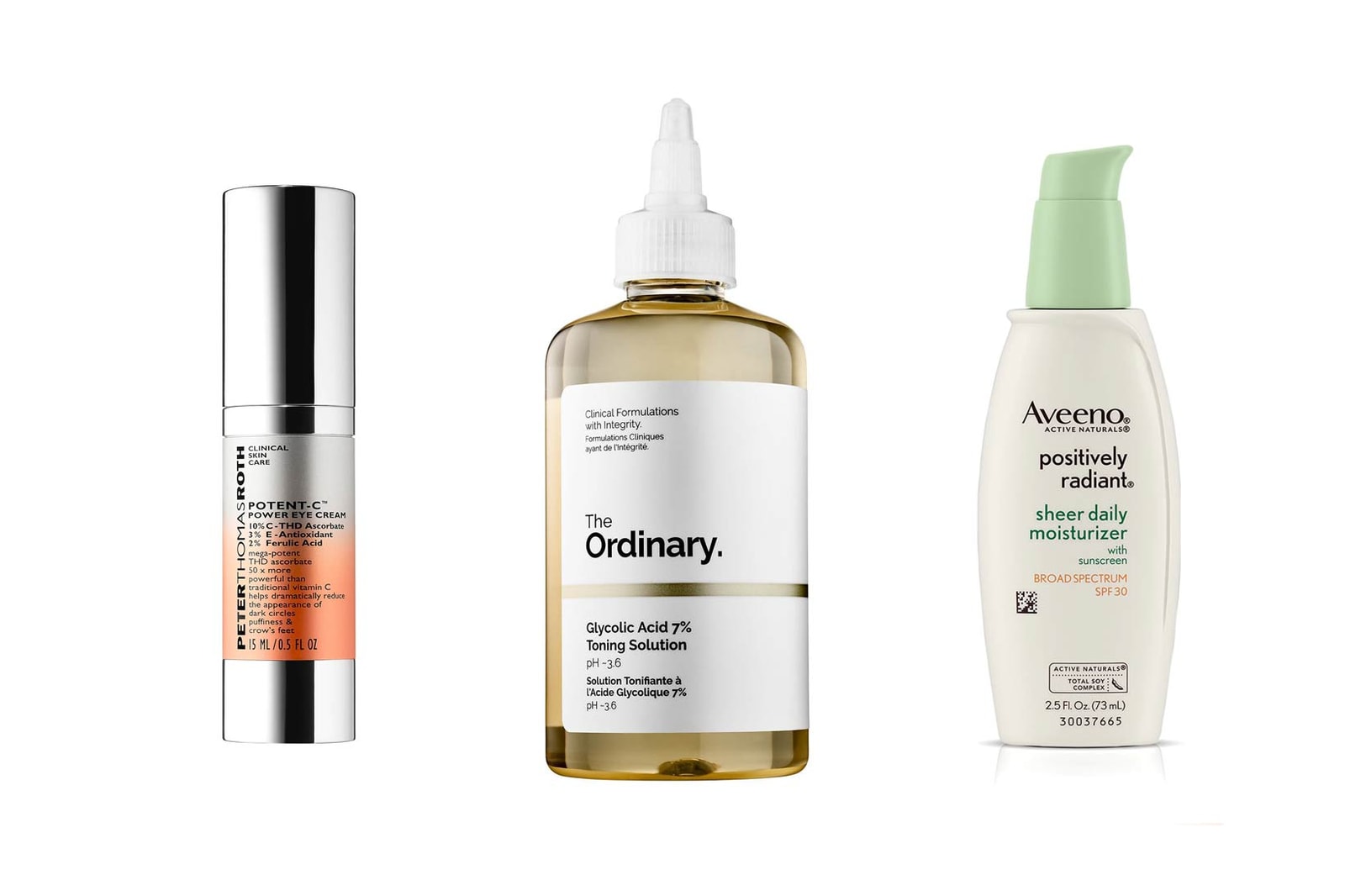 1. Peter Thomas Roth Potent-C™ Power Eye Cream
Finding an effective eye cream is a difficult task. After a few nights of little sleep, I found I needed more than concealer to help cover my tired eyes. Peter Thomas Roth's Potent-C™ Power Eye Cream ($65 USD) has a hydrating formula infused with vitamin C, vitamin E and ferulic acid to help brighten the under eye and reduce puffiness. After using this twice daily for weeks, my dark circles improved dramatically, making applying makeup that much easier.
2. The Ordinary Glycolic Acid 7% Toning Solution
I'm a big fan of using a glycolic acid toner nightly. My previous favorite, Pixi's Glow Tonic, seemed to lose its potency over time. I believe my skin got used to the five-percent formula so I moved on to something a little stronger. The Ordinary's Glycolic Acid seven-percent Toning Solution has helped chemically exfoliate my skin without any of the pesky side effects. It's the first step in my routine to getting a healthy glow, and at $9 USD it is one of the most affordable products I own.
3. Aveeno Positively Radiant Sheer Daily Moisturizer
It took me a while to wrap my head around this skincare rule but wearing sunscreen everyday is a must. The idea of splurging on a sunscreen just seemed wrong to me because it's something that must be applied so often. Aveeno's Sheer Daily moisturizer ($17 USD) gives me the coverage I need and most importantly it doesn't interfere with my makeup application. As claimed, the product is sheer and virtually weightless, setting a solid everyday base.
Editor

Teresa Lam/Hypebae
---
Share this article