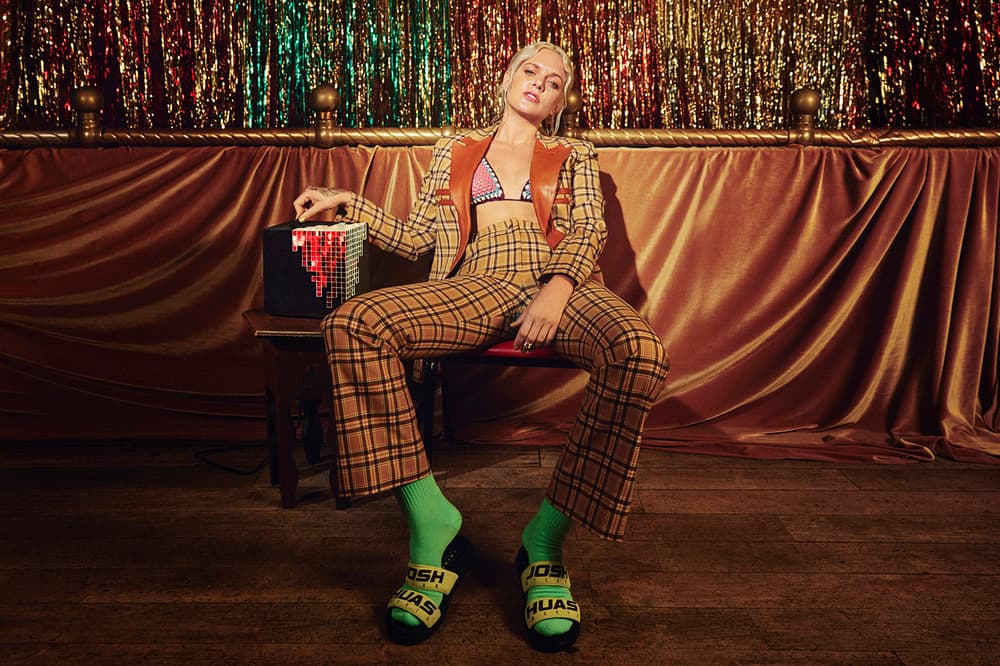 Culture
Tove Lo Talks Confidence, Self-Expression and the Importance of Listening to You
The "saddest girl in Sweden" has never been happier.
Tove Lo Talks Confidence, Self-Expression and the Importance of Listening to You
The "saddest girl in Sweden" has never been happier.
Tove Lo is one of those people that's been in the industry for way longer than you realize. Although you may only be familiar with her work in recent years, she's held her own in the music scene for over a decade – and been staying true to herself the whole time. Perhaps that's why you might think of her as a relatively new success-story, thanks to the popularity of her most recent tracks, including the girl-power anthem "Bitches" (which featured it's very own badass girl gang, including Charli XCX and ALMA), but it's more likely that the world is only now beginning catching up to the Swedish star's ideals.
Often deemed controversial for her opinions, lyrical choices and even visuals over the years, it seems like society is finally ready to embrace the fact that with Tove Lo what you see, and hear, is exactly what you get – and that's a good thing. The woman once dubbed "the saddest girl in Sweden" doesn't ever hold back – and she's happier than ever for it. We caught up with Tove ahead of her show in London to talk all about role models, life lessons and her glittering new collection for Urbanears – read on for more.
You're pretty well known for being outspoken, in your music and general life. Since society is slowly becoming more open to feminism and sex-positivity, how have you seen attitudes and reactions to your work change during the time you've been the industry?
There's a big difference. I haven't changed anything, I've kept on doing my thing but it's gone from "Should you really be singing about these things? Don't you feel responsible? You're kind of like a trashy party girl role model" to more a positive sense, like "You speak openly about sex and you're a good, positive female role model."  I'm  obviously very happy about the change in people's attitude towards me, but I'm happy I haven't actually changed anything about how I express myself or what I do. I know this isn't a flattering side [of life] but this is what's real, so that's what you're going to get.
Where do you get confidence to be so completely yourself? Have you always been this self-assured?

When I was younger, I was very stubborn but I wasn't loud. I was on the inside, but I wasn't really that outspoken as a person. I would write about all the same things, though. I wrote a lot of short stories and poems when I was a teenager and I would win these contests in school and it would always be about something kind of grim, a crazy subject and my friends were like "You wrote that? What the f**k? Who is this person?." I was raised to behave a certain way but I'm all grown up now. My career as an artist took off when I was 26; I'm 30 now and I know who I am and I know that no matter what I do or say, not everyone's going to be on board and it's exhausting trying to please everyone. I learned that early.
"I know who I am and I know that no matter what I do or say, not everyone's going to be on board and it's exhausting trying to please everyone. I learned that early."
This collection with Urbanears revolves around the idea of "Listen To You." How do you apply that mantra to your life?

That was the main thing that pulled me in when they contacted me about doing this collaboration; that's the only thing I've stuck to this whole time. In terms of making my decisions, it's like, "Okay, what is my gut feeling telling me in this situation and creatively, what do I really want to do?" It's what I stand for and what I think is true because we have so much noise coming at us from all angles; it's good to pause and think "Why am I really doing this? what do I want? who am I doing this for?" And if it isn't yourself, then I think it's hard to be happy or satisfied.
Scandinavia has so many incredible artists on the global stage right now – why do you think that this seems to be the moment in which the spotlight's on them?
In the songwriting/producer world, especially in pop, there's been a lot of Swedish men and women who have done really well. It's such a small place and if you see a Swedish artist do well, then you as a Swedish musician are inspired; the inspiration is very close around you and that helps. I think also the fact that we can study music from a young age and its' very publicly supported; if you're talented, you're able to go to those [specialist] schools, it's not about money. It's possible to practice music and relax knowing you have a life in which you're protected by education and healthcare. There's time to spend on your passion if you have one and I think that matters a lot.
Music is obviously a huge part of your life and personality, but how else do you express yourself?

It's funny, I've become so much more interested in fashion in the past two years. Before, I was terrified of it. I just thought everything looked weird and over the top and I've never had an interest in it, so I didn't really get it. Coming from a band background, I wanted people to listen to me,  I didn't want them to just look at me. Which is funny now as I love to dress up in outrageous outfits; I find it's another way to enhance and express my music and what I'm about. Especially now when everything is more visual – you want a more visual connection to what you're listening to.
How did you put your own spin on the pieces in this collection?

Because the designs are so minimalistic, you can use it as a blank canvas to amp up or add a splash of color to your own style. For me, as someone who loves going to raves, glitter is always the best thing to add to anything. Usually, when I go to parties and stuff I have little glitter packs with me, so i'll go around and like, glitter people in my group, so that felt like a very natural thing. The headphones are covered in glitter and a hologram thing. From afar they look silver or grey but when they catch the sun they glimmer; they look alive. For the speaker with the disco-ball mirrors on it, I found inspiration from my latest single "Disco Tits" – I love that theres a thread like that that brings it together.
" I love to dress up in outrageous outfits; I find it's another way to enhance and express my music and what I'm about."
What's next in the pipeline for you?

I'm shooting a music video with a very fun music artist that I'm excited about. I can't say anymore than that, it will be a fun surprise. I also have  a short film that me and this director Malia James who's amazing, together with help from Urbanears. Then I'm writing my new album that will be out in 2019 sometime, when I feel like the world is ready for it. I live in LA now and I'm trying to take advantage of the sunshine as inspiration.
So we should expect something…sunny?

Yeah, kind of! I have a lot of songs already and some of them are probably the happiest tunes I've ever written, so it does something for you for sure.
Do you think that's reflective of being in LA or more about where you're at in life?

I think just it's me being happy. I've just been evenly happy for a longer period than I think I've been before.
---
Share this article