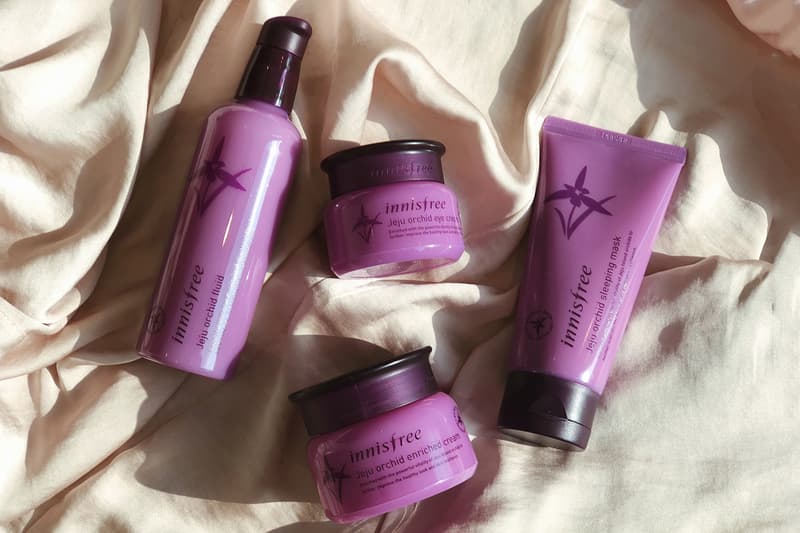 We Tested Out InnisFree's Popular Jeju Orchid Skincare Line
A boost of winter hydration.
With winter in full swing, we're always on the lookout for new products to combat dry, dull skin. We took to testing Korean beauty brand InnisFree's Orchid line to see if we'll be adding its products to our beauty arsenal in the cooler months. The main ingredient is a rare orchid flower found on Jeju Island that is said to be able to withstand the coldest winters. The brand claims that the products have anti-aging effects, so read on below to see what our editors think of the collection.
Orchid Eye Cream
When people tell me that they get eight hours of sleep on the daily, I quite honestly don't know how to react. Henny, I haven't gotten eight hours of sleep on a weekday since 2013. Unfortunately, because of my poor slumber regime, my under-eye area seems to experience permanent dark circles and the skin, in general, oftentimes looks quite tired. Although a rolodex of concealer options certainly provides a temporary solution, I'm still on the lookout for a skincare product that will reverse some of the effects.
After trying out innisfree's Orchid Eye Cream, I can't say that my under-eye area looks "good as new," but I definitely do see some noticeable improvements. This formula is labeled as an anti-aging eye cream produced with Jeju orchids that help skin look both younger and brighter. Precious Orchid Elixir, which is an antioxidant ingredient, also assists in reducing wrinkles, increasing elasticity and balancing skin tone. Although I can't say that my dark circles got any less dark, after using the cream for about two months now, I can see that the area underneath my eyes is visibly firmer. Since the skin in that area is more elastic, concealer even sits better throughout the day. Retailing at just $29 USD, the Orchid Eye Cream is an affordable product that will bring you one step closer to healthier-looking skin. For best results, pat the product lightly (with the ring finger on your non-dominant hand) on your under-eye area twice a day – once after moisturizer in the morning, and another time after night cream in the evening. – Zarah Cheng, Managing Editor
Orchid Sleeping Mask
Sleeping masks are the perfect skincare hack for lazy girls. You apply them after all your other skincare steps, go to sleep and then wake up with glowing skin. I love InnisFree's Green Tea Sleeping Mask, so I was excited to give the Orchid version a try. Compared to the brand's green tea iteration, this the Jeju Orchid Sleeping Mask ($18 USD) is definitely much more intense. It has a jelly-like texture and is ultra-hydrating without being too greasy and pore-clogging. If you have dry skin, I think this is the perfect product for you. If you have oilier skin like me, l would still recommend using it, but just apply a thinner layer or even use it in lieu of night cream. The mask goes on so smooth that it's tempting to just slather it all over, but a little goes a long way and produces ultra-hydrated skin the next morning. - Rebekah Ho, Social Media Coordinator
Orchid Fluid
Upon first looking at the Jeju Orchid Fluid, I was very unsure of what it was, especially since the description is literally just "fluid." The instructions say to use immediately after cleansing, but the consistency is too thick to be a toner and too thin to be a cream. I settled on it being a more watery serum. Personally, I needed to use toner before applying the product or else it would leave a sticky residue on my face. The fluid has a floral orchid smell that I love, and I have oily to combination skin, so I found this product the perfect boost of hydration for my skin type. At $24 USD for a bottle, it's not a must-have for my skincare routine, but I will definitely save it for days when I need something moisturizing yet light. – Rebekah Ho, Social Media Coordinator
Orchid Enriched Cream
I'm really sensitive to fragrance, and at first I was hesitant to try out the cream because of its heavy orchid scent. To my surprise, it ended up not being as overwhelming as I expected and I was able to use it on a regular basis. I will definitely say that this product is great for those looking for something light and soothing, but for someone with combination skin like me I wouldn't solely rely on this product. At $29 USD, it's the perfect product to treat yourself too if you're looking for a cream that won't be harsh on your skin, and leave you feeling dewy. A huge plus is also the sleek purple packaging, which goes perfectly on my top shelf. – Tora Northman, Associate Editor
Editor

Rebekah Ho/Hypebae
Share this article