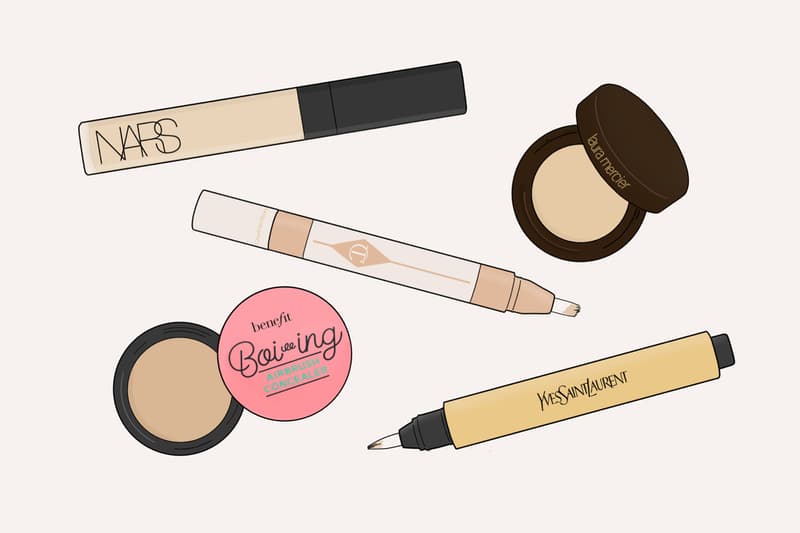 Beauty
These Are the 9 Best Concealers for Your Under-Eye Dark Circles
Our editors choose their favorites, from drugstore faves to luxe essentials.
These Are the 9 Best Concealers for Your Under-Eye Dark Circles
Our editors choose their favorites, from drugstore faves to luxe essentials.
There's no need to be shy — we've all experienced the struggle of covering up eye bags. Whether you've gone a couple of nights without proper beauty sleep, or you're naturally prone to a darker under-eye area, trust us when we say, "We feel your pain." Here at HYPEBAE, our editorial team is unabashedly filled with beauty addicts. Unsurprisingly, we're constantly trying out new products and adjusting our beauty regiments in order to adapt to ever-changing daily routines and seasonal struggles. Rounding up some of our favorite concealers from NARS to Charlotte Tilbury (some we've been loyal to for years, and others are newly discovered gems), we've provided a list of coverups for every sort of beauty lover. Whether you're looking for a bargain essential from Maybelline, or a luxury option like YSL to splurge on, we've got a suggestion catered just for you. Browse through our list below to check out an array of liquid and cream concealers, as well as everything else in between.
I'll admit that this isn't the most wallet-friendly option out there, but if you've ever tried using Clé de Peau's concealer stick yourself, you'll certainly understand the hype around this product despite its hefty price tag. Formulated with the beauty brand's signature skincare ingredient Illuminating Complex EX, which helps effectively hydrate and smoothen the skin, as well as Chestnut Rosa Fruit Extract and Green Tea Extract that help help combat oxidation, this concealer blends seamlessly into the skin and stays put all day. The product also contains SPF for sun protection, which is an added bonus. The one critique I have of this concealer, however, is that it is only available in a small shade range of light and medium hues. Hopefully the brand will work on expanding its color options. – Teresa Lam
This is one of the few products I've tried from Benefit (crazy, I know), and it is one that I would without a doubt repurchase. The Boi-ing Airbrush Concealer is incredibly lightweight, which is perfect for someone like me during summer where I tend to sweat a lot. The formula is easy to apply, and gives a sheer to medium coverage which is great to build and work with. If you're looking to try it out, it is yours for $22 USD at Sephora. – Tora Northman
I've been trying to use more cruelty-free products lately and naturally, Charlotte Tilbury has become a go-to. This particular product is very unique because it utilizes two different formulas. Quite thoughtfully, the two-part process is labeled directly on the wand itself with handy numericals on each end. The first step is a hydrating and lifting eye cream that basically assists in priming the skin and making it concealer-ready. As for the concealer itself, the formula is extremely silky and does an incredible job of making it into the finest of lines. I do find that the pump applicator is sometimes difficult to control and I end up with a lot more product on the brush than I originally intended, but you can easily re-distribute the product onto other areas of your face for touch-ups so that there's no waste. When you're selecting your color, make sure to match it correctly to your skin tone – since I'm quite fair, the shade that I tried comes off a little too orange for my complexion. – Zarah Cheng
Being someone that has tried more concealers than I can count on my two hands, Laura Mercier's Secret Concealer has been with me through thick and thin. The creamy consistency is easy to apply, and a little goes a long way which justifies the $27 USD price tag. My undereyes are usually blue as can be, so I use one of the shades with warmer undertones which neutralizes the cool hues really well (and makes it look like I've had a good night of sleep). This is definitely my holy grail. – Tora Northman
This is my favorite concealer to use on those aggravated, angry pimples that won't seem to go away. Make Up For Ever isn't kidding when they say this product is "full cover," because it literally covers every blemish – dark circles, pimples, even tattoos. It comes in a small tube, but I haven't had to repurchase it yet because just a few drops go a very long way. This concealer has waterproof ingredients and lasts the entire day, which I really need in humid, Hong Kong weather. While I do pull out this product during times of extreme emergencies, I wouldn't use this as an everyday product. It goes on quite thick and dries quickly, so you need to be lightening fast at blending. Also, make sure to purchase the concealer a couple shades lighter than your skin tone as it does come out on the dark side. – Rebekah Ho
This is the very first concealer I ever tried in high school, and I've been loyal to it ever since. At $11 USD, it's extremely affordable and provides natural, medium coverage which makes it perfect for daily use. This product has been a holy grail for beauty bloggers and YouTubers alike because of its lightweight texture. It brightens up under-eye circles instantaneously and hides away those dark spots without drying out my skin. I love that it blends well so I can wear it whether I'm doing a full face or having a minimal makeup day. The biggest con would be the applicator. It's quite messy and difficult to maneuver, so I usually dab on a few spots with the sponge and then tap to blend with a brush or beauty blender. If that doesn't work for you, you can remove the sponge applicator entirely. – Rebekah Ho
For those who are addicted to reading online beauty reviews (myself included), you'll be familiar with NARS' cult-status Creamy Concealer. Although this product's reputation definitely precedes it, the raving reviews are definitely not unwarranted. True to its name, the formula is extremely creamy – thanks to its silky texture, it blends extremely well into the skin. Meant to be a buildable product, NARS boasts that this award-winning concealer functions beyond its "intended" use: feel free to highlight, contour, correct and perfect with it. For the under-eye area, this concealer provides ample coverage and does a fine job of getting even into the finest of lines. Arriving in 30 shades, users can choose from shades that range from "Chantilly" to "Dark Coffee." For this particular product, I would highly recommend going at one to two shades darker than your actual skin tone in order to effectively cover up those eye bags. – Zarah Cheng
I'm a big fan of RMS – I've included plenty of the brand's products in previous roundups, and still live by its Living Luminizer highlighter. When it comes to covering up eye bags, however, RMS' UN Cover-Up is a good option, but I wouldn't say a great one. As far as concealers go, this particular item provides coverage that I can't complain about for spot treatment. For the under-eye area though – simply by the nature of the skin there, with its increased amount of lines and movement – I find that this certain product doesn't really get into the creases as well as I would hope. I find that throughout the day, I have to do frequent touch-ups to make sure that the makeup maintains a seamless finish. If you're a fan of organic products, however, this is definitely a strong choice. – Zarah Cheng
If you haven't seen at least one beauty blogger or celebrity use YSL Beauty's iconic Touche Éclat concealer, you've been living under a rock. The concealer comes in the form of a pen, which makes it easy to apply as well as use for touch-ups throughout the day. Because of the lightweight and brightening formula, the product doubles up as a highlighter without any glitter, which is perfect for a low-key look. At $35 USD, the price might seem steep, but it is definitely worth it for gals on the go. – Tora Northman
---
Updated by Teresa Lam on December 1, 2019.
Editor

Zarah Cheng/Hypebae