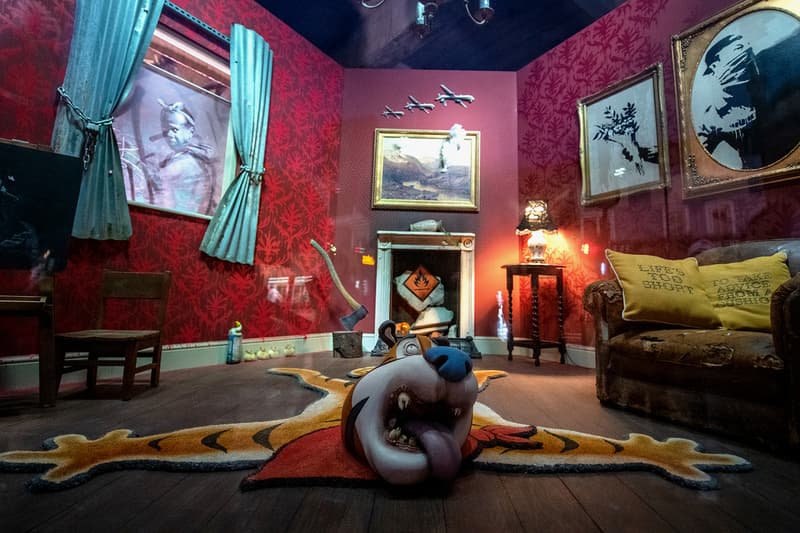 Art
Banksy Just Opened a Surprise Pop-Up Store in South London
Following a legal dispute with a greeting cards company.
Banksy Just Opened a Surprise Pop-Up Store in South London
Following a legal dispute with a greeting cards company.
Graffiti artist Banksy has opened a surprise pop-up store in Croydon, South London following a legal dispute with an unnamed greeting cards company. Items displayed in the location dubbed Gross Domestic Product will be going on sale for prices as low as £10 GBP (approximately $12 USD).
"GDP is the homewares brand from Banksy and this is our first and only store. The showroom is for display purposes only and the doors will not open. All sales will be conducted online when the website opens soon," the artist took to Instagram for the announcement.
The statement continues to read, "This shop has come about as a result of legal action. A greetings cards company is trying to seize legal custody of the name Banksy from the artist, who has been advised the best way to prevent this is to sell his own range of branded merchandise." According to ITV News, Banksy decided to open the pop-up after taking advice from his lawyer, who stated that he "is in a difficult position because he doesn't produce his own range of shoddy merchandise and the law is quite clear – if the trademark holder is not using the mark, then it can be transferred to someone who will."
Featured items in the pop-up include "Season's Greetings," which previously appeared in Wales last Christmas, as well as a stab vest worn by rapper Stormzy at Glastonbury this year. All products will be handcrafted using recycled materials in the UK.
Scroll down to take a full look at the temporary location. While you're here, check out KAWS' "COMPANIONSHIP IN THE AGE OF LONELINESS" exhibition. 
Share this article