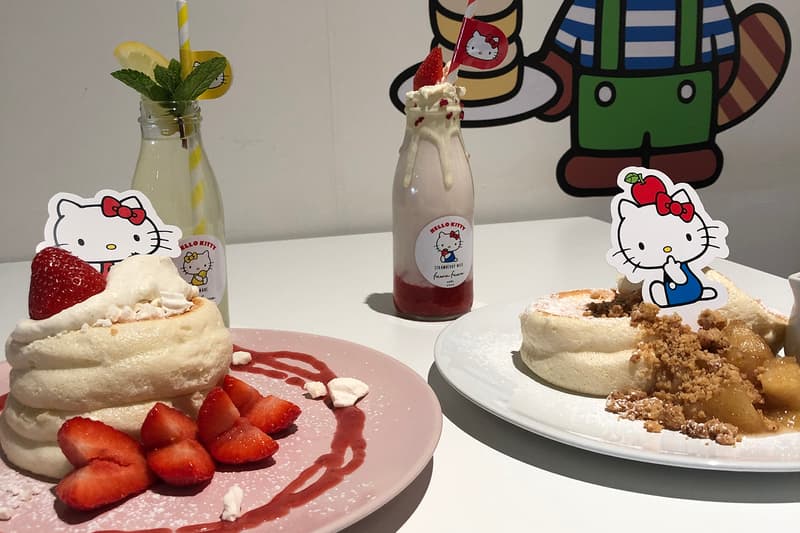 Culture
These Japanese Soufflé Pancakes Are a Hello Kitty Fan's Dream Brunch
Almost too cute to eat.
These Japanese Soufflé Pancakes Are a Hello Kitty Fan's Dream Brunch
Almost too cute to eat.
As we gear up for another weekend, there's just one thing on our minds: brunch. Whether you're a fan of Full English breakfasts, avocado-based dishes or a full-on themed bottomless brunch, there's literally an option for every taste. This instalment of "HYPEBAE Brunch," however, has an extra-special twist that's perfect for any Hello Kitty fans out there. Sanrio's most-beloved character has teamed up with Fuwa Fuwa for a limited-edition pop-up with its own unique menu.
Located in London, Fuwa Fuwa specializes in fluffy Japanese soufflé pancakes that have a completely different texture and taste to the regular American pancakes you've had before. The soufflé pancakes are made fresh-to-order with Fuwa Fuwa's own original, top-secret recipe. The restaurant itself is airy and spacious, with clean white walls that act as the perfect backdrop for a collaboration like this – currently, they're lined with Hello Kitty artwork from over the years. The Hello Kitty pop-up is only around until the end of this month so be quick if you want to stop by, and keep reading below to find out more about the experience.
In related news, have you seen our Fendi Caffe brunch review?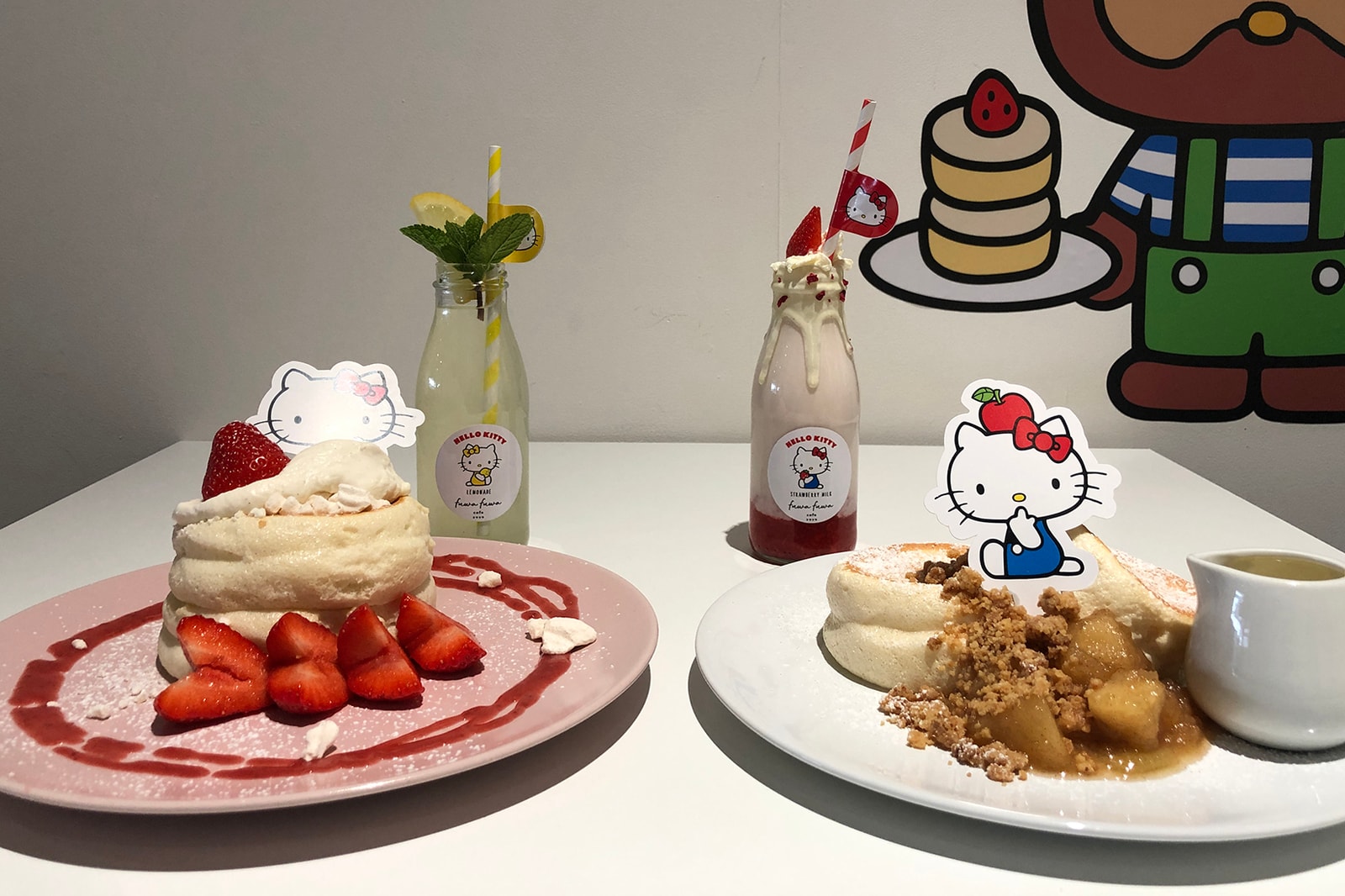 THIS PLACE IS PERFECT FOR: Hello Kitty fanatics with a strong social media game
WHAT YOU SHOULD ORDER: The limited-edition menu isn't very big, with just two particular pancake options available so naturally, we ordered it all. Hello Kitty's Eton Mess comes with two pancakes fresh strawberries, vanilla whipped cream, meringue pieces and a strawberry coulis and is perfect for those with a serious sweet tooth. Mama's Apple Crumble consists of two pancakes topped with warm cinnamon apples, crunchy crumble pieces and warm custard to drizzle over.
The pancakes, while they look quite dense at first, are actually really light and airy so you don't leave feeling uncomfortably full. The seasonal toppings available on this Sanrio menu complement the texture and taste of the pancakes really well and thanks to the additional Hello Kitty decoration planted within them, they're perfect for Instagramming.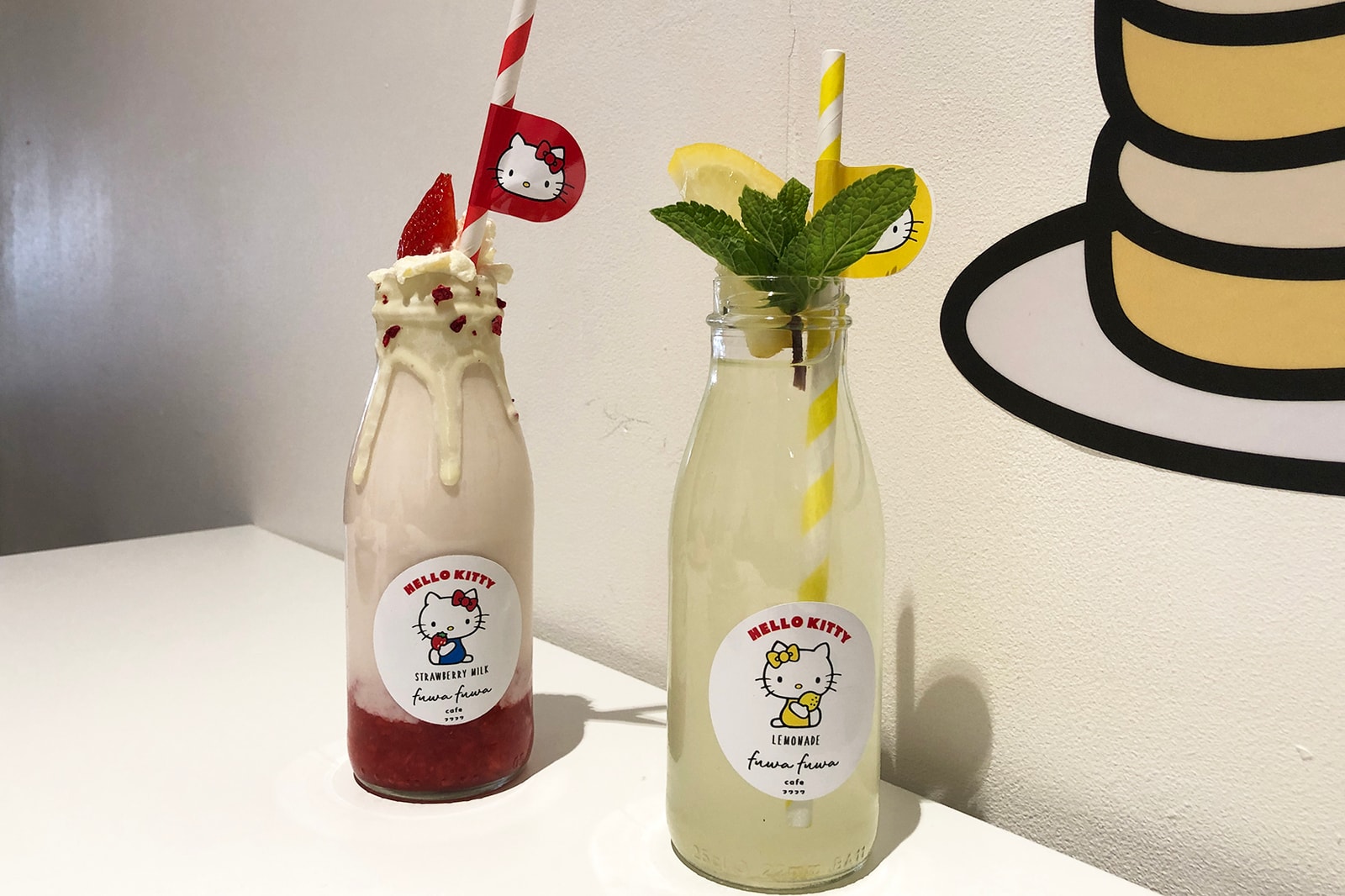 OUR FAVORITE DRINK: We opted for Mimmy's Lemonade, a refreshing and tangy drink with a slice of fresh lemon and some mint. Additionally, Hello Kitty's Strawberry Milk is the perfect sweet treat, with strawberry sauce and milk topped with strawberry slice and decorations around the neck of the bottle.
Fuwa Fuwa
Unit 8, Brunswick Centre,
Bloomsbury,
London WC1N 1AE
---
Share this article