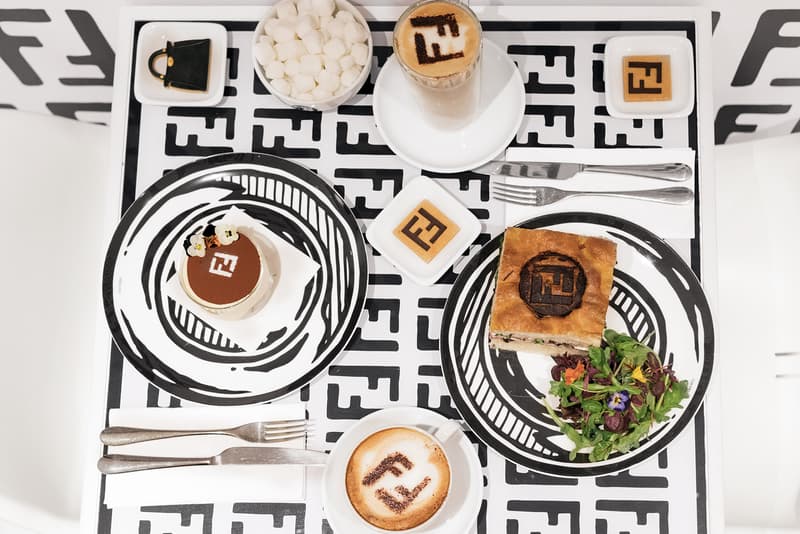 1 of 2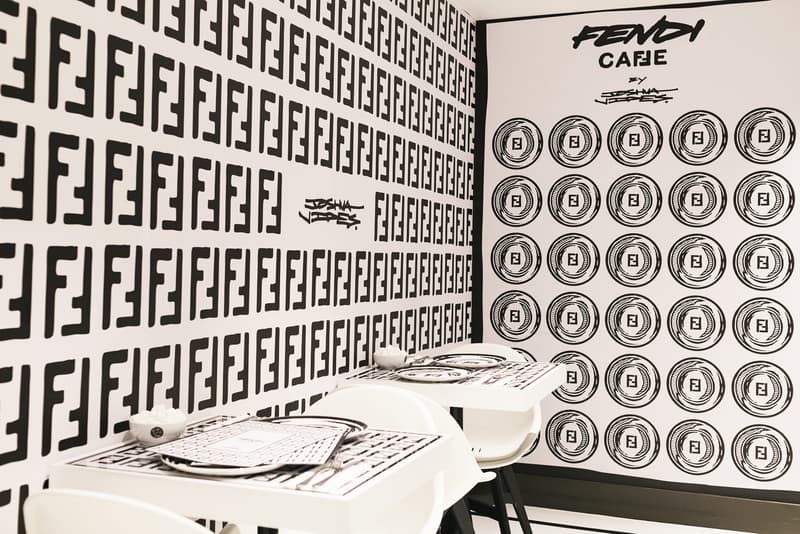 2 of 2
Culture
Brunch at the Fendi Caffe Is a Must for Any Fashion-Lover
This installment of "HYPEBAE Brunch" is as chic as it gets.
Brunch at the Fendi Caffe Is a Must for Any Fashion-Lover
This installment of "HYPEBAE Brunch" is as chic as it gets.
Brunch is always a good idea, and even more so if its somewhere that's open for a limited time only. Such is the case with the Fendi Caffe, the culinary counterpart of the renowned Italian luxury house. Arriving on Harrods' fifth floor, the café gives fans of fashion and food alike the chance to eat in truly stylish surroundings.
The space itself has been made in collaboration with LA-based artist, Joshua Vides, who lends his trademark monochromatic graphics to the walls, tables, seats and even the crockery. The all-day menu has something for everyone; since the space is open from 10 a.m. – 9 p.m. Monday – Saturday and 12 p.m. – 6 p.m. on Sunday, you can pop in for breakfast, lunch or dinner – or even just a light bite in-between.
Read on to see what went down on our visit to the city's chicest cafe and don't forget to peep our Game of Thrones-themed drag brunch review, too.
THIS PLACE IS PERFECT FOR: Fashionistas with a strong social media game – this café was pretty much made to take your Instagram feed to another a level.
WHAT YOU SHOULD ORDER: The menu is pretty extensive and what you order really depends on your mood and the time of day. There are plenty of usual breakfast goods like pastries, fruit and the millennial-favorite poached eggs and avocado toast on offer. If you're after something more substantial, there's an array of delicious fresh paninis and salads and if you're coming through for dinner, there's meatballs, gnocchi, lasagne and more.
We went for the paninis; one filled with mozzarella, tomato and pesto and another that was stuffed with ricotta, honey and edible flowers. Both were enveloped by soft focaccia and were equally delicious: filling enough to satisfy our hunger without leaving you in a carb-induced slump. Italians are known for their desserts and the Fendi Caffe certainly doesn't disappoint in that department. The incredible tiramisu came in an individual portion with coffee-soaked sponge layered beneath a smooth mascarpone cream topping and a light layer of chocolate, with edible flowers and Fendi's signature "FF" emblem on the top.
The torta caprese was another treat: it was light but packed a punch with its chocolate and almond flavor pairing well with cream and raspberry sauce. Of course, the "FF" branding ensured it looked as great as it tasted.

OUR FAVORITE DRINK: While the menu includes everything from wine and beer to champagne, bellinis and Aperol Spritz, we opted for our usual morning caffeine fix. The cappuccino and latte both come with the all-important "FF" dusting on top and for an extra-special surprise, they come with adorable an adorable "FF" biscuit or one styled after the brand's standout Peekaboo bag.
Fendi Caffe
5th Floor, Harrods,
87-135 Brompton Rd,
London, SW1X 7XL
---
Share this article