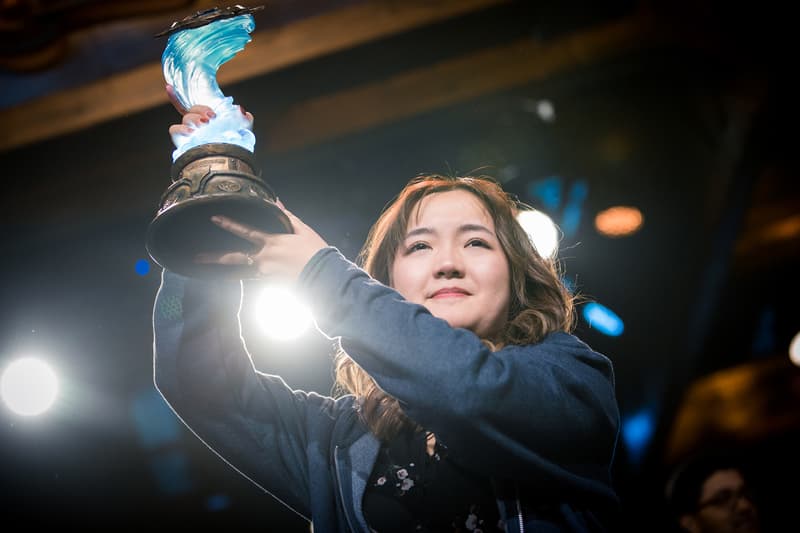 Culture
'Hearthstone' Player Li "VKLiooon" Xiaomeng Becomes First Woman to Win BlizzCon
"Forget your gender and go for it."
'Hearthstone' Player Li "VKLiooon" Xiaomeng Becomes First Woman to Win BlizzCon
"Forget your gender and go for it."
Blizzard Entertainment's coveted gaming convention, BlizzCon, has been running since 2005 with the aim to promote its major franchises every year like Warcraft, StarCraft, Diablo, Hearthstone, Heroes of the Storm and Overwatch. This year's BlizzCon took place at Anaheim, California where Chinese Hearthstone player Li "VKLiooon" Xiaomeng made history by becoming the first woman to win the Hearthstone Grandmasters Global Finals.
Li won against fellow U.S. player Brian "bloodyface" Eason. Two years ago while she was signing up at a Hearthstone event, an unnamed player in China told her that the convention was not a place for women and said, "It's not for you." Li said through a translator after the match:
"And now I'm here, with all the support from the fans. I want to say to all the girls out there who have a dream for esports — for competition, for glory — if you want to do it and you believe in yourself, you should forget your gender and go for it."
Until this day, there is still an existing inequality between genders when it comes to professional players in esports. Women aren't banned from entering, but gender discrimination still exists which Li, unfortunately, experienced herself. However, that did not stop Li from pursuing her passion which she intends on continuing after last week's victory.
In other related news, did you hear that the new League of Legends hip-hop group will wear outfits designed by Louis Vuitton?
"This is the best way to strike back at those people who doubted me only because I am a girl. It proves that girls can be strong pro players, just as guys do." – Xiaomeng "VKLiooon" Li pic.twitter.com/1PQczUHwim

— Hearthstone Esports (@HSesports) November 2, 2019
Share this article