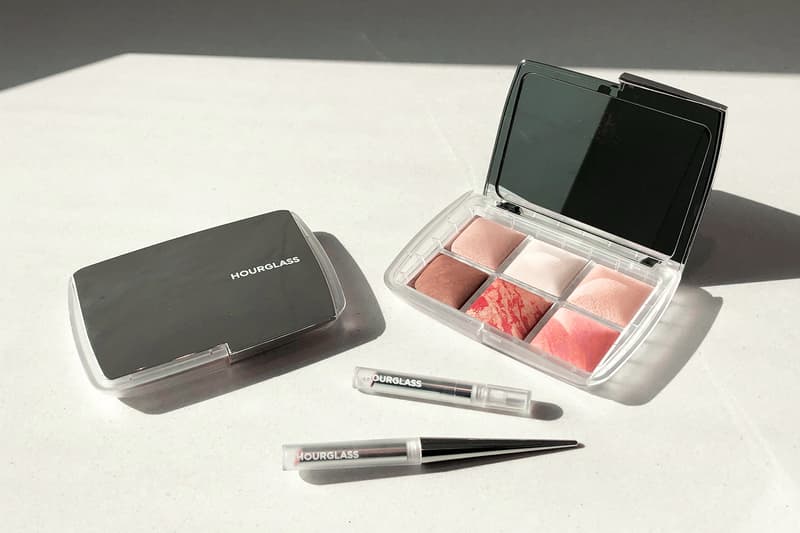 Beauty
Our Editors Review Hourglass' Limited-Edition Ambient Lighting Edit & Confession Lipstick Duo
As part of the beauty label's latest holiday collection.
Our Editors Review Hourglass' Limited-Edition Ambient Lighting Edit & Confession Lipstick Duo
As part of the beauty label's latest holiday collection.
With the number of festive collections dropping this season, it's hard to keep up with the ones worth trying out. However, our editors recently stumbled upon Hourglass Cosmetics' holiday range and decided to test out and share their thoughts on the limited-edition Ambient Lighting Edit and Confession Lipstick Duo, which you can either treat yourself to or give as a gift for someone this coming Christmas.
If you've been meaning to change your current highlight-bronzer-blush set with a new one or you're in the mood to switch up your nudes to reds, find out what our editors think of the vegan and cruelty-free brand's latest beauty products.
Lipstick is probably one beauty item I can't live without aside from my eyebrow pencil. I typically lean towards the nudes, mauves and dark reds just because I think it complements my skin tone more. When I first tried out Hourglass' Confession Ultra Slim Lipstick refill set in the shades "I Wonder" and "I'll Forever," I instantly knew that this product was going to be in my everyday makeup kit.
"I Wonder" arrives in this bright rose hue perfect for a no-makeup, makeup kind of day. "I'll Forever" has orange-red tones which I love because this kind of shade would go well with my upcoming festive looks. When it comes to the formula, I'm quite particular with the finish due to my dry lips. Thankfully, this lipstick delivers a creamy and satin consistency that doesn't smudge or feather out.
Another thing that I appreciate about this lipstick is the size of the applicator and that you get to switch out different shades with its refillable functionality. Its sleek and slim fit also allows me to precisely contour and define my lips without having to be aware of over lining.
For a person like myself who prioritizes convenience more than anything when it comes to makeup, Hourglass Cosmetics' Ambient Lighting Edit is a godsend for adding finishing touches just before heading out. A palette with six shades of finishing powder, highlighter, bronzer and blush, the product is ideal for keeping in your purse or travel pouch.
"Dim Light" and "Diffused Light" are finishing powders – the former gives a naturally soft look, while the latter provides added brightness to the skin. Just as its name suggests, "Iridescent Strobe Light" is a luminescent highlighter for accentuating areas like the cheekbones, chin and the tip and bridge of the nose. "Eternal Bronze Light" is a deep brown shade for contouring the temples, hollows of the cheeks and jawline. The final two shades, dubbed "Iridescent Rose" and "Sublime Flush," are blushes, with one being a deeper and the other a more rosy shade.
For this review, I tried using different combinations of each of the shades depending on the occasion and the overall tone of my makeup. For easy daily looks to the office, I added a bit of definition with "Eternal Bronze Light" and a rosy, glowing blush using "Sublime Flush," finishing off with "Dim Light" to set everything in place. On the other hand, for a night out I would add more contour using "Iridescent Strobe Light" and deeper blush with "Iridescent Rose." What I enjoy most about using this palette is that it can essentially be used to complete a full-face look when you're on the go. After adding a bit of coverage with a lightweight concealer or foundation, you can dab with your fingertips any one of the shades onto the eyelids in replacement of eyeshadow. Another point to note is that each of the shades can be used wet for a more intensified look, especially during the festive season.
Although released as part of Hourglass Cosmetics' Holiday collection, the Ambient Lighting Edit will most likely become one of my go-to items to keep in my purse or travel bag – I would highly recommend for those looking for all-in-one palettes for an easy, flawless finish to their makeup.
Share this article