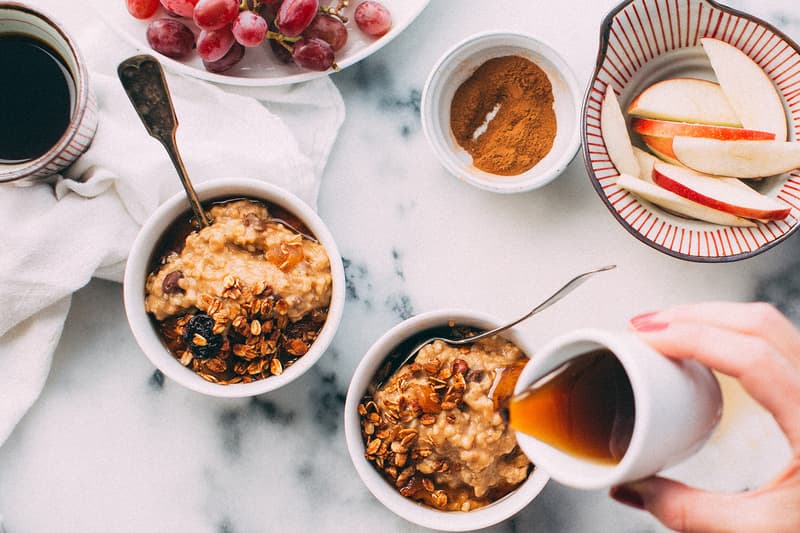 Health
10 Simple and Healthy Snacks to Eat at Work
These foods will help you stay energetic and productive throughout the day.
10 Simple and Healthy Snacks to Eat at Work
These foods will help you stay energetic and productive throughout the day.
Those of you who're familiar with the nine-to-five routine are aware of how draining work can be, even if you're sitting at your desk the entire day. With your brain constantly running during your time at the office, it's important that you eat the right foods in order to maintain your focus and health.
It can be quite time-consuming when it comes to preparing your meals the night before a work day, but we've gathered 10 simple and healthy snack ideas you can bring to work. From trail mixes to fruit and yogurt, continue reading to learn more.
While you're here, find out what foods you can eat during period to combat mood swings.
Nuts and Dried Fruit
Nuts and dried fruit are some of the easiest snacks to bring to the office. Nuts provide protein and fat, while dried fruit contains the carbohydrates you need throughout the day.
Rice Cakes
Rice cakes are the perfect shelf-stable snack to store by your desk. Pair the bland flavor with toppings like fruit or avocado. The snack also comes in different varieties like chocolate, apple cinnamon and even white cheddar.
Apples and Peanut Butter
Apples are high in fiber and water. To spice things up, try having the fruit with your favorite peanut butter brand or almond butter that contains protein and healthy fats.
Granola
Granola is another amazing snack that will keep your stomach from growling throughout the day. You can choose to eat it as it is or add it to your yogurt mixed with freshly chopped fruits.
Yogurt
Packed with calcium, protein and probiotics, yogurt is the ultimate healthy snack. It comes in all sorts of flavors ranging from vanilla, strawberry to blueberry. Try mixing your Greek yogurt next time with some fresh blueberries for an added touch of flavor and texture.
Baked Chips
If you love a good bag of potato chips, try switching it up with some sweet potato or baked chips the next time you go grocery shopping. It's a healthier alternative, but at the same time it gives you that same crunch you're looking for in a snack.
Vegetables and Hummus
Vegetables provide some of the best nutrients that your body needs. Whether you're into carrots, celery or bell peppers, hummus is the perfect dip to pair with the vegetable of your choice. The creamy dip is made from chickpeas, tahini, garlic, olive oil and lemon juice and contains fiber, protein and healthy fats.
Dark Chocolate
For those who don't know, chocolate can actually be healthy for you — specifically dark chocolate. This snack is rich in antioxidants that help lower the risk of heart disease, reduce inflammation and insulin resistance.
Seeds
Seeds are incredibly easy to store at work and are a great source of protein. You can either eat them plain or mix them in with your oatmeal or yogurt and fruit combination.
Bananas
Bananas are rich in vitamin B6 and vitamin C. Aside from its fiber benefits that can keep you full throughout the morning, it's also great for your skin, maintains your blood sugar levels and gets rid of unwanted cholesterol.
Share this article