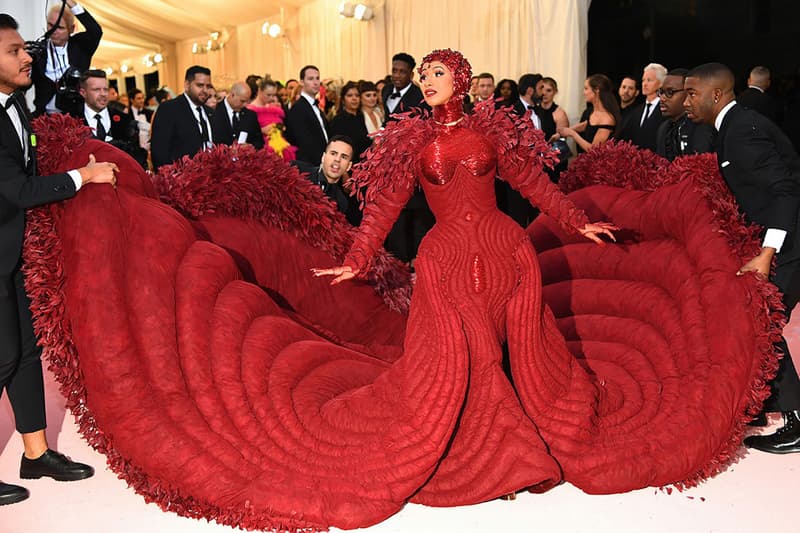 Music
Cardi B and Daughter Kulture Cover January 2020 Issue of 'Vogue'
The star addresses politics, feminism and motherhood.
Cardi B and Daughter Kulture Cover January 2020 Issue of 'Vogue'
The star addresses politics, feminism and motherhood.
After tapping Cardi B for its latest installment of the spitfire interview series "73 Questions," Vogue has unveiled the cover for its January issue starring the rapper alongside baby Kulture. Lensed by Annie Leibovitz, the cover and photo shoot take a softer look at the outspoken star, while the accompanying interview delves into topics including politics, feminism and motherhood.
A longtime supporter of presidential candidate Bernie Sanders and an open critic of Donald Trump, Cardi B doesn't shy away from potentially controversial conversation points. "I don't want my president to entertain me," she told Vogue, while continuing onto the pitfalls of contemporary feminism:
"Women always want to talk about feminism and supporting everybody except if it doesn't fit [their] category of what to support. Certain women that claim they are feminists only think that a certain type of woman should represent that. Like oh, you have to have a college degree, and you have to fucking be, practically, like, a senator or Mother Teresa or a Christian holy woman. No, you do not. Feminism means being equal to a man. And I am."
Cardi B closes out the lengthy feature with musings on motherhood and now 16-month-old daughter Kulture. "All the time I'm thinking about my kid," she states. "I'm shaking my ass, but at the same time I'm doing business, I'm on the phone with my business manager saying, 'make sure that a percentage of my check goes to my kid's trust,'" she explains.
Head to Vogue for Cardi B's full interview and photo shoot.
Our fourth January cover star is @iamcardib! With motherhood, a new album, and ever-escalating fame, how does Cardi B handle the pressure? Without apologies: "It's hard for me to be soft, period," she tells us (among other things). Read the full profile: https://t.co/Z2VPvVDI1W pic.twitter.com/P9pa9Bcbya

— Vogue Magazine (@voguemagazine) December 9, 2019
Share this article