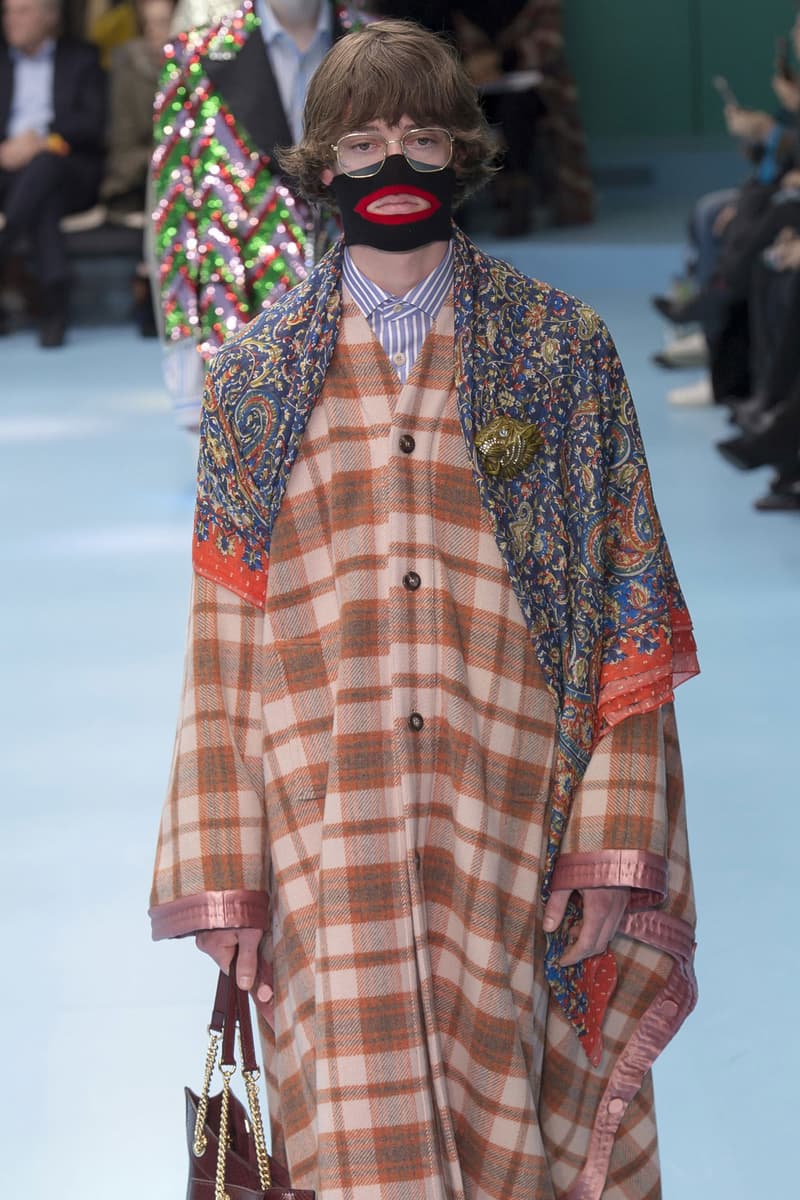 A Brief History on Blackface and How Fashion Brands Can Start Getting Things Right
It's 2019 and change has yet to come.
Fashion
A Brief History on Blackface and How Fashion Brands Can Start Getting Things Right
It's 2019 and change has yet to come.
Yesterday, I was riding the subway and noticed a woman wearing a black puffer jacket from Moncler's 2016 collaboration with art collective, Friends With You. On the chest was a large smiley face patch with a black background, a red mouth slightly curved upwards and long beady eyes. Her jacket was slightly unzipped with the same "Malfi" insignia plastered along the inside of the coat. She didn't seem to notice the look of horror in my face as I studied her outfit. Little did she know that her jacket was carrying a problematic message. In fact, it was one of many recent fashion items that had featured blackface, a highly-offensive and racially-insensitive trope with a long, complicated history.
Dating back to the 1800s, blackface is a type of theatrical makeup that was once used by white performers to portray caricatures of Black people. In 1830 playwright Thomas Dartmouth Rice created the first blackface character named "Jim Crow." According to the National Museum of African History and Culture, the performers in the first minstrel shows used burnt cork or shoe polish to blacken their faces and wore torn clothing to mimic African slaves living on Southern plantations. In these performances, black people were characterized as lazy and ignorant individuals who were prone to commit theft. Mocking their dialect and culture, its popularity quickly spread across America and beyond. By 1845, there was a full-fledged industry dedicated to blackface, which included songs, sheet music, and costumes.
"There was joy and comedic relief that came with slathering black paint on your face, dowsing your lips in red and shucking and jiving at the expense of a people who, worldwide, have been subject to all types of oppression and injustice," says AJ Gibbson, celebrity fashion stylist.
As stated by the museum, the popularity of this trope only grew during the Civil War and followed into the 20th century, especially in regions where there was less interaction with African Americans. As modern media developed the ideas spread even further while popular actors including Mickey Rooney, Judy Garland and Shirley Temple put on blackface performances, exposing people of all ages and walks of life to the minstrel culture. Going one step further, Darnell Lisby, a fashion historian, scholar and independent curator notes that, "blackface was quite rampant in Hollywood due to the fact that it was incredibly difficult for Black people to work in leading roles in Hollywood." Nearly 200 years since the first performances, blackface culture and the codifying of blackness is very much alive in America and globally.
In a time when more companies are talking publicly about their efforts to promote inclusion and diversity, we still see this issue thriving in the form of offensive Halloween costumes and in the creation of problematic fashion items, like the Moncler jacket.
In 2015, Beyoncé wore a Scooter LaForge trench coat to the All-Star basketball game, which depicted a blackface character named Sambo. In summer 2018, Katy Perry's footwear line released two shoe styles with black faces that had bulging eyes and red lips. Then, in December 2018, Prada had to pull its Pradamalia series from shelves due to the black figure in its designs resembling blackface iconography. Last year, model Gigi Hadid came under fire for blackface in her May 2018 Vogue Italia cover — in the image she's seen with darkened skin. Earlier this month, Gucci was called into question for its balacava sweater, a black knit with a red lips that could be worn over the lower part of the wearer's face. And just yesterday, rising designer Marine Serre sent a model down the runway in a black bodysuit dress with cut out eyes and mouth, which some social media users found offensive. So why is this still happening?
now,, if gucci had to pay for that balaclava, what in the world are we going to do with marineserre? pic.twitter.com/PZSe9XJCqX

— sofi scarlat (@sofiscarlat1) February 27, 2019
According to Jonathan Michael Square, a writer and historian who specializes in fashion and visual culture of the African Diaspora, these tropes are deeply embedded in the visual ordering of the world. Due to this, "it will take a long time to dismantle the legacy of these images in people's' psyches," he believes.
On top of this, Gibbson considers that many people still don't know, or even care to know, about the nuances and climate of racism in America.
While the fashion industry has become a place for fun and whimsical products, Gibbson believes that many of today's older fashion houses are using caricatured designs to release them from their stuffy, too-serious personas. However, this becomes a major issue when they appropriate offensive imagery. Though many of the culprits are Europe-based companies, who are likely even less versed in the visual language of racism, they are still at fault.
When these brands have been called into question for their harmful messaging, their blanket public statements have confirmed ignorance of the situation's severity. For example, Prada responded by saying that its products were meant to depict, "imaginary creatures [and] not intended to have any reference to the real world and certainly not blackface." The Italian fashion house followed up by stating that, "Prada Group never had the intention of offending anyone and we abhor all forms of racism and racist imagery." While they pulled the items in question from display and circulation, the damage was already done. Products in the collection had already been released into the world and sold to wide-eyed consumers like the woman I saw on the subway. The brand's apology was a non-apology that did little to support the individuals who were rightfully upset while they made no effort to educate themselves and stop this situation from happening ever again.
Square says that even if these brands did not intend to be offensive, their ignorance doesn't free them from blame, especially since several brands like Gucci have borrowed heavily from African American youth culture for some time now. With the dangerously fast speed the current fashion system moves, he argues that this does not allow for much critical reflection, causing many people in the industry to stumble over issues around race.
Many executive teams, including that of fashion brands, magazines and museums, do not employ Black people or have a knowledge of Black history. Lisby believes, "there is not a substantial amount of Black people with a certain level of experience and education and capacity to advocate for the Black community in key executive, creative, or decision-making positions to invoke change." While change is happening, it is slow. Within luxury fashion conglomerate LVMH, Virgil Abloh is the only Black creative director while Edward Enninful became the first Black editor-in-chief of British Vogue in April 2017.
To prevent these issues from happening in the future, Square asserts that the problem is structural and must be handled with strategic diverse hiring and shifts in company policy. "In lieu of lip service to diversity in dry company statements, conversations around inclusion and representation need to be open and ongoing," he says.
More than this, it shouldn't take a racist scandal for these companies to realize everyone on their leadership teams looks and thinks the same, argues Gibbson. Accordingly, he asserts we must include Black people in every level of a company not just as "Head of Diversity & Inclusion" or as a member of the "Diversity Council." "Black people have many more talents than fixing your f*ck-ups," he comments. Furthermore, Lisby believes it's important to recognize the strong intersection of race and fashion: "The two entities of fashion and race are not mutually exclusive for people of color." 
Ultimately, we must give Black people a voice in all cultural arenas, and do more to educate people of all ages and backgrounds about the nuances of African American history and culture. With this, employers, especially in the fashion industry, have an opportunity and obligation to educate their employees on racial history and issues pertaining to cultural appropriation. Going one step further, initiatives should be brought into schools globally so that today's young people are more knowledgeable and comfortable talking about these issues. If fashion companies put their dollars behind these kinds of programs, it could prevent these problems from happening in the future. Will the work be done? Time will tell. 
Editor

Esiwahomi Ozemebhoya
Share this article