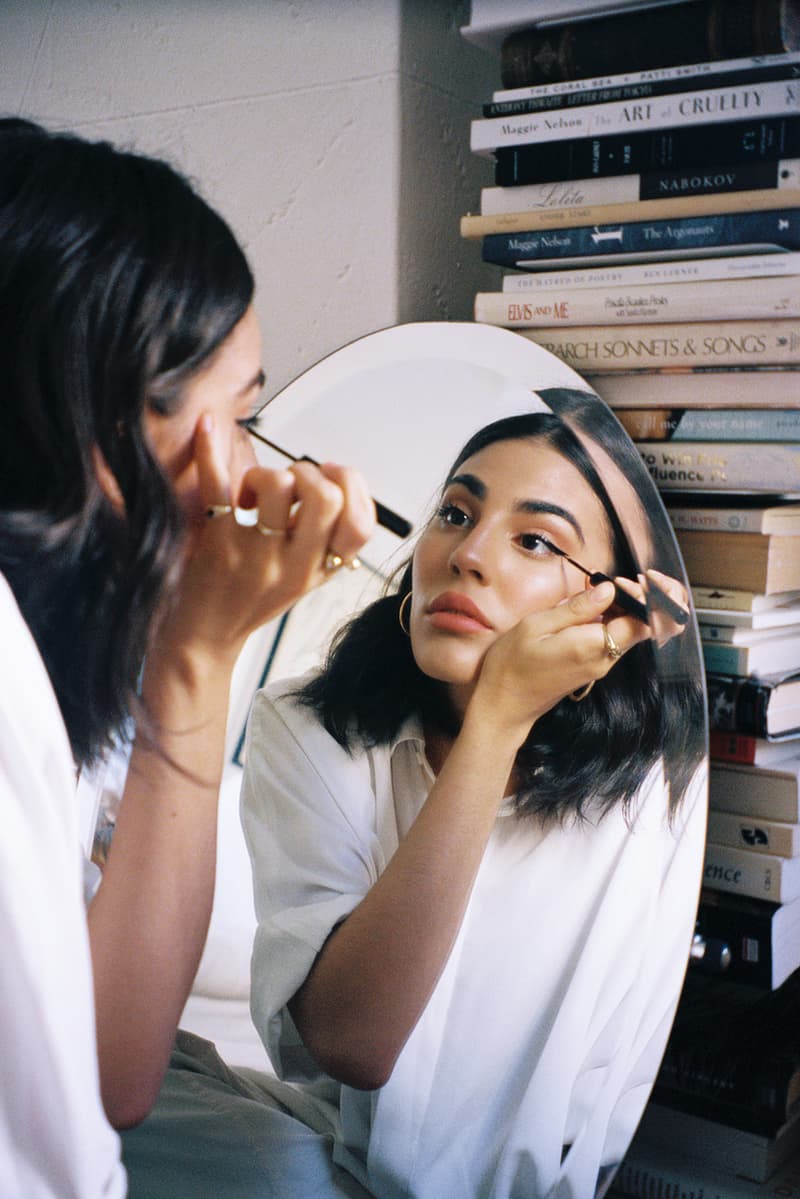 1 of 6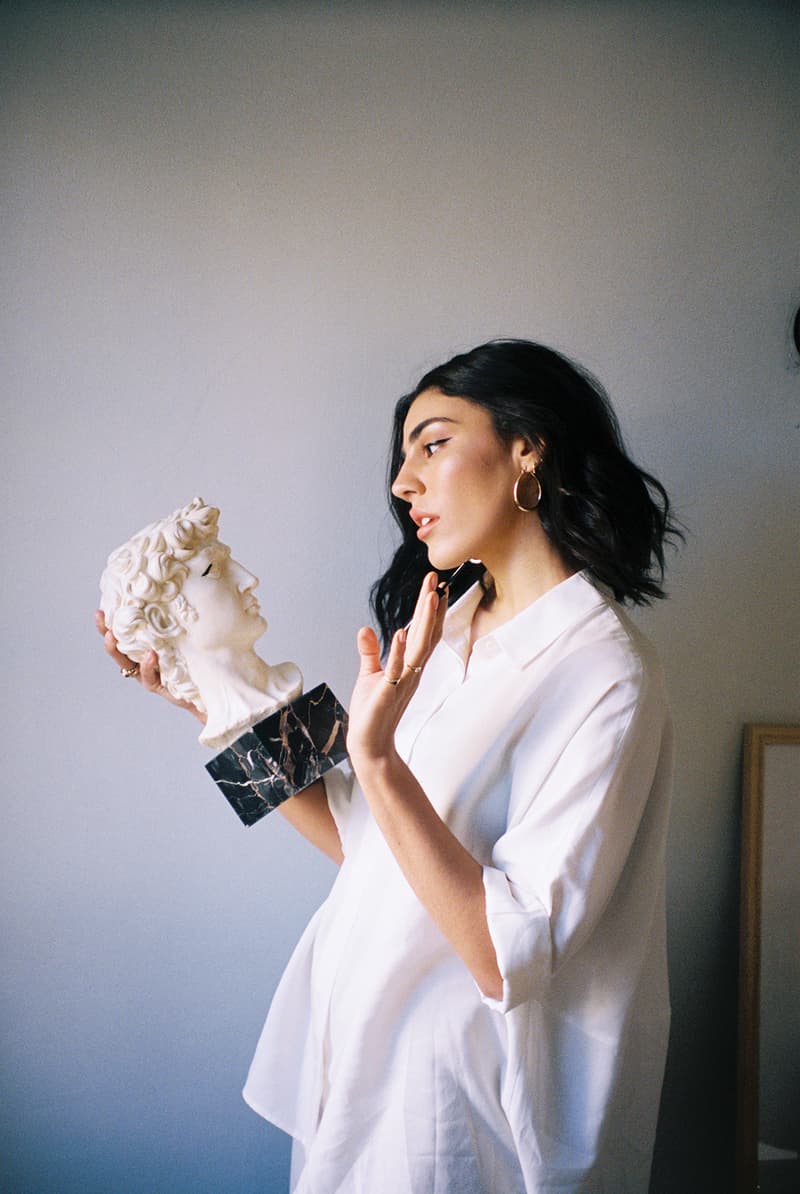 2 of 6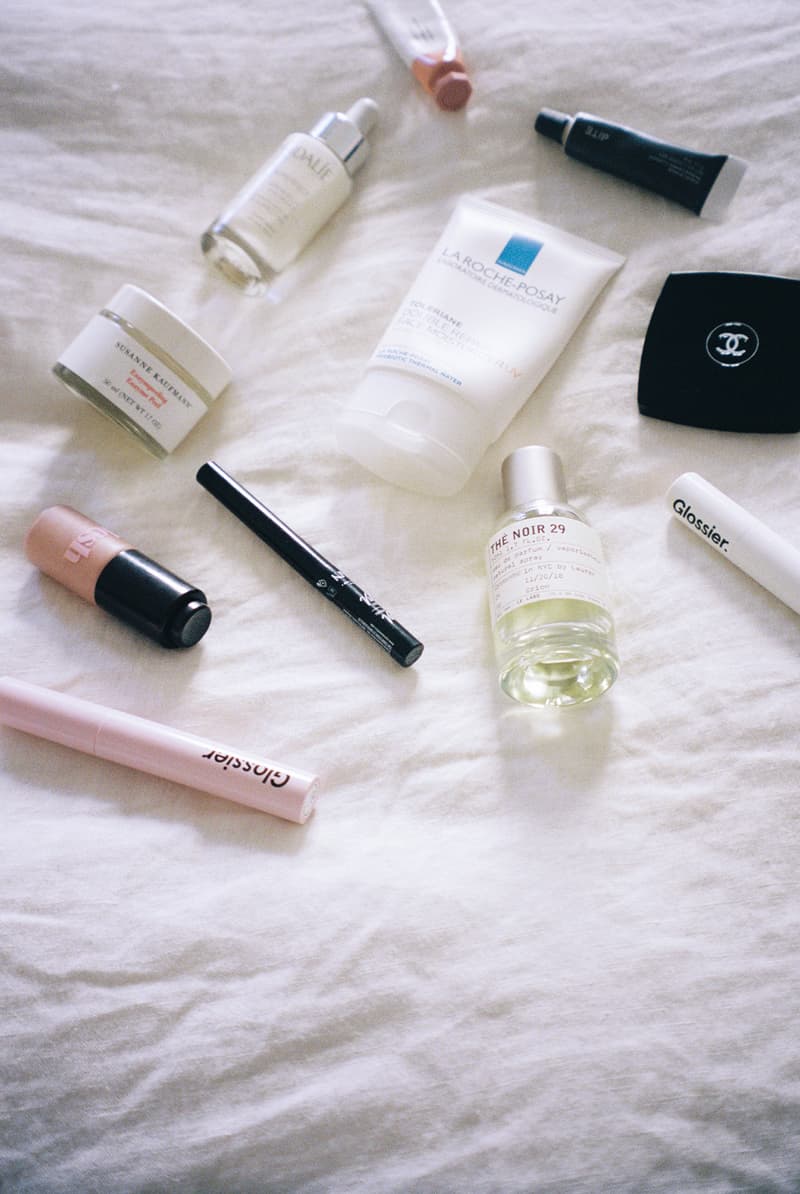 3 of 6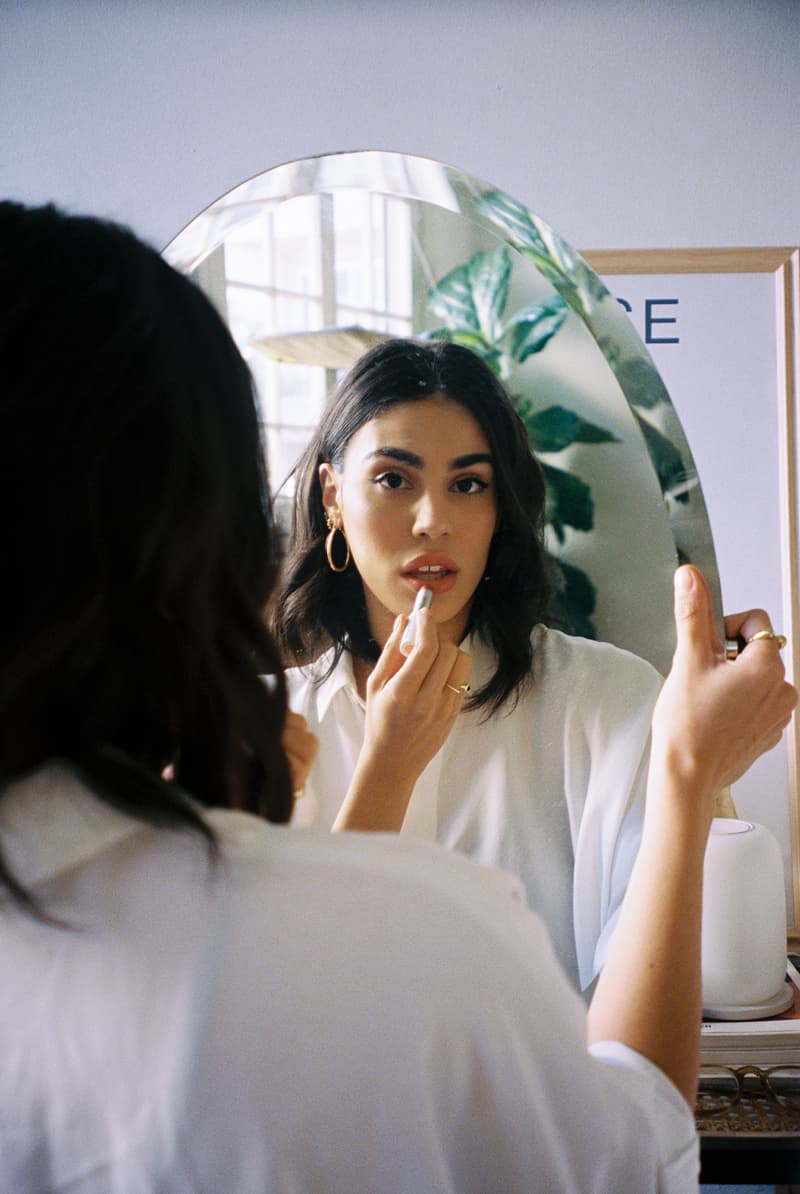 4 of 6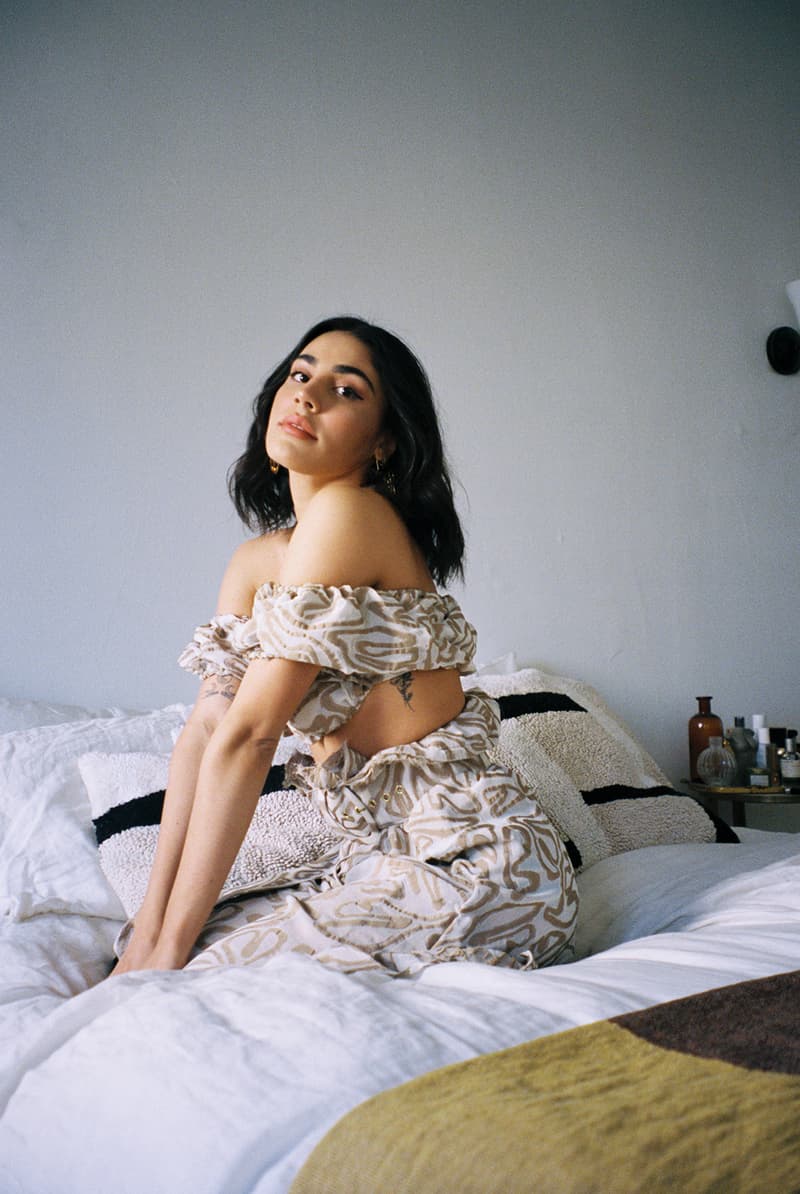 5 of 6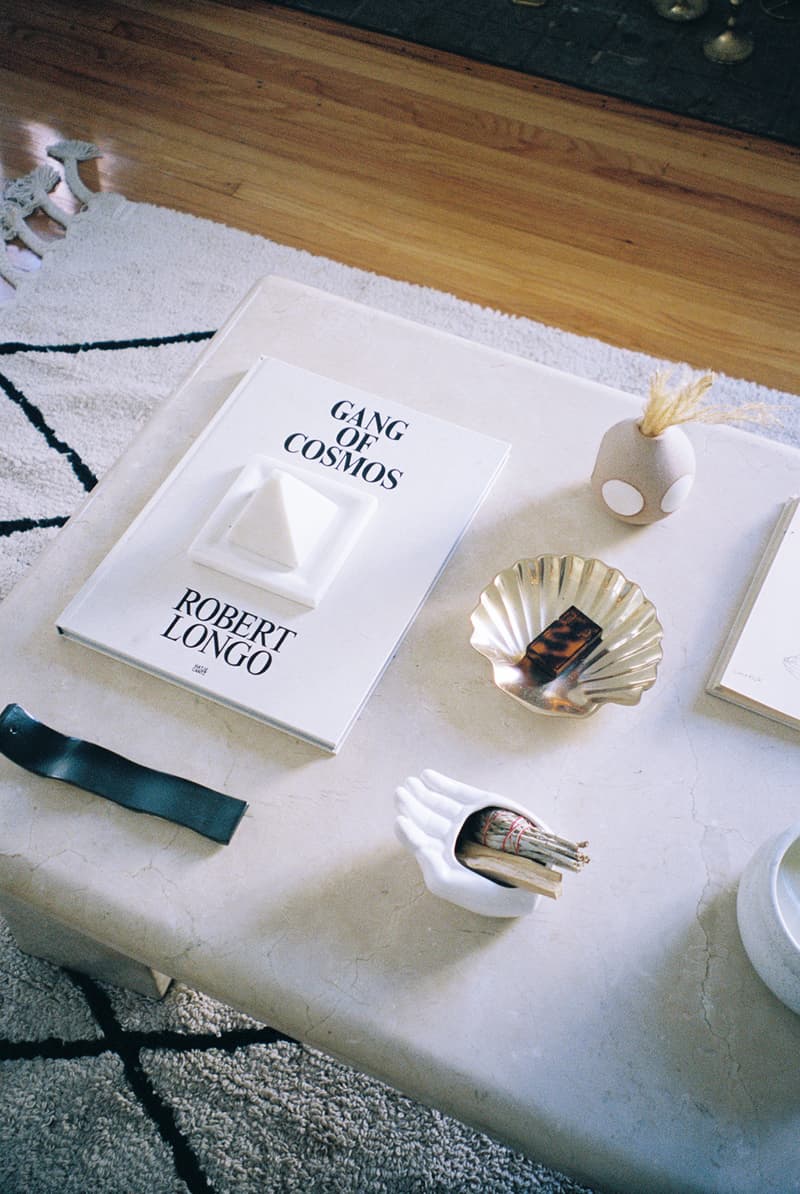 6 of 6
Beauty
Orion Carloto's 5-Step Guide to Achieving the Perfect Cat-Eye
The 'Flux' author and YouTube darling shares with us her beauty secrets and essentials.
Orion Carloto's 5-Step Guide to Achieving the Perfect Cat-Eye
The 'Flux' author and YouTube darling shares with us her beauty secrets and essentials.
You may know Orion Carloto from her popular YouTube channel or for her poetry book Flux, but besides creative writing, the 22-year-old author also counts makeup and skincare a few of her favorite things.
At her tastefully decorated home in sunny Los Angeles, Orion talks us through some of the beauty products that she considers essentials in her everyday routine. She even gives us an easy-to-follow tutorial on achieving her signature winged eyeliner, a look that she has mastered after trail and error — or after "many, many, many Q-tips," as Orion accurately puts it.
Continue reading for our full conversation, where Orion also touches upon embracing insecurities, self-love and what she'd teach her younger self about the idea of beauty if she could time-travel.
Orion Carloto's Beauty Essentials
"I feel like I'm at a place where I've pretty much gone through most popular products on the market, and these are what have worked for me and my skin type."
Skincare
Caudalie Vinoperfect Radiance Serum: I kid you not, I was introduced to this product only about a year and a half ago and I've already gone through three bottles. I love how much this serum has slowly begun to even out my skin tone and light it in the places that need it. I use it every morning and night and honestly feel naked without it.
La Roche-Posay Toleriane Double Repair Face Moisturizer: When I say I've gone through most popular products, I mean it. This moisturizer is the only moisturizer that I've used that doesn't just work well on my skin, but I'm seeing improvements rather than just keeping it moisturized. Plus it has SPF which is incredibly important for me.
BITE Beauty Agave Lip Mask: Soft. Lips. For. Days. Literally nothing gets the job done like this bad boy.
Susanne Kaufmann Enzyme Peel: I love a good mask just like the next person. I came across this product around New Year's and so far so good. I wear it weekly and it's been working wonders and giving me a dewy glow. I also like that it tingles for the first five minutes, too. That's not everyone's cup of tea, but for me, I feel like I can feel it working.
Makeup
Glossier Cloud Paint: Living in LA has definitely taken a toll on my skin and with its extreme dryness, my face has been hating me. That being said, I've began to veer away from using dryer products and going for more cream bases to keep a dewy look. Cloud Paint gives you that flushed and dewy look without making you feel like a dried out sponge. It's perfect.
Flesh Glisten Drops: When I say I want to look like a dewy and glowy goddess with exceptionally great skin, I mean it. And so does Flesh. My favorite highlighter to date.
NYX Vinyl Liquid Liner: My signature look for the past decade of my life has been a sleek cat-eye. Granted I have tremendously improved from middle school, this liquid eyeliner has been a godsend. It only took me 10 years to find it.
Glossier Generation G Lipstick: I wear the shade "Cake". And let me tell you, I feel like it's my birthday every time I put it on. It's the perfect shade and no one can convince me otherwise.
Glossier Lash Slick Mascara: I had my doubts about this one… until I tried it out for myself. It's unreal. For someone that wears bottom lash mascara, it's very easy to end your day, come home, look in the mirror, and realize you've looked like a raccoon for the past seven hours. This mascara doesn't do that. And for that, I'm grateful. I am no longer a raccoon.
Fragrance
Le Labo Thé Noir 29 Eau de Parfum: My signature scent. I wear this perfume every single day. Scents are important to me. One, because I have a fear of smelling bad. Two, it gives something for others to remember you by. Now, my friends can't go anywhere without thinking of me if they smell Noir 29 anywhere in their surroundings. It's great.
It's not uncommon for millennials to learn how to do their makeup from YouTube. What about yourself? Since when did you become interested in makeup and skincare?
I was commenced early on from watching my older sisters apply their makeup. I'm the youngest of three sisters, all who hit their teenage adolescent years way before me. Watching them from a distance as they applied pounds of glitter eyeshadow and mascara as they sat on our home's carpeted floor in front of a full length mirror definitely was my first real introduction. I believe I truly took it more serious and experimented on myself when I started reading teen magazines in early middle school and joined the cheerleading squad.
As far as skincare goes, my mom introduced that to me at a very early age. She was a skincare fanatic, I couldn't even leave the house without some sort of moisturizer on my face.
Those who have watched you do your makeup would know that you make drawing on eyeliner seem incredibly easy. What is the key to achieving the perfect cat-eye?
Continuous practice and many, many, many Q-tips.
A while ago, you shared this beautiful video about embracing insecurities on your channel. What was the intention behind that? As a content creator, how important has it been for you to empower and uplift your community on the Internet?
Social media has a tricky way of showing you all of the good sides of a person. That's what makes platforms like Instagram and YouTube so intriguing. We begin following others that are not only gorgeous, but lead such interesting lives. It's so easy for us all to feed into that — I catch myself doing it all of the time. That being said, it can come with a lot of comparisons. I used to constantly compare the way I look, dress or act to the women I admired online.
Sometimes it's easy to forget that although things look pretty online, nothing's ever that perfect.
I created that video, highlighting my insecurities, because I wanted the people that follow me to take a step back from the good parts I allow them to see and understand that I have insecurities just like everyone else. Sometimes it's easy to forget that although things look pretty online, nothing's ever that perfect. It's incredibly important for people, especially young girls and boys and everyone in between, to understand we're all dealing with our own sh*t. No one is perfect and we have to remember that.
If you could go back in time and teach your younger self a thing or two about the concept of beauty, what would you tell her?
I would definitely tell my younger self to truly appreciate and love my more ethnic features. I spent so much of my early teenage years trying to conform to this white standard of beauty that all of my friends shared and truly believed that what I had could never be viewed as beautiful. And that sucked. I spent so much time comparing myself to my friends and eagerly trying to change parts of myself to be more like them when I could have used that time to truly love my body and my appearance for all that it is.
Besides answering fan questions in it, what are some bath and shower products that you actually enjoy using in the tub?
Frank Body Coffee Scrub, Susanne Kaufmann enzyme mask, Le Labo body wash and Dr. Teal's eucalyptus bubble bath.
What is a candle that you've been burning at home lately?
A candle I got from my favorite massage place here in LA, The NOW. And the scent is called "Santal Tobacco."
How do you style your hair on a lazy, casual kind-of day?
A quick and messy top bun for sure.
And what about when you feel like making an effort? Any easy but effective hairstyling tips?
If I don't feel like taking the time to curl my hair and wear it completely down, I go for a low bun that sits at the bottom and I take out my bangs and baby hairs and finish it off with a silk tie.
Photographer

Hanna La Salvia/@shleepyhans
Share this article