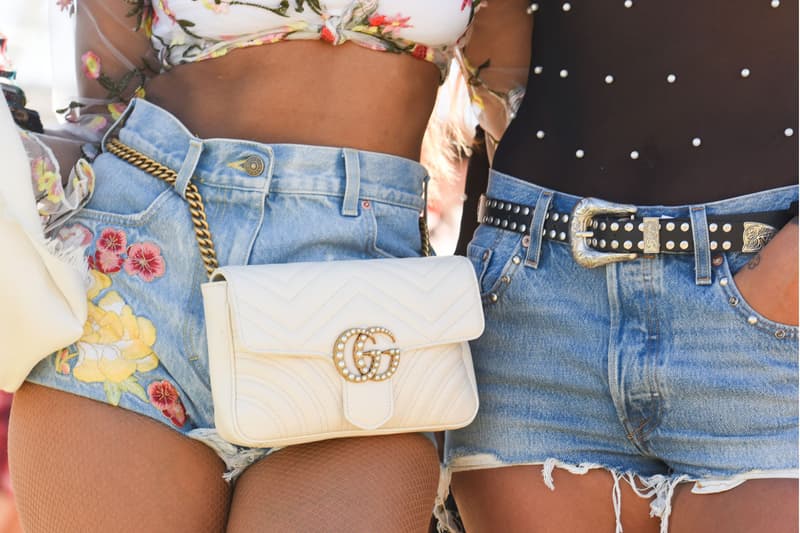 Fashion
Here Are All the Trends You Can Expect to See at Music Festivals in 2019
Cycling shorts, sequins and more.
Here Are All the Trends You Can Expect to See at Music Festivals in 2019
Cycling shorts, sequins and more.
Festival season is in full swing beginning with both weekends of Coachella 2019 approaching. YouTube recently revealed that the musical performances for the festival will be streamed live but for those attending style is of the utmost importance. Lyst recently released a report detailing all the fashion trends expected to be seen at festivals this year. The data is broken down into seven points on what particular clothing styles and footwear will be popular:
Y/Project unique denim panties might take over Coachella as shoppers from all over the world are actively searching for Janties right now – we have noticed a surge in traffic and a 2250% increase in page views since mid-March.

Oversized "ugly" sandals are the most wanted festival shoes right now – searches for "rubber sandals" have increased 34% since the beginning of March. In the last week, Lyst has seen a search for 'Prada velcro sandals' every 7 minutes.

Futuristic, sport-inspired sunglasses will be the it shades this festival season. After Kim Kardashian launched her new sunglasses collection in collaboration with Carolina Lemke earlier this month, searches for race-ready shades increased 650% the following week.

Harness fashion will become even more popular this festival season as searches for harness chest bags rise, up 257% since March. Expect to see this stylish and functional bag everywhere.

Cycling shorts are having a big fashion moment globally. Currently, the most viewed festival ready styles include neon biker shorts (+190%), rainbow biker shorts (+350%) and romper biker shorts (+300%).

Sequin outfits will also be favored at Coachella this year. Sequin bikini sets have seen breakout searches while sequin bikini tops have generated 40% more page views on Lyst since the beginning of March.

Expect to see boys in sequin outfits too. Shimmery jackets are trending in men's festival fashion right now and the ASOS Jacket with Cut and Sew Sequins is getting all the attention with a 108% increase in views in the last 14 days.
Biker shorts continue their reign from last year and harnesses like the one's worn in BLACKPINK's record-breaking video will definitely be seen. For festival survival, take a look at our guide of everything you'll need throughout the day.
Share this article