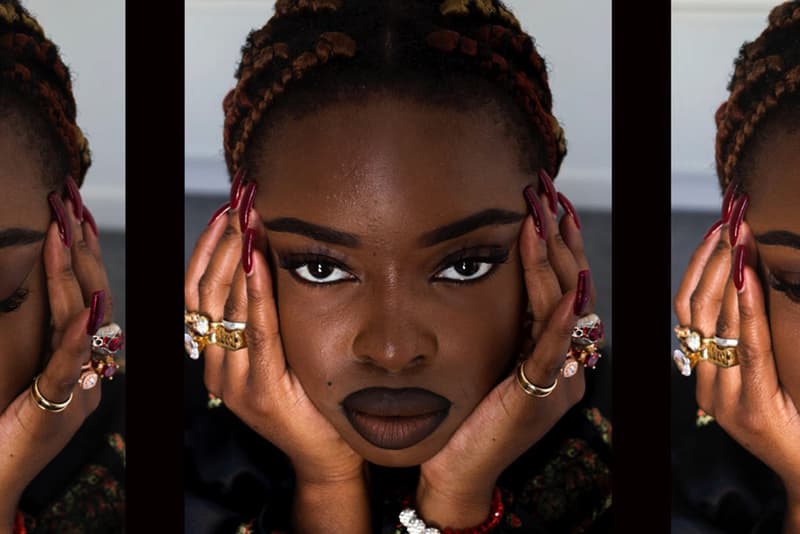 Beauty
This Makeup Artist Breaks Down Why She Created Her Diverse Beauty Line for Black Women
Mata Marielle is one to watch.
This Makeup Artist Breaks Down Why She Created Her Diverse Beauty Line for Black Women
Mata Marielle is one to watch.
Self-taught makeup artist Mata Marielle is a force within the international beauty industry. Her work has been seen in British Vogue, Paper and The Guardian and even on the likes of artists such as H.E.R., NAO and Skepta. Prior to chasing entrepreneurialism and launching her eponymous beauty brand Mata Labs, she was enrolled in university. Her first taste of the need for diversity in the beauty industry came on set at a video shoot where she was asked to create a natural makeup look for models of color, and was provided with shades in pink and beige.
In response to this, she spoke out and declared: "I'm sorry, I cannot work with these, since pink isn't our nude." It was at this moment, that she realized there was a distinct gap in the beauty industry in how it services the needs of people of color. While at this video shoot she created her own nudes for the models and everyone on set was extremely impressed by her ability to do so, this creative moment sparked the formation of Mata Labs.
Currently, Mata is a full-time makeup artist in addition to being a business owner. Her line of unisex, cruelty-free beauty products includes glosses, highlighters and pigments created for a wide array of skin tones, specifically darker complexions. We recently got an opportunity to chat with Mata about her journey, what she thinks about diversity in beauty and more.
Keep reading our exclusive interview with Mata below.
How did you get your start in the beauty industry?
It was something I kind of fell into. My best friend was a musician and she needed a makeup artist for a music video she was directing herself and I said that I'd do it. So this was like two years ago. It was a music video with 12 different women of different age groups and I kind of just knew what to do, because I have a Fine Arts background. From there I just knew really good hair stylists and wardrobe stylists who'd book me for jobs.
What was the first instance when you realized creating a beauty brand would be possible?
I was on set for a campaign and there were a lot of makeup brands there, and they wanted me to create a nude makeup look on all these women of color and I was the only makeup artist. So, I went over to my kit and started mixing clear lip gloss with shades of foundation and that's how I made nude lip glosses and I used this on all the models. Everyone on set loved it so when I went home I figured out how to actually make lip gloss from scratch. But then as I was researching I found that this was something the industry really needs. So that kind of motivated me to do it even more for black people particularly.
Did you have any moments throughout your life when you realized you'd be an entrepreneur?
Yeah, in secondary school I had a candle brand. I was running that business in my class and it was a class with other businesses. I just found myself wanting to win all the time, it gave me the drive to think of other ways to win. I guess I am an entrepreneur in that sense.
Where do you get your inspiration from?
Pat McGrath. She's the only person that inspires me, and she knows she inspires me. She knows who I am, she inspires me so much, she's amazing.
Who in the industry inspires you?
Again, Pat McGrath. I look up to her so much, I love the technique and everything about her. I watch all of her interviews, she's incredible.
What has it been like creating a business as a young woman of color?
It hasn't been easy. The whole idea of starting a business hasn't been easy because in the beginning, you're not getting much support because you don't have a team and you don't really know how to do things.
What are your thoughts on the rise of diversity in the beauty industry?
I feel like the beauty industry is forever growing, but there's still work that needs to be done, a lot of work. It's great that all these brands are creating darker products for darker skin tones. But there's still more that needs to be done. Because now at the end of the day, I can go into a drugstore and still not be able to find my shade of foundation. Whereas there are like 20 shades that don't look like me. So you know I would like for that to change in the future. I do think there have been major improvements.
What changes do you want to see in the beauty and cosmetics industry in the next few years?
To be very aware of other people's skin tones [and] I want brands to be more conscious of different skin types and know what they're actually putting in these products. Like for instance today I bought something that didn't smell healthy.
---
Share this article