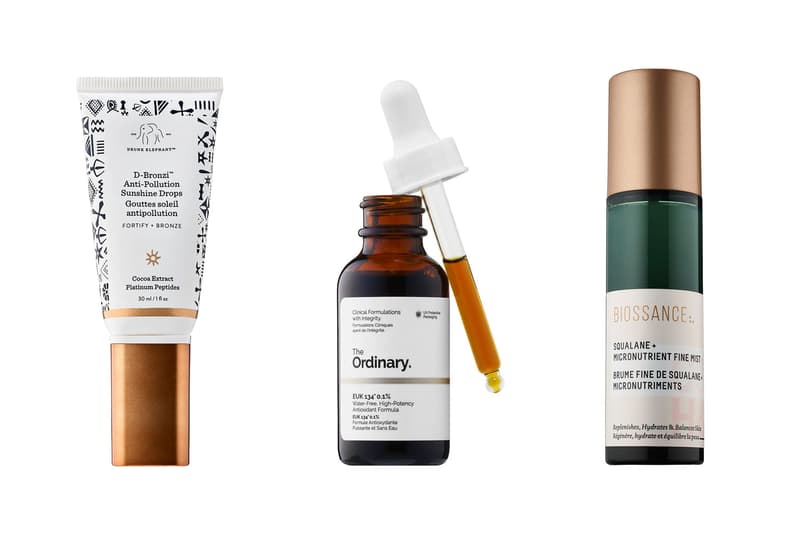 Beauty
Here Are the Best Anti-Pollution Beauty Products to Help Your Skin Combat Polluted Air
From The Ordinary to Drunk Elephant.
Here Are the Best Anti-Pollution Beauty Products to Help Your Skin Combat Polluted Air
From The Ordinary to Drunk Elephant.
Anti-pollution has become a trend in the beauty industry, with air pollution being a major issue in the industrial world today. Following everyday news surrounding lowered levels of air quality, we can't help but be concerned about our health, including skin and hair.
Before jumping into the list of beauty products below, it's important to understand what the effects of polluted air actually are. Air pollution is filled with particulate matter and chemicals like nitrogen dioxide and polycylic aromatic hydrocarbons, which can clog up our pores and cause inflammation, increase in wrinkles and pigmentation and breakdown of collagen. Essentially, anti-pollution products are created with the aim to counteract all of these impacts on our body.
Read on below for some of the most highly rated anti-pollution beauty products, ranging from skincare products like cleanser and moisturizer to makeup and haircare items.
Antioxidants
Designed for all skin types, The Ordinary's EUK 134 0.1% helps reduce redness and protects your skin against UV damage. It contains a super-powered antioxidant which regenerates on its own to protect the skin. The product is free of unwanted cosmetic ingredients like SLS, parabens and mineral oil.
Moisturizer
A recent addition to Eve Lom's line of skincare products, the Moisture Cream contains peach flower and white horehound extracts, which provide antioxidants and PrimalHyal Ultrafiller, which add extra hydration and strengthen the skin from cell damage.
This Murad moisturizer is filled with super-charged antioxidants from marrubium plant stem cells, which detoxify the skin and eventually help reduce wrinkles and fine lines.
Serum
This overnight serum fights against anti-aging by getting rid of fine lines and wrinkles and adding firmness and elasticity to the skin. Free of parabens, sulfates and phthalates, the product allows the skin to regenerate cells to fight the effects of pollution.
Cleanser
Cleansing is probably one of the most important stages of skincare – with this oil-free cleanser, you can clean deep into the pores to fight blemishes and blackheads while preventing the skin from over-drying. Containing black currant fruit and raspberry leaf extracts, this product helps soothe inflammation and minimize sebum oxidation, which is the process that makes blackheads black.
Smart skincare is just what we need today to combat pollution – FOREO's latest product, Luna 3, is a cleansing device that connects to your phone via the FOREO For You app, and offers hygienic cleansing and firming massage routines. This product allows you to personalize your cleansing routine based on your skin type.
Sunscreen
Sunscreen is a must-have in any skincare and makeup routine. Made just for those who are exposed to polluted air in the city, this dermatologist and ophthamologist-tested Clarins' sunscreen adds multiprotection against UV rays and free radicals to prevent aging and discoloration.
Face Mist
This ultra-fine facial mist by BIOSSANCE is filled with minerals and sugar-derived squalane along with two types of hyaluronic acid. Replenishing the skin with mist throughout the day is essential, as the skin can lose minerals through stress, overindulgence and pollution. With an added cooling effect, this product maintains electrolyte and hydration balance in the skin with green algae.
Makeup
Cult-favorite brand Drunk Elephant introduced the D-Bronzi Anti-Pollution Drops which are filled with chronopeptide which adds the benefits of vitamin D, along with omega-rich virgin marula, black currant seed oils and fatty acids. Building a healthy barrier for the skin, these antioxidant drops also add a bronzy glow to the skin with raw, unrefined cocoa powder.
Hair
Exposure to polluted air not only affects your skin but also your scalp and hair, making them become dry and sensitive. Klorane's Anti-Pollution Aquatic Mint line features a shampoo, conditioner and hair mist to combat these conditions. These products are antioxidant-rich and plant-based formula which detoxify the hair and scalp, with an added cooling effect and refreshing scent of mint and lemon.
Share this article