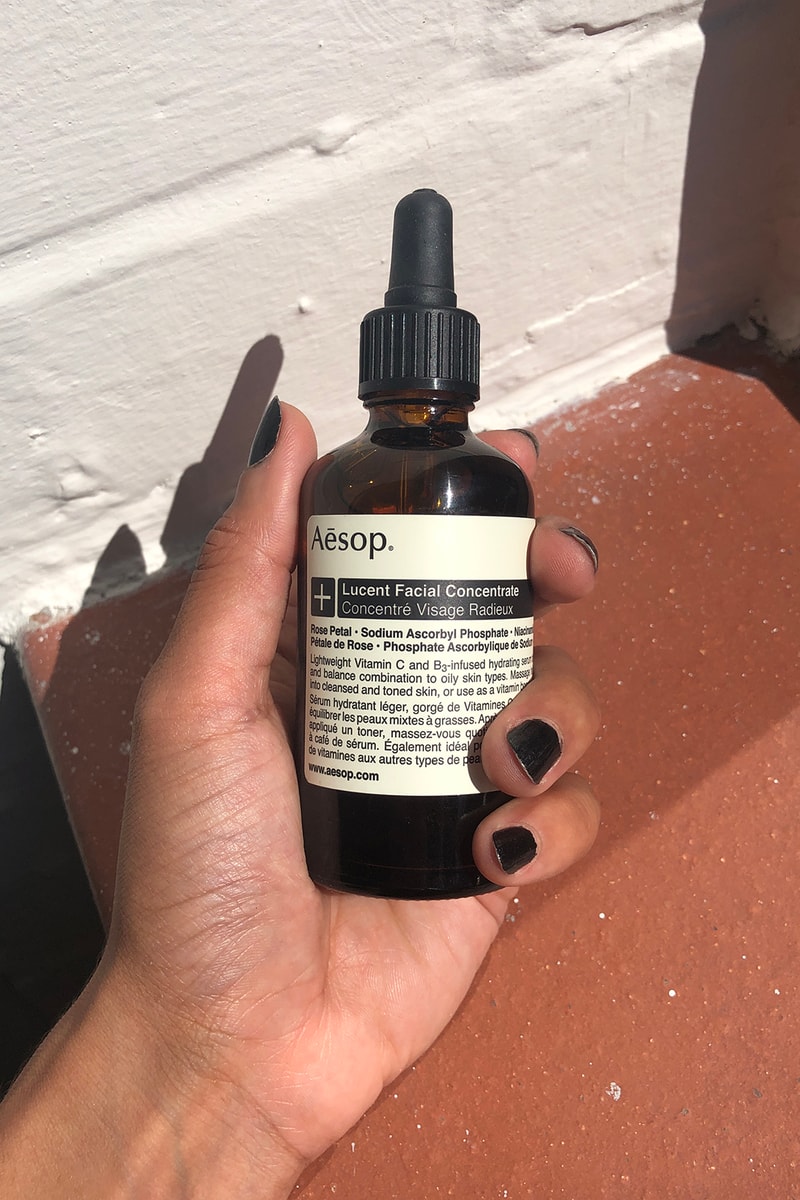 Aesop's Lucent Facial Concentrate Is a Godsend for Fresh, Plump Skin
This week's "Editor's Pick" is a skincare essential.
Beauty
Aesop's Lucent Facial Concentrate Is a Godsend for Fresh, Plump Skin
This week's "Editor's Pick" is a skincare essential.
It seems that over the past few years serums have flooded the beauty market, promising to do everything from reducing wrinkles, brightening and plumping and tightening skin and even slowing down the visible effects of the ageing process. With so many products to choose from – at wildly varying price points – it can be overwhelming to know where to start. I'd dabbled with a few options from the likes of Glossier, The Ordinary and Herbivore Botanicals but rarely stuck with any of them long enough to see the benefits, prematurely assuming that serums just didn't really work for me.
Despite that, I still opted to give Aesop's Lucent Facial Concentrate a try – mostly because I had yet to try a serum by the brand and am a fan of many of its other products. Going against my usual "if I can't see changes immediately then this product must be a lie" mantra, I used it daily for a few weeks to see if it actually made any difference – and it did.
Read on to hear my full thoughts on the product and in related news, check out these hyaluronic acid serums.
WHAT IS IT: Aesop Lucent Facial Concentrate
WHY IT'S WORTH THE HYPE: First thing's first: Aesop products make for the perfect shelfie material. We all know the brand's luxe yet minimal packaging is a large part of its appeal, cementing its status as an Instagrammable brand before that was even a thing. Beyond the exterior, the formula is packed with Vitamin C and anti-oxidants as well as being both hydrating and conditioning: it doesn't feel heavy or sticky when applied and seems to absorb easily. I began using in the morning, applying a few drops using the handy dropper after cleansing my face and gently massaging the product in. Whilst on the first few days following use, my skin felt noticeably extra-sensitive and even tingly at times, this subsided as I guess my skin grew more used to the ingredients.
After regular use for about a week, there was a noticeable difference to my skin; it looked brighter, my skin tone looked more even and my face definitely felt plumper and genuinely hydrated. Although I've cut back to using it only every other day, and the results seem to be continuing.
WHERE YOU CAN FIND IT: Available at retailers like Cult Beauty for £85 GBP (approximately $104 USD)
---
Share this article