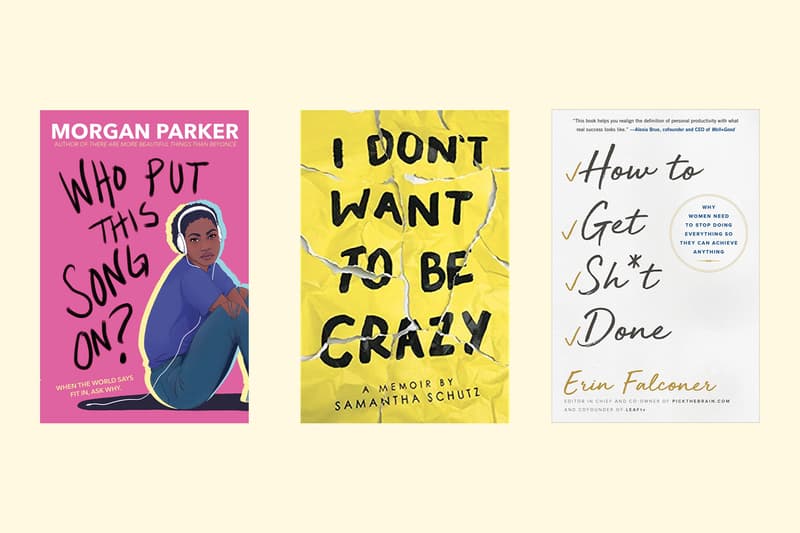 8 Mental Health & Wellness Books to Add to Your Bookshelves
Time to get reading.
Mental health and wellness is something that an increasing number of us struggle to deal with daily. Despite being credited with driving the self-care and wellness sector to becoming a $4.2 trillion USD market, millennials are also a demographic thats seen an increase in depression and substance abuse rates. Anxiety and loneliness within this group are also high, with research indicating that divisive political and social climates, financial uncertainty and of course, the rise of social media partly to blame.
Alongside apps and podcasts, self-help books can be a great way to understand and process your feelings and help shift your mindset. We rounded up eight must-read books that will empower you to start conversations about mental health, wellness, healthy relationships with food and so much more.
Scroll below for more and add these to your bookshelf – in related news, here are 10 books to add to your summer vacation reading list.
Do you feel guilty about trying to get stuff done while trying to live your best life? Then you need to read How to Get Sh*t Done by Erin Falconer. Packed with real-life advice, and actionable resources, Erin will show you how to start doing what really
matters to you. She'll teach you how to excel, delegate, and more so you can actually enjoy living your best life.
In this poignant memoir, author Samantha Schutz reveals what it's really like to cope with a psychological disorder. This harrowing account of how she dealt with anxiety is powerfully rendered and relatable. I Don't Want to Be Crazy, serves as a reminder that there is power in our truths and that we have the ability to take control of our lives.
Honored to share the cover of "Well: what we need to talk about when we talk about health." Coming May 1, 2019. Available for preorder now. https://t.co/dzWBPdwag1 @OUPAcademic @BUSPH @ariannahuff @thrive pic.twitter.com/E8IyOHErCA

— Sandro Galea (@sandrogalea) November 12, 2018
Read the book that Arianna Huffington called, "a deeply affecting work from one of the important and innovative voices in American health and medicine." Well is a radical examination of the subtle and not-so-subtle factors that determines who gets
to be healthy in America. Penned by Sandro Galea, who was named an "epidemiology innovator" by Time and one of the "World's Most Influential Scientific Minds" by Thomson Reuters. Sandro unravels how the country's failing health is a product of American history and how refocusing on our national health can usher enlightenment across American life and politics.
Award-winning poet Morgan Parker known for There Are More Beautiful Things Than Beyoncé, returns with her debut novel, Who Put This Song On? The book centers on a black teenage girl searching for her identity when the world around her views her depression as a lack of faith, and blackness as something to be ignored. Loosely based on Morgan's own teenage life – this incredible debut will make readers stand up for a black girl brave enough to live life on her own terms.
What does it mean to be crazy? Is using the word crazy offensive? What happens when a label like that gets attached to your everyday experiences? To understand mental health, we need to talk openly about it. Because there's no single definition of crazy, there's no single experience that embodies it, and the word itself means different things to different people.
Thirty-three contributors offer essays, lists, poems, and more in regards to how they cope—and thrive—with mental illness including actress Kristen Bell, figure skater Nancy Kerrigan, and bestselling YA authors like Libba Bray, Adam Silvera, and Victoria Schwab.
A fantastic collection to add to bookshelves edited by National Book Award finalist Ibi Zoboi and featuring some of the most acclaimed, bestselling black authors today – this is an essential collection of captivating coming-of-age stories about what it's like to be young and black in America. Black is urban and rural, wealthy and poor, mixed race, immigrants, and more – because there are countless ways to be black enough.
According to Danielle Duboise and Whitney Tingle, the founders of Sakara Life, "Food should make you feel sexy." The popular nutritional program has garnered a long list of celebrity devotees like Gwyneth Paltrow, Jessica Alba, and Oprah. And now in their debut book, Eat Clean, Play Dirty, the duo deliver delicious recipes and reinvigorating rituals to achieve nutritional harmony, a way to nourish the body and feed the spirit simultaneously. The cookbook empowers each of us to become our own chef and change the dialogue we have with our bodies and our plates by using food as medicine.
A funny, edgy, comprehensive program for chronic dieters to help them escape the plague of diet culture, regain their personal power, and reboot their relationship with food, weight and self-worth. The F*ck It Diet is the anti-diet, designed for anyone who feels guilt or pain over food, weight, and their bodies. Caroline Dooner calls BS on the diet industry as she reveals the truth about weight bias, tackles the flawed approach inherent in dieting, and guides readers through the physical, emotional, mental, and spiritual aspects of the journey from miserable food obsession to true food ease. A fresh, irreverent, and empowering – it's time to give up the shame and start eating to live happily.
Share this article