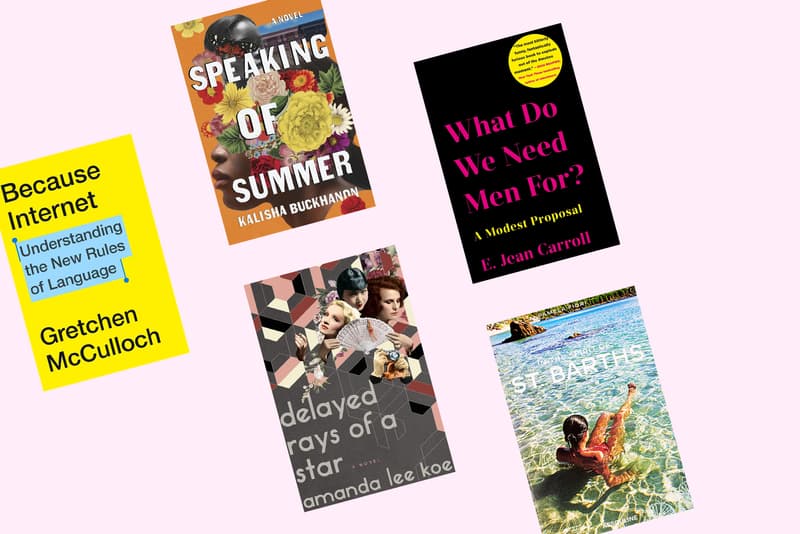 Art
Here Are 10 Books to Add to Your Vacation Reading List This Summer
Our editor-approved picks include non-fiction selections, a graphic novel and more.
Here Are 10 Books to Add to Your Vacation Reading List This Summer
Our editor-approved picks include non-fiction selections, a graphic novel and more.
We've finally made it to the type of long, lazy summer days that beg to be spent next to a pool and surrounded by a pile of good books. Whether or not you're taking a proper vacation this year (or just finding any excuse to soak up the sun in your own backyard), July has brought us a number of new releases that are begging to be consumed in a tiny bikini, post-BBQ and in between sunscreen applications. Here are the fiction, non-fiction, art books and graphic novels we'll be eating up this month.
Keep scrolling for a look at the top 10 books you should be reading right now.
When E. Jean Carroll, known personality and author of the "Ask E. Jean" advice column in ELLE magazine, noticed that the bulk of her readers asked for her expertise in regards to problems caused by men, she loaded her life into her car and drove across America to find some answers. Focusing her visits to towns named after women (including Charlotte, Vermont; Tallulah, Louisiana; Marianna, Arkansas; Pocahontas, Missouri), Carroll asks women everywhere a question that at times is hilarious, at times heartbreaking: What do we need men for?
If you've ever wanted to be a fly on the wall during a wild love affair, this is for you. Over a period of eight years, journalist Lisa Taddeo deeply immersed herself into the intimate episodes of three ordinary women across the United States. She chronicles the lives of a suburban mother in Indiana leaving a loveless marriage to begin an affair with her high school sweetheart, a seventeen-year-old high school student in North Dakota being pursued by her English teacher and a glamorous restaurant owner in the Northeast many happy years into an open relationship. Beautifully written and almost painfully honest, Three Women shows us how women are never as easily definable as they seem at first glance.
If you had to defend yourself and your loved ones at a second's notice, would you be able to? It's the middle of a pitch-black night when a young woman, alone with her two young children, hears an intruder inside her house — an intruder who strangely seems to know everything about the family. What follows is a quiet thriller about motherhood, weakness, and fear that's equal parts urgent and gradual, unsettling and familiar.
If there's a more compelling character lineup than Marlene Dietrich, Hollywood icon; Anna May Wong, the world's first Chinese American star; and Leni Riefenstahl, infamous Nazi propaganda film director, we wouldn't know what to do with it. Spanning a range of decades and locations, The Delayed Rays of a Star follows three very different women along their very different career paths. Whether they become beloved or despised, the three women help to define 20th-century cinema and hope to be able to handle the consequences when they come.
The year is 1937, and Leonora Calaway has chaperoned her surrealist artist friends away from World War II and into Costalegre, a hideaway tucked deep within Mexico. Almost as an afterthought, the group is joined by Leonora's daughter Lara, a wildly privileged but generally ignored teenager whose dramatic feelings on her mother's status are an apt blend of entitlement and teenage angst ("If she builds her museum here," Lara says of Costalegre, "I am going to die."). Heavily inspired by heiress and art aficionado Peggy Guggenheim and her real-life daughter Pegeen, Costalegre tells the story of what lengths a young woman will go to to find affection when her mother never seemed to notice she exists.
Show us a person under the age of 35 who isn't an Internet genius and we'll show you a liar. If there's one thing that millennials and Gen-Z can do, it's be online. But have you ever wondered why some people prefer "LOL" over "lol?" Why exactly we all love that GERSBERMPS girl? Do you just want to talk about the eggplant emoji? In Because Internet, linguist Gretchen McCulloch (Resident Linguist at Wired) explores how the web has shaped the development of human language and communication in a way that's as funny, knowledgeable and interesting as the internet itself.
Anyone who's been fortunate enough to visit St. Barths knows that there's a certain je ne sais quoi about the small, chic Caribbean island. Capturing its essence is a real task, but In the Spirit of St. Barths's sparkling photography may be the closest to clutching sipping a chilly cocktail on a white sand beach as many of us will get. This gorgeous book of photography is a summer vacation in itself, complete with text by Pamela Fiori, former editor-at-large of Town & Country.
What do you do when your twin sister just vanishes? In Speaking of Summer, Autumn Spencer's life falls apart when her twin sister, Summer, disappears into thin air. Throughout the novel, we follow along in a search for Summer, sure, but more than anything we're given a window into racial injustice in the United States and the toll on a woman's mental health when a family, specifically an African American family is disrupted. The plot twists and whodunnits seem secondary; this novel is about who cares, and who doesn't when a black woman goes missing.
"Amusing" doesn't feel like the right term for the period after a teenage girl goes missing, but that's just one of many surprises Sarah Elaine Smith sprinkles throughout her debut novel. In Marilou Is Everywhere, we follow Cindy, an impoverished fourteen-year-old who sees the disappearance of her more affluent friend as an opportunity to step into a better, if not much more strange, life. Grab this coming-of-age-story if you've ever wanted to escape your own life, or if you simply want to see how delightfully a mystery can be written.
Most people know George Takei best as one of the original stars of Star Trek. But long before he was navigating the USS Enterprise as Hikaru Sulu, Takei was one of the hundreds of thousands of Japanese Americans sent to United States internment camps during World War II. In an effort to pass his story down to future generations, he details his time imprisoned by the American government in They Called Us the Enemy, a startlingly frank yet beautifully illustrated graphic novel.
Share this article