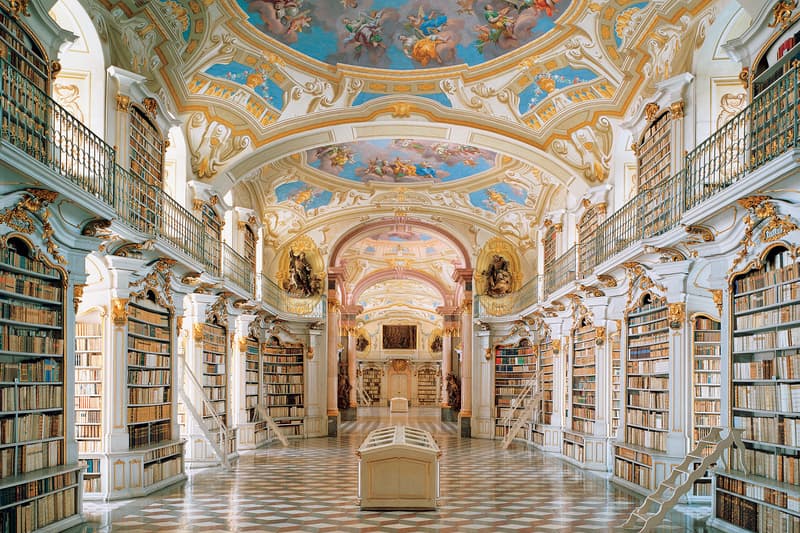 Travel
These Are 13 of the Most Beautiful Libraries in the World
In celebration of National Book Lover's Day.
These Are 13 of the Most Beautiful Libraries in the World
In celebration of National Book Lover's Day.
With National Book Lover's Day approaching on Friday, August 9, it's time for us to put our tablets aside and appreciate the feeling of flipping through hundreds of pages. If you love the smell of books and enjoy taking photos, make sure to keep your eyes on this list of the most beautiful libraries in the world.
Selections range from university libraries like Oxford's Bodleian in the UK and Johns Hopkins' George Peabody Library in America to public spaces like Germany's Stuttgart City Library and South Korea's National Library of Sejong City. If you've got plans to travel abroad this summer, these are some of the most aesthetic and unique architectural spots to stop by for an Instagram-worthy moment. For more travel destinations, check out this list of 20 of the best travel destinations.
AMERICAS
George Peabody Library – Baltimore, Maryland USA
Now a research library for students at Johns Hopkins University, the George Peabody Library houses over 300,000 volumes, many from the 19th century. The 1878 building was built by local architect Edmund G. Lind who aimed to create a cathedral for books. Key design elements of this library are the marble floors, cast-iron balconies and columns with golden embellishments.
Seattle Public Library (Central Branch) – Seattle, Washington USA
Opened in 2004, the Seattle Central Library is beautiful in a very different way from the George Peabody. Featuring geometric designs all over, architect Rem Koolhaas tried to build a 11-story building with full layers of transparency. The space houses around 1.45 million books as well as around 400 computers that are open for public use.
Vasconcelos Library – Mexico City, Mexico
The Vasconcelos Library was opened in 2006 and designed by architect Alberto Kalach. Dubbed a "megalibrary," the space spans almost 38,000 square meters and is divided neatly into sections of stacked books. This facility showcases the work of Mexico's artists including Gabriel Orozco's Ballena, which can be found in the main lobby.
EUROPE & AFRICA
Admont Abbey Library – Admont, Austria
This 1776 library located on the Enns River in Austria is simply breathtaking. Designed by baroque architect Joseph Hueber, it boasts clean white and gold shades while the ceiling is embellished with Bartolomeo Altomonte's large-scale frescoes portraying the different phases of human knowledge. With around 200,000 volumes, the Admont Abbey Library is one of the largest libraries in the world.
Wiblingen Abbey Library – Ulm, Germany
Germany's Wiblingen Abbey, specifically its north wing, houses numerous statues and beautiful, bright ceiling paintings by Franz Martin Kuen. With the space decorated by Christian Widemann, this facility which completed in 1744 is known to represent the Rococo style in southern Germany.
Handelingenkamer – The Hague, The Netherlands
With Renaissance design elements, the Handelingenkamer library actually takes inspiration from the aesthetics of China. As seen above, it focuses on a red, green and gold palette and also features dragon heads on the walls. You can climb the library's iconic spiral staircase to access all three levels of its books.
Stuttgart City Library – Stuttgart, Germany
Designed by German-based firm Yi Architects, the Stuttgart City Library is a minimalist's dream destination. Taking inspiration from the Pantheon in Rome, the building is shaped like an upside-down pyramid.
Bodleian Library – Oxford, UK
The main research library of the University of Oxford, Bodleian is one of the oldest of its kind in all of Europe. With 18th-century designs by British architect James Gibbs, it follows the English Palladian architecture style and is the oldest circular library in the UK.
Trinity College Old Library – Dublin, Ireland
The Long Room in Trinity College's Old Library features 200,000 of some of the most aged books. This space, completed around 1733 by architect Thomas Burgh, is the permanent home to the Book of Kells, an illuminated manuscript Gospel book in Latin that dates back to the early 9th century.
Bibliotheca Alexandrina – Alexandra, Egypt
Egypt's Royal Library of Alexandria was once destructed hundreds of years ago while Julius Caesar was pursuing Pompey to enter the territory. The Bibliotecha Alexandrina took its place in 2002 and has since become a major cultural center. It was designed by Snøhetta, a Norwegian architectural office that won a UNESCO competition among more than 1,400 entries to build the library.
ASIA
National Library of Sejong City – Sejong City, South Korea
Located in Sejong City, one of South Korea's newest cities, the façade of this building portrays a book page that has been turned over. The public facility which opened in 2013 is used not only for books but also for conferences and seminars, and additionally features a dining area.
Liyuan Library – Beijing, China
A two-hour drive from the city of Beijing, Liyuan Library is located in an area called Jiaojiehe Village. Originally built to provide free reading resources to village children and the public, it was designed by Chinese architect Li Xiaodong who used firewood sticks on the exterior to blend the library in with nature.
Rampur Raza Library – Rampur, India
Last, but not least, is a library located in Rampur, India – which was born more than 200 years ago with the ruler of the state stacking his personal collection of Indo-Islamic manuscripts. His descendants, who were calligraphers, scholars, poets and musicians, continually added to the collection, slowly transforming the library into what it is today. It currently houses over 17,000 manuscripts in languages like Arabic, Persian, Sanskrit, Hindi and Turkish along with 80,000 books.
Share this article