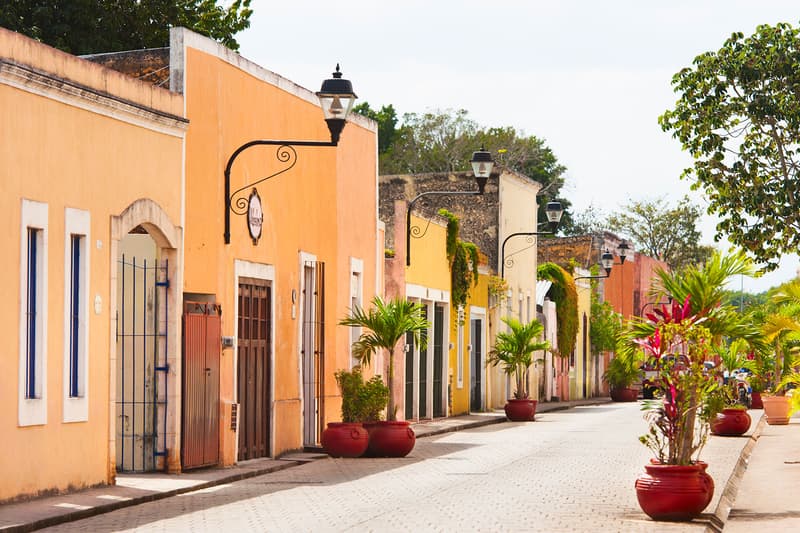 Travel
Here Are The 20 Best Travel Destinations to Add to Your Bucket List
To help cure your wanderlust.
Here Are The 20 Best Travel Destinations to Add to Your Bucket List
To help cure your wanderlust.
With summer in full swing, you've probably been scrolling through endless photos of friends and influencers on Instagram traveling all over the world. To ease your wanderlust, we've compiled a list of the best travel destinations to add to your bucket list.
From cities like Shenzhen and Montréal to natural wonders like the Gobi Desert in Mongolia and Easter Island in Chile, scroll down below to see how many of these destinations you've been. Let us know in the comments where you're headed next.
While you're here, check out the 50 best restaurants in the world.
Asia-Pacific
Shenzhen, China
Known to be the "Silicon Valley" of China, Shenzhen has become one of the most innovative cities in Asia. It has also developed its art scene with the opening of locations like the Museum of Contemporary Art & Planning Exhibition (MOCAPE), art village OCT-LOFT and oil painting village Dafen. Many tourists travel to this city along with Hong Kong and Macau which are just over the border.
Gobi Desert, Mongolia
If you feel like trying some place new, venture out to the Gobi Desert. Known for its dunes and rare animals, this vast area covering northern China and southern Mongolia also has historical significance, being the location of several important cities along the Silk Road.
Palawan, Philippines
One of the most beautiful locations in the world, Palawan is known for its various lagoons, dramatic seascapes and jungles. However, some areas of this island including El Nido have recently been undergoing decisions for closure for a three-month rehabilitation. There have also been new rules that restrict visitor numbers to sites like Big Lagoon.
Railay Beach, Thailand
Located in the Krabi province of Thailand, Railay Beach is covered in white sand and beautiful limestone rock formations. This spot is reachable only by boat, so be sure to plan ahead for day trips from nearby Ao Nang Beach.
Brisbane, Australia
From the Lone Pine Koala Sanctuary to Queen Street Mall, you can get the right balance between nature and city in Brisbane. Plan a day trip to Moreton Island, the world's third largest sand island during your stay.
Europe
Copenhagen, Denmark
With successful seasons of fashion week, Copenhagen has become one of the coolest cities in the world. Take breezy walks in the city's public parks and visit fortresses like the Kastellet. The street food scene is also growing in the Danish capital at food and craft market Reffen.
Athens, Greece
Having been reformed since the 2004 Summer Olympics, Athens boasts historical sites like the Acropolis and Temple of Olympian Zeus. The city is convenient to navigate around with a modern subway system and with most signs in English.
Dublin, Ireland
Designated a UNESCO City of Literature back in 2010, Dublin is filled with medieval castles and cathedrals along with architecture from the 18th century. Dubliners are known to be great hosts, so you can expect to make some new friends on your trip.
Alsace, France
Producing some of the best wine in the world, Alsace is home to top wineries including Domaine Weinbach and Maison Trimbach. A mix of German and French cultures, it's also well-known for its beer as well as sauerkraut and local specialties like Alsace Flammekueche, a dish filled with cheese, cream, mushrooms and local ham. A trip to Alsace will also feature grand castles like just out of a Disney movie.
Berlin, Germany
With this year being the 30th anniversary of the fall of the Berlin Wall, 2019 could be a meaningful year to pay a visit to the city with special exhibitions and performances. This destination is one of Europe's capitals of nightlife so if you like to party, Berlin is the travel spot for you.
Turkish Riviera, Turkey
Apart from being the luxurious go-to place for sailing, Turkish Riviera can also be a budget-friendly travel destination. It's filled with coastal resorts, historical ruins and stunning landscapes – tourists can enjoy a laidback lifestyle with healthy food menus offered throughout the area.
Canary Islands, Spain
A group of islands located near Morocco in northern Africa, Canary Islands is a unique mix of buzzing nightlife and beautiful landscapes featuring pine forests, volcanoes and sandy coves. Popular activities at this destination include hiking along the coastal trails, touring the Canarian architecture and lounging on the beach.
Africa
Zanzibar, Tanzania
The Zanzibar Archipelago is a dreamy destination, with beaches and oceans for snorkelling, kitesurfing and partying. Explore the area through streets with ancient buildings all the way to the coast with fishing boats.
Marrakech, Morocco
If you've flipped through Instagram for photo-friendly locations, you probably have stumbled upon the colorful streets of Marrakech. The city is famous for its beautiful architecture, specifically guesthouses, as well as its unique rug designs.
The Americas
Montréal, Canada
Offering a range of experiences like museums and music festivals as well as good food, you can tell just from researching online that Montréal is rich with culture. Many explain the city to be a mix of old Europe with contemporary design.
Savannah, Georgia USA
Famous for being the filming location of 1994 movie Forrest Gump, Savannah is decorated with mammoth oak trees and elegant townhouses. Drop by the city to try authentic Southern cuisine focusing heavily on seafood for its proximity to the ocean.
Memphis, Tennessee USA
Memphis is a must-visit for music lovers. You could spend a couple of days in this city visiting its music bars, museums and historic sites while feasting on pulled pork and ribs.
Cambria, California USA
Located between Los Angeles and San Francisco, seaside town Cambria is all about beautiful sceneries and outdoor recreational activities. The area is popular thanks to the famous Hearst Castle, Nitt Witt Ridge and Moonstone Beach.
Valladolid, Mexico
A city on Mexico's Yucatán Peninsula, Valladolid is probably one of the most Instagram-friendly destinations in the world. Spots like Cenote Suytun, Calle 50 and La Casona Fountain will leave you with some of the most beautiful photos you've ever taken.
Easter Island, Chile
A mysterious location also known as Rapa Nui, Easter Island is a remote volcanic island in Polynesia. It's widely known for its archaeological sites like the Moai statues carved during around the 13th to 16th centuries. While it may seem difficult to reach due to its remoteness, a visit to the island is definitely a one-of-a-kind vacation.
Share this article