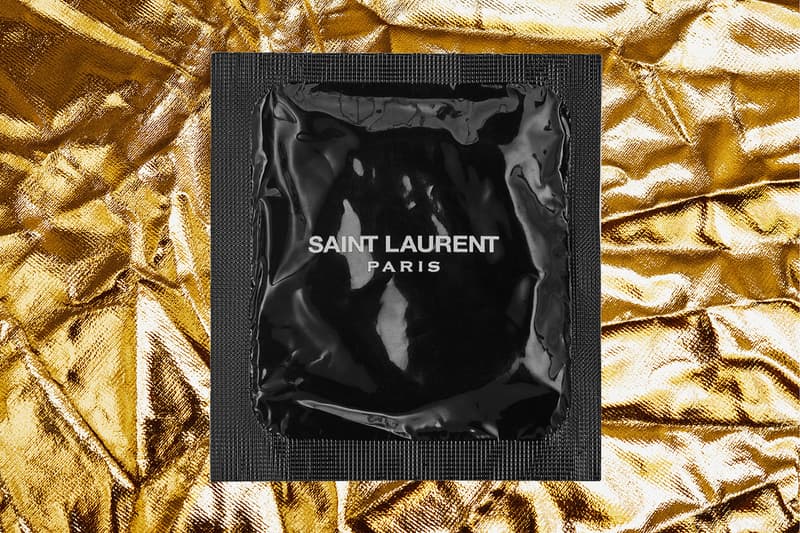 6 Times Condoms Get the High Fashion Treatment
A recent history of designer brand condoms.
In an unexpected move, Saint Laurent made headlines over the weekend for launching its own branded condoms, with each piece retailing for €2 EUR (approximately $2.20 USD) at the fashion house's Parisian concept store, Rive Droite. While images of the collectible item soon became viral on social media, this isn't exactly the first time condoms have received a high fashion makeover. Over the last decade or so, we've seen brands such as Alexander Wang and Marc Jacobs advocating safe sex by releasing their own contraceptive, as well as fan-made mockups that borrow familiar logos and motifs from luxury houses.
Below, take a look at six times when condoms get the designer treatment.
Fashion enthusiasts may remember listings of Marc Jacobs-branded condoms that surfaced on eBay back in 2008. Coming with designer's special message, "Remember, safety first! xxoo, Marc Jacobs," the condoms were available for $1.99 USD apiece at the time on the e-commerce platform. Racked later reported that the rubber protectors could be purchased at the Marc by Marc Jacobs Melrose store in LA, priced slightly below the resell value at $1.50 USD.
In 2012, Twitter went wild over these bootleg Louis Vuitton logo condoms mocked up by architect Irakli Kiziria for a design project. While the monogrammed rubbers were not actually associated with the French luxury brand, they were sold online for $68 USD for a 12-pack.
Another fan creation came from Mikaël Barelaud Eludut, who presented these parody Off-White™ condoms to his Instagram followers in 2017. Poking fun at the brand's signature quotation marks motif, the silver wrapper of this imaginary design is emblazoned with the word "SAFE."
In celebration of the annual Pride Month,  Alexander Wang teamed up with Trojan in 2018 to launch a limited-edition capsule collection aptly dubbed "Protect Your Wang." The slogan was printed on items such as T-shirts, socks and hats, with each purchase coming with a free, co-branded condom.
It's an established fact that Jeremy Scott doesn't shy away from bold and daring designs. Case in point: his 2018 Moschino collaboration with H&M. The designer took inspiration from flashy, gold foil condom wrappers for a range of handbag styles, as well as jewelry pieces such as earrings and chain necklaces.
Thanks to Saint Laurent creative director Anthony Vaccarello, the newest and hottest designer condom is born. Exclusively available at the brand's Rive Droite location in Paris, the luxe rubbers come packaged in a variety of patterns, ranging from a black-and-white checkered print to tiny hearts. Each design is stamped with Saint Laurent's house logo, of course.
---
Share this article