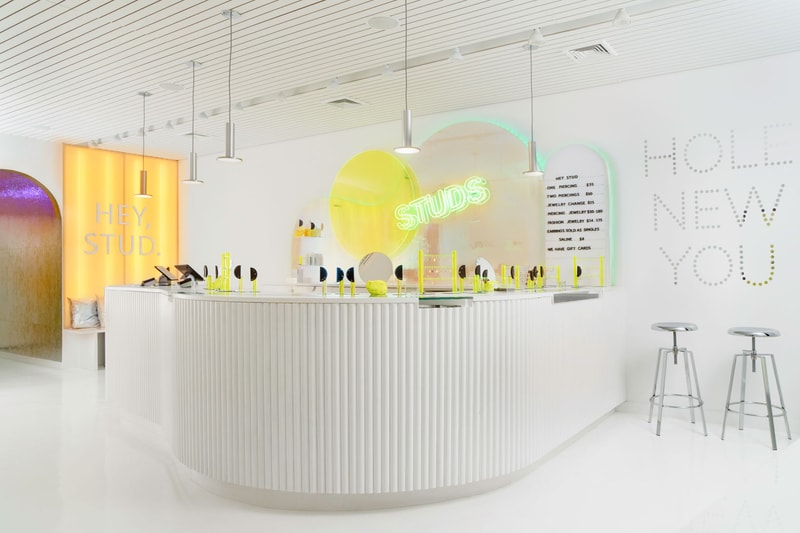 Fashion
Here Are the 7 Best Studios in New York City to Visit for Your Next Piercing
Say goodbye to Claire's.
Here Are the 7 Best Studios in New York City to Visit for Your Next Piercing
Say goodbye to Claire's.
Though most people will admit to getting a spur-of-the-moment piercing at Claire's, such a permanent (and painful) decision typically entails a fair amount of research. And with an increasing number of unorthodox piercings being popularized via social media, it can be difficult to determine where, both anatomically and geographically, to go under the needle. Besides the piercing itself, earring choice is another decision to be made — initial jewelry must be high quality to avoid irritation, and cannot be switched out until the healing process is over.
Whether you're looking to get your first piercing or add to a pre-existing collection, we've got you covered. From luxury piercing studio Maria Tash to Instagram-friendly Studs to downtown mainstay New York Adorned, read on for the best places to get pierced in New York City.
Location:
37 Greenpoint Avenue #106, Brooklyn, NY 11222
Helmed by renown piercer J. Colby Smith (he counts Zoë Kravitz and Emma Stone among his clients), 108 BK offers a range of delicate piercings and jewelry designed by House Jeweler Schyler Gately. Fellow piercers Adrian Castillo and Josh Harris also work out of the Greenpoint-based studio — besides your standard lobe, you'll also find conch, rook and tragus piercings among their portfolios. Tiny studs, thin gold hoops and dainty infinity chains suit a range of jewelry preferences and make for a perfectly polished-looking piercing.
Location: 653 Broadway, New York, NY 10012
A fixture since 1992, Maria Tash offers luxury body jewelry and a range of piercing options including dermal, cheek and even genital. Originally named Venus Body Arts, the studio and its founder, Maria Tash, coined the term "curated ear," referring to the coordination of multiple piercings — sometimes called a "stacked lobe" — and jewelry types for a balanced and elevated look. Tash's expansive collection jewelry doesn't shy away from incorporating gemstones and diamonds, so prepare to invest.
Location: 269 Elizabeth Street, New York, NY 10012
Initially a tattoo and piercing studio, New York Adorned decided to focus its offerings on piercings back in 2018. Now, the downtown shop specializes in ear, nose and lip piercings and sells in-house jewelry as well as designer pieces by artists such as Kristi Sword and Margaret Cross. Most recently, the studio rang in 2020 by opening an additional outpost in Los Angeles to serve a wider range of piercing fanatics.
Location: 424 Broadway, 2nd Floor, New York, NY 10013
Formerly known as Pure Body Arts, Nine Moons Piercing is located in a Soho loft shared with Sacred Tattoo. Three expert piercers and two jewelry stylists guide visitors, who can choose from ear and anatomy specific — such as navel and industrial — piercings, through the entire process. Delicate gold earrings range from simple discs to intricate flowers inset with precious stones.
Location: 12 Prince Street, New York, NY 10012
Dubbed "the Glossier of piercing studios" by Vogue, Studs aims to pioneer the realm of affordable yet high quality piercing by offering a flat rate of $35 USD for one piercing or $50 USD for two. Jewelry is also accessible — prices range from $30 to $180 USD and include playful charms, gold huggies and alphabet studs. Neon lights and a sculptural interior make for an Instagram-worthy moment — the shop's opening day line was reportedly out the door, and Kaia Gerber's recent visit is sure to attract even more customers.
Pop-Up Showroom Location: 611 Broadway, Room 604, New York, NY 10012
A jewelry brand that offers traveling piercing pop-ups, Stone and Strand sells both directional jewelry collections and piercing-ready jewelry made of medical grade titanium. Simple everyday adornments and pave diamond statement pieces range from affordable to high-end. For the entirety of 2020, New Yorkers can get pierced at Stone and Strand's pop-up showroom in Soho, as well as at a separate piercing pop-up at the Freehand Hotel.
Stone and Strand Piercing Pop-Up
January 25
Freehand New York
23 Lexington Avenue
New York, NY 10010
Pop-Up Piercing Location: 63 Crosby Street, New York, NY 10012
Similar to Stone and Strand, The Last Line is a fine jewelry label with an ever-changing schedule of piercing pop-ups. Through mid-February, The Last Line will offer ear piercings at a pop-up space in Soho where shoppers can also browse a range of the brand's glittery jewelry offerings. Geometric, floral and classic studs are inset with a range of diamonds and precious gems including emeralds, rubies and rainbow pave — needless to say, a piercing from The Last Line doesn't come cheap.
---
Share this article