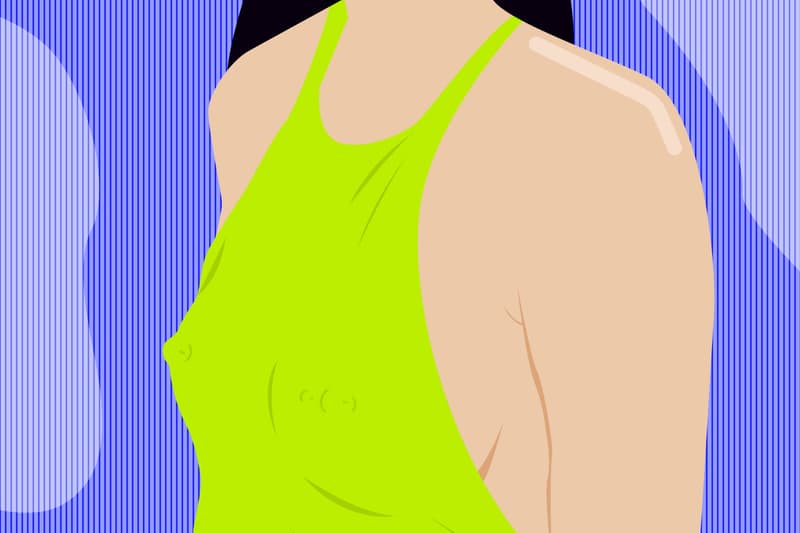 Fashion
Maria Tash Breaks Down Nipple Piercing Misconceptions, Healing Tips & More
The jewelry expert also shares her top picks from her eponymous line.
Maria Tash Breaks Down Nipple Piercing Misconceptions, Healing Tips & More
The jewelry expert also shares her top picks from her eponymous line.
Nipple piercings are pretty much the norm these days. While they were seen as a bit risque just less than 10 years ago, they've risen in notoriety today thanks to a number of celebrities who potentially have nipple piercings, including Rihanna, Kendall Jenner, Bella Hadid and even Kristen Stewart.
To get a better understanding of the trend, we've spoken to Maria Tash, who for over two decades has been serving up fine jewelry. As the owner of her New York City-based eponymous label known for its sleek and innovative designs, Tash has been placed on an untouchable pedestal within the industry. At each of her locations, the Maria Tash team has developed a Curated Ear℠ styling service. This service is a way for the client to further explore their personal style with the assistance of anatomy guides which feature studs and rings, handpicked to flatter the customer.
Keep scrolling to find out everything you need to know about nipple piercings according to Maria Tash.
What would you say is the most common misconception about nipple piercings?
Clients wonder if their piercing will result in a more sensitive and erogenous nipple, or whether the effect will be the opposite. In my experience, nipple piercing generally makes a nipple that was not too sensitive, more of an erogenous zone. The jewelry itself can be used (once well-healed) as a toy, which can add to mental sensitivity as well as the physical. There are some folks who believe their nipple piercing created some desensitization, but this is not common, and others where they became very sensitive.
Another misconception surrounds breastfeeding. Women can breastfeed with a nipple piercing. If you think of the piercing as a small tunnel, milk can come out of the sides of the piercing as well as the usual route in front of the nipple. I would tell clients the piercing enables "easier access" to milk for the baby. Most women elect to breastfeed without their nipple jewelry, but it is imperative to put the jewelry back in soon after, as the piercing can shrink quickly.
One of the best applications of nipple piercing is for people who have full or semi-inverted nipples. Getting a nipple piercing with a barbell can hold the nipple out and prevent inversion. I have done many of these types of piercings and clients are so thrilled to have their nipple freed, and not going back into their chest. Barbells are the recommended jewelry type to start an initial piercing, as they stay in place, don't torque, and hence are easier to heal.
What would you suggest buying after nipple piercing to assist with the healing process?
Nipple piercings take a while to heal, so it is important to always have access to sterile saline wipes/spray to clean the piercing twice a day. Sleeping in a tight cotton T-shirt will allow air to get to the piercings and hold the jewelry gently in place for comfort during sleep. In the same way, a cotton, non-lacy bra will hold the jewelry down during the day under clothing. As with any piercing, be careful and mindful about how you dry after a shower or bath. Use clean towels, and pat dry carefully. The weaves on certain towels or lace can catch on the jewelry.
Can you share your favorite pieces from your collection?
My favorite pieces are the larger diamond arrows and the 3mm round diamond scalloped edge stone barbells. Our cubic zirconia barbell stone option is attractive, hypoallergenic and affordable. I added the scalloped edging to the setting around the CZ, as well as some gorgeous engraving on the side of the cups so the barbell is attractive and comfortable from the front, side, and back views.
Take a look below at Maria Tash's top nipple ring selections below. Pricing starts at $275 USD.
Share this article