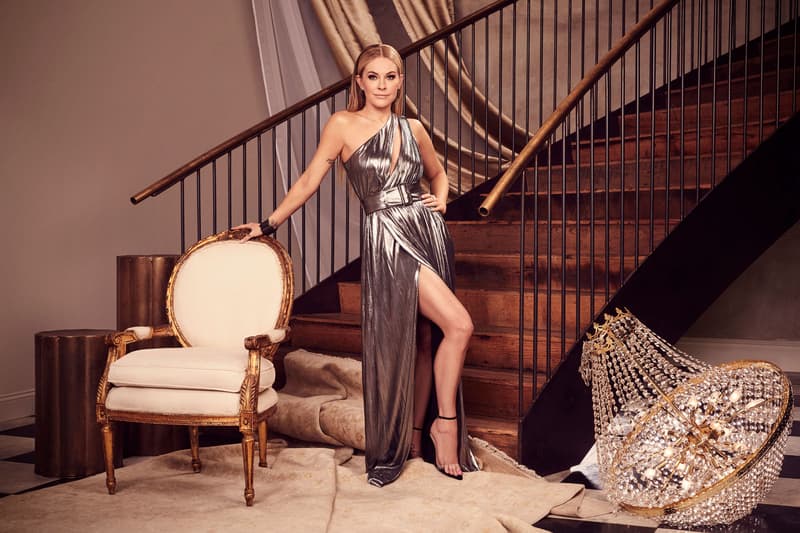 Film & TV
Leah McSweeney, Breakout 'Real Housewives' Star, Reflects on Mental Health and Fame
The Married to the Mob founder revisits her explosive 2016 essay on being diagnosed with bipolar II disorder.
Leah McSweeney, Breakout 'Real Housewives' Star, Reflects on Mental Health and Fame
The Married to the Mob founder revisits her explosive 2016 essay on being diagnosed with bipolar II disorder.
Leah McSweeney, founder of longstanding streetwear brand Married to the Mob, is everyone's new favorite housewife. The mogul, a fixture in the art and fashion scene, recently completed her first season of hit reality show The Real Housewives of New York City — or RHONY, as fans call it — with aplomb. McSweeney, who was recommended for the show by now-departed cast member Bethenny Frankel, quickly stole the hearts of viewers for defying all stereotypes of a typical housewife, both in the term's traditional sense and in the context of RHONY. Favoring the Lower East Side over the Upper East Side, and the charm of a rustic Russian bathhouse over a getaway to the Hamptons, McSweeney garnered a breakout following with her down-to-earth attitude, honest discussion of sex and hatred of tiki torches.
Her openness on a variety of typically taboo subjects — such as her 2002 arrest — was put to the test when fellow housewife Ramona Singer brought up an essay McSweeney penned in 2016 disclosing her diagnosis with bipolar II disorder. The personal essay, which HYPEBAE published exclusively all those years ago, re-entered the spotlight as Singer slammed McSweeney for drinking while on bipolar medication, a catty assumption that McSweeney later corrected (she takes an antidepressant but not antipsychotics used to treat bipolar disorder).
McSweeney's debut season of RHONY has come to a close, and she's setting the record straight on her explosive 2016 essay, her journey navigating mental health and the pitfalls of TV fame. Read HYPEBAE's reunion with the entrepreneur-turned-reality-star.
What motivated you to discuss your bipolar II diagnosis in your original 2016 essay for us?
I felt compelled to write it because I knew that more people would relate than not relate. Writing is therapeutic for me. Sharing things about myself is therapeutic for me — I've always been like that, I don't know why. It's not good or bad, it's just the way it is. Maybe because my mother is a therapist I've always talked about my feelings. Maybe it's somewhat narcissistic, I don't know. But it's helped me process [my diagnosis] to talk about it out loud. 
When you decided to join RHONY, did you ever think your diagnosis and honest discussion of mental health would be used against you?
No, I really didn't. Maybe I was naive. I think I talk about [my diagnosis] when the time is right and it makes sense…I'm not trying to hide it at all. But I just didn't think that it would be brought up in the way that it was. 
Throughout season 12 of RHONY, Ramona often characterizes herself as a maternal figure in relation to you. How did it feel having your so-called "mother" use your diagnosis as an attack on your character?
When I found out that she brought it up, my stomach dropped. There weren't too many things that happened in this season that made me uncomfortable, but that did. I was very nervous going into Mexico. I didn't feel good. I didn't want to talk about it. I was afraid that I was going to lose it on her, but I really kept my cool. It hurt — she said she didn't mean it maliciously, but I don't know if I totally believe her. I've forgiven her and we've moved past it and all that. I think she kind of learned her lesson, but maybe not — who am I kidding? We'll see.
It seems that a lot of the things Ramona criticized you for on the show — like your openness about mental health and sex — just show that stigma and taboo surrounding those subjects are very much alive and well. Do you hope your honesty will help break down barriers when it comes to mental health and bipolar II disorder?
Of course. That is another reason why I wrote the article and talked about [my diagnosis] publicly. Even addiction and alcoholism and mental health, these are things that almost every American suffers from, especially right now. And of course the stuff with sex is just total hypocrisy, because [Ramona] is a sex fiend. She is completely okay with everyone else talking about sex. These women are the horniest women I've ever met! I think Ramona just has an issue when I'm talking about it. 
"I'm on an antidepressant and I will probably always be on one."
Can you walk us through your journey navigating bipolar II disorder from 2016 to now?
It's interesting — I had gotten diagnosed when I was 30, which was eight years ago. I'd had bipolar II for a few years before I wrote the article. But in 2016, I was hospitalized for depression a few months before the election. People go crazy saying I didn't vote [in 2016] – I was in a mental hospital, so it wasn't the first thing on my mind. I met a doctor there who was the head of the unit and he took me off bipolar medication. It changed my life. I don't know if I was just over-medicated and it was making me more depressed. I do believe that I had a bipolar II episode, or episodes, for a year. But, knock on wood, ever since I got off the medication in 2016, I have not had what you would call bipolar II. I do believe that I am in remission.
In your original essay for us, you write about your time both on and off medication. The best treatment varies from person to person, but medications such as mood stabilizers and antidepressants are life saving for some people. How do you respond to those who are anti-medication?
It's just none of their business. I'm on an antidepressant and I will probably always be on one. Bipolar II medication, like antipsychotics, are much different. For people that are anti-medication for other people, I would say none of your damn business. Of course if you're anti-medication for yourself, that's your business. But how I feel about it is it can be a lifesaver. It can be a total game changer and there's no shame in taking it.
At the same time, you need to do your due diligence. You can't put your whole life into one doctor's hands; doctors aren't always right. Sometimes it's not just the pill — sometimes it's about making different choices. For me, that's what it was: getting enough sleep, staying out of toxic relationships, not putting myself in situations that are going to trigger depression.
How do you navigate speaking openly and honestly about mental health with your daughter, Kier?
I was very honest with her once that episode came out. I talked to her before it, and I said, 'Hey, remember the time I was away in the hospital for 5 days, and it was because I was tired all the time?' I told her it was for bipolar II disorder and I haven't had any symptoms of it, and I haven't been dealing with it for a long time. But the most important thing for Kier is that she knows she has two parents who take care of her, whether I have depression sometimes or not. Since that hospitalization, I changed my whole life. I started working out everyday; I made all these changes. Even during my one year back to drinking, which obviously wasn't great for my mental health, I still was in a much better place than I had ever been before. It's always a battle. You're never done growing…I think it's all about self-awareness. 
What has it been like dealing with the increased public scrutiny that comes along with joining a reality show?
Oh my god, it's so weird. It's so weird that I go onto Instagram and see all [these comments saying] "trashy drunk," "fuck you," "you're terrible." I honestly just tune it out. I'm like, you know what, this is what comes with it. You have to weigh the pros and cons, and the pros definitely outweigh the cons. I'm not going to get myself all twisted up over some stranger leaving nasty messages on my Instagram. My Instagram used to be more personal, and now I don't [post] pictures of my kid…it's more of a business now. I have to be careful of what I'm showing the world. I don't want to say I'm exploited, but I'm more exposed because I'm on a TV show. I'm valuing privacy now more than I ever have before. 
Share this article