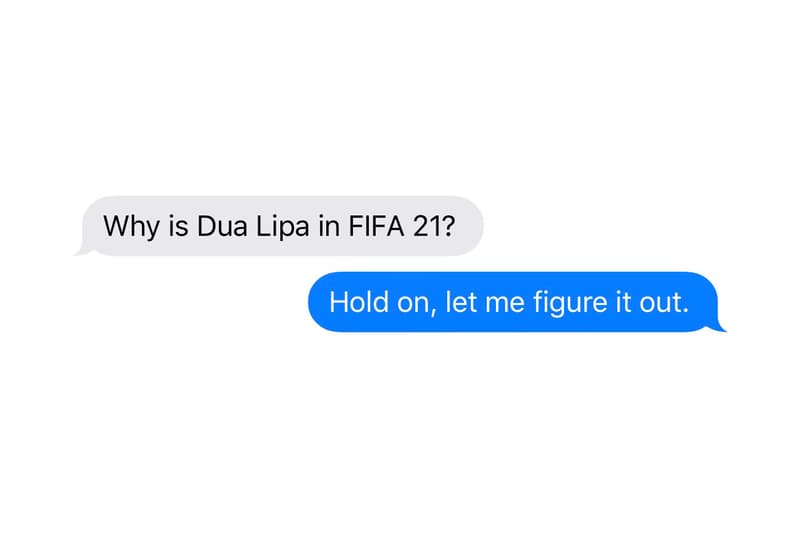 Culture
You Can Now Play As Dua Lipa in 'FIFA 21,' but When Will You Be Able to Play As Women's Teams?
It's almost like women play football too…shook, tbh.
You Can Now Play As Dua Lipa in 'FIFA 21,' but When Will You Be Able to Play As Women's Teams?
It's almost like women play football too…shook, tbh.
Yesterday, the highly anticipated PlayStation 5 was finally released after months and months of waiting. One of PlayStation's most popular games is FIFA, which has also seen a new release this year. Marking the 28th installment of the game, FIFA 21 is available across other consoles including Nintendo Switch, PlayStation 4 and Xbox One, and is already being played by thousands of people worldwide.
In the latest update of FIFA 21, the game introduced a handful of celebrity characters available to play, including David Beckham, DJ Snake, Lewis Hamilton, and Dua Lipa. Dua Lipa is also the first female to have been introduced to the game, and despite her being an icon, legend and all-around superstar, it does make me think about the frankly odd choice to introduce her as a character when you still can't play as women's club teams.
In a new update for @EASPORTSFIFA's #FIFA21, you can play as Dua Lipa! pic.twitter.com/AFNvHwkrU2

— Dua Lipa News (@dlipanews) November 12, 2020
With over 17,000 players featured, 30 official leagues with over 700 clubs, it does seem like there's definitely room for a few more women's teams. While I'm at it, I will also remind you that women's teams were only introduced after Spanish player Vero Boquete started a petition that called upon Electronic Arts to introduce female players in the game series. Over 20,000 signatures were collected in less than 24 hours, and FIFA 16 which released in September 2015, was the first game that included the female national teams.
It seems as if EA has made a conscious choice to exclude women's teams, perhaps because they don't see enough demand, or it simply just isn't "good for business." Introducing Dua Lipa as the game's first female celebrity player seems more performative than anything, despite her being an idol for many young girls out there, because although I can't wait to dribble around the pitch with Future Nostalgia blasting from my speakers, I'd still like to see more representation for the actual female players.
As a little girl, I grew up playing football in Sweden, and Marta was one of my biggest idols. I watched her score goal after goal, and wanted to be like her so badly. Back then, she was really the only female player to get the spotlight, and as women's football has grown bigger and bigger, young girls have more idols like Megan Rapinoe, Fran Kirby, Alex Morgan, Tobin Heath, Lieke Martens and Sam Kerr, to name a few, to look up to. Young boys have always had hundreds of players to look up to, and have always been enticed by the dream of becoming a professional football player like Christiano Ronaldo, Lionel Messi, Zlatan Ibrahimovic and Neymar. For young girls, the dream of becoming a professional football player has never been the same, as the role doesn't even pay the players enough to solely be able to rely on football as a career.
"Levelling the playing field isn't just about who plays on the pitch, it's about the social norms built around the universe of football and the investments sports and gaming businesses make to instill certain attitudes in their target consumers," says Charlotte Dukes, a grassroots football player for the team Victoria Park Vixens, based in London. "If I can see 1,000 men's clubs and 30 women's (national only) clubs, it signals to me that men take precedence in the realm, and as a business who verbally commits to D&I and correct representation, that's where they should be thinking 'I can be doing better.'"
"It's reinforcing the idea that the only role models for girls should be those that conform society's 'normal' standards, particularly at a time when football is becoming more accessible to young girls. To see your mates or even play yourself and only have Dua Lipa as the the of representation doesn't feel like we've come as far as we might have thought we had," says Ellie Esquith, another female player at the grassroots level, when asked about the decision to include Dua Lipa in the game. "She would be a cherry on top of they had all the actual women's players and teams," adds Morgan Brennan, captain and momager of Victoria Park Vixens, "I guess it also raises the question of whether Dua is in the game for the male players at home or for the female players," she adds. "I would be much more inclined to play FIFA if I could say play as a FA Women's Super League club. I've always been more engaged with women's football vs. mens, as it's a platform with visible role models for me. It would also gives male gamers the opportunity to explore the women's game, and build a healthier relationship and perspective with the success of some of the most talented female players in the footballing industry," Dukes finishes.
So perhaps the issue here isn't that women aren't interested in the game nor Dua Lipa being in it, the issue is that we aren't seeing the representation we need in the game. Men have always had quite a weird view of women's sports, and many see any mention of it as a chance to argue that women's football isn't at the same level as men's, so I set out to find out whether men would have any issue with more female players being introduced to the game, because we all know that most things are catered to men, anyway.
"There are teams that have extremely talented players and they should be just as much in the game as male players – plus it's always fun to have more variety of teams to play as in the game," says FIFA enthusiast and self-proclaimed champion Bob Moir when I asked about his thoughts around seeing more female players in the game. "More representation and variety means that there's more appeal to a wider range of people who may not have felt the appeal previously."
"Introducing more women's teams would be a way to introduce women to the game for sure, but they would have to market it that way. When they announced that international women's teams were in the game, it was really low-key so they missed the mark," says Daniel Hurworth, also adding that she had no idea that Dua Lipa would even be in FIFA 21. It seems like the game is making small steps to cater to a wider audience, but is unfortunately not making as big of a push as we would like to see.
So does the issue come down to the risk of losing loyal players when changes to the game is made? But wouldn't a wider player-range and more inclusion attract more new players? "Yes, you would get more players. However, you'd probably find you'd lose a small percentage of people who won't get it – but fuck them sexist gammon heads anyway," says Kyle, 23, adding that  "the pool of new players coming in would outweigh that, anyway." "Would be odd for someone to not buy the game due to the women being on there. But there are also a lot of odd people around," adds Ross, 23. "Having more female players on FIFA would increase the interest in the women's game to the same degree that increased interest in the women's game would increase the interest that audience buying FIFA."
It seems as if the general consensus is that adding more women's teams to the already 700+ clubs to choose from would only be a good thing. But would male players play as female characters, too? "I'd love to shut up some little Year Nine c*nt scoring with Leah Williamson, Arsenal CB born and bred in the 90+4 mins to win the league," says Conor, 23.
So, what are we looking at here? Female football players want to see more representation within both the FIFA game and football in general, and male gamers don't seem to have any issue with a wider range of players being introduced to the game. So why hasn't anything happened yet? Why are we still seeing new versions of the same game every single year, without more representation? "They had a great opportunity to do something special with this version of the game and I think they missed the point completely," says footballer Liv Partridge, "there's just not enough representation."
Take this as my formal request for EA to add women's league teams to the FIFA 22 game. I promise that the interest amongst female players will skyrocket, and the opportunity to provide young girls with role models and idols should be a reason alone. Meanwhile, I'll be playing as Dua Lipa and the women's international teams until my request is heard.
Share this article