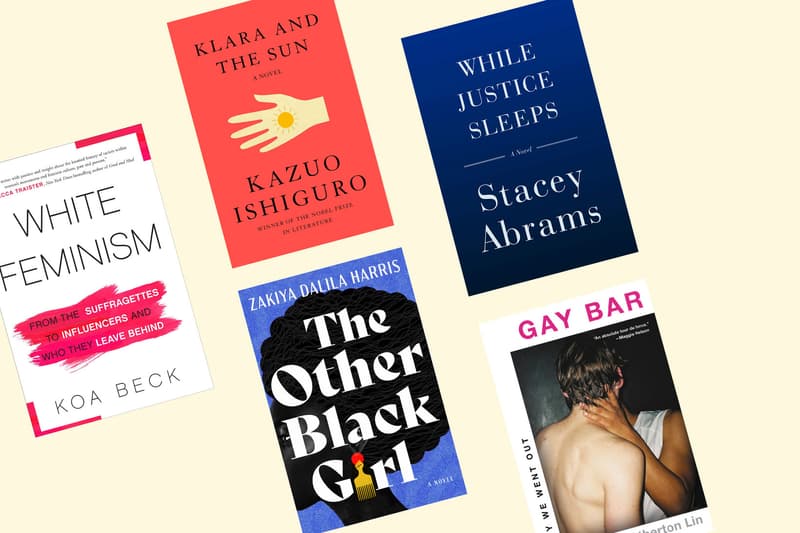 Culture
10 of the Best Books to Read in 2021
Literary novels and memoirs to keep you inspired in the new year.
10 of the Best Books to Read in 2021
Literary novels and memoirs to keep you inspired in the new year.
As the year draws to a close, a number of authors and publishers are welcoming 2021 with a slew of new novels and memoirs for avid book lovers around the world. If you are looking to update your quarantine reading list, our recommendations below has got your literary needs covered. From Zakiya Dalila Harris' mysterious The Other Black Girl, to Koa Beck's White Feminism highlighting the conversation about race, empowerment and inclusion in America, scroll down to discover some of the best titles to look forward to in 2021.
While you're at it, here are the best books to read if you're obsessed with beauty.
White Feminism highlights the important conversation about race, empowerment and inclusion in the United States. Writer Koa Beck examines the history of feminism, as well as the ongoing struggles for social change of overlooked groups such as the Native American, Muslim and transgender communities.
Release date: January 5, 2021
Whiting Award-winning author Nadia Owusu's memoir talks about her identity, what home means to her, Black womanhood and the effects of emotional trauma. Titled Aftershocks, Owusu details the life-changing events that have happened to her, as she explores universal themes of identity in the book.
Release date: January 12, 2021
Milk Fed tells the story of 24-year-old Rachel, a lapsed Jew who is on a strict diet. When she isn't working as an underling at a Los Angeles talent management agency, Rachel excessively works out on her elliptical machine at home. One day, Rachel's therapist suggests for her to take a 90-day communication detox from her mother, who taught her to keep track of her calories at a young age. During her detox, Rachel meets Miriam, an Orthodox Jewish woman who she instantly connects with.
Release date: February 2, 2021
Jeremy Atherton Lin's Gay Bar takes us back in time and explores the history of places that gay men conquered. The book highlights gay bars in London, San Francisco and Los Angeles, focusing on the post-AIDs crisis of the '90s to the present day. In addition, Lin shares his own experiences of being a gay man and a lifelong romance that began on an unforgettable night in Soho, London.
Release date: February 9, 2021
Kazuo Ishiguro, the winner of the Nobel Prize in Literature, is set to release a brand new novel titled Klara and the Sun. Klara, "an Artificial Friend with outstanding observational qualities," watches customers who enter and walk by the store she has been placed at on a daily basis. With the hope of one day being purchased, Klara aims to figure out the answer to the question: "What does it mean to love?"
Release date: March 2, 2021
Michelle Zauner's memoir, Crying in H Mart, tells the story of Zauner's upbringing as a Korean-American. After the unfortunate loss of her mother, Zauner had to figure out her identity and her place in society. In this heartfelt tale of family, food, grief and endurance, Zauner shares her life journey full of highs and lows.
Release date: April 20, 2021
The Final Revival of Opal & Nev centers on fictional '70s rock 'n' roll duo, Opal and Nev. Opal is an independent young woman who Neville Charles discovers performing at a bar during amateur night. Shortly after, Opal and Nev team up to make music for Rivington Records. However, after gaining a large fan base in New York City, the duo let fame go to their heads, and things begin to go out of hand.
Release date: April 20, 2021
Pulitzer Prize-winning, Man Booker Prize-shortlisted author Jhumpa Lahiri's new novel illustrates the haunting portrait of a woman in a beautiful Italian city. This unnamed woman, who journeys on her own, reflects on what she has lost and what lies ahead for her in the future.
Release date: May 4, 2021
While Justice Sleeps by Stacey Abrams is a gripping thriller set within the halls of the U.S. Supreme Court. Avery Keene, a young law clerk working for Justice Howard Wynn, is excelling at her job. However, when Justice Wynn, "the cantankerous swing vote on many current high-profile cases," slips into a coma, Avery's world turns upside down.
Release date: May 2021
Nella Rogers is an editorial assistant who is sick and tired of being the only Black employee at Wagner Books. When Harlem-born and bred Hazel joins the company, Nella finally finds someone in the office with who she has some things in common. However, as Hazel starts to gain more attention from their fellow colleagues, Nella gets left in the dust and starts receiving unexpected, threatening notes: "LEAVE WAGNER. NOW."
Release date: June 2021
Composite Imagery

Pauline De Leon/Hypebae
Share this article