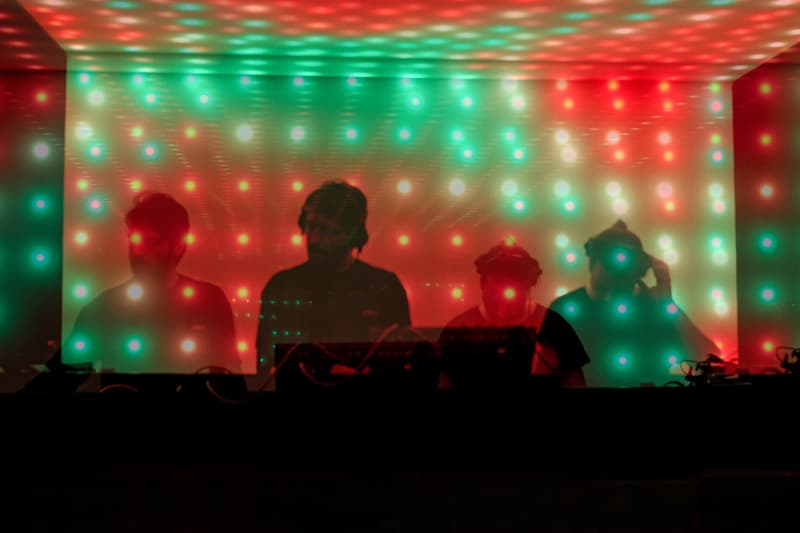 How to Party When in Self-Isolation
Get ready to dance this weekend.
Coronavirus has forced the world to go into lockdown. Clubs and bars have been shut since March to prevent the spread, while Glastonbury, Primavera Sound, Coachella and other festivals previously scheduled for the summer have had to be postponed or canceled altogether. Parties, as we know it, are clearly on hold until further notice. This has sadly taken a staggering toll on the music and nightlife industry at large, with many employees, promoters and artists left without work. While it is hard to keep morale high at such a trying time, the music industry has found a temporary solution, providing us with live streams and virtual concerts to get us through the weeks.
Recently a handful of outlets have been keeping the scene alive, even with self-isolation in full effect. We've listed some of our favorites, so keep scrolling for a list of virtual parties bringing live sets straight to our living rooms. Shut-ins of the world, unite.
United We Stream

Sure, there is the Berlin ban on clubs, but United We Stream, in partnership with ARTE Concert and radioeins, has designed a platform that brings the unique Berlin club culture online. The site features live performances direct from the German capital's best clubs such as Watergate, Tresor, Griessmuehle, Salon Zur Wilden Renate, and Sisyphos to name a few. Since launching on March 18, it has featured notable DJs such as Claptone, Monika Kruse, Objekt, and DJ Gigola.
DJ D-Nice's Club Quarantine
While many of the #StayAtHome parties feature electronic music and techno, DJ D-Nice's Instagram Live stream offers something a little more on the funk, soul, hip-hop side. The multi-hyphenate producer started his shows on March 17, billed as "Home School" from his apartment in Los Angeles and it has since earned thousands of virtual regulars including celebrities such as Rihanna, Oprah Winfrey, Jay Electronica, Diddy, and Mark Zuckerberg.
Boiler Room
Even before coronavirus hit, Boiler Room has been the go-to site for many partygoers, whether it's for pre-game or prerequisite background sounds for house parties. Launched in 2010, it has exploded into one of the biggest names in events and live music streams, collaborating with the best brands and DJs in the industry. With the recent lockdown, the company has launched a "Streaming From Isolation" series featuring live gigs from artists such as Helena Hauff, Four Tet, and Disclosure from their homes, which you can view on its Facebook and YouTube accounts.
Le Mellotron (Paris)
Le Mellotron is a Paris -based radio station and company featuring emerging and established artists from the Parisian music scene and beyond. Since its inception in 2009, it has amassed a growing community of fans that feed on its eclectic musical offerings. The label's space in Republique is currently closed, but it continues its regular radio shows, some of which include archival streams that you can catch from the website.
HÖR
HÖR is an online music platform and a cultural community space located in the heart of Berlin's Kreuzberg district. "Our booth is sanitized and ready to go," the Berlin outlet captioned a post featuring a live DJ set during the peak of the German city's lockdown. Right now HÖR is also having a special weekly program with Triangle Agency (TTT) to support Berlin's club scene. HÖR has featured DJs Elen Allien, Freedy K, and Blawan to name a few and is currently active daily from Monday to Friday between 4 p.m. – 10 p.m. All sets are filmed and streamed live on Facebook and YouTube, and archived on its different social media channels.
UNKWN
UNKNWN has been bringing electronic music to Manila through its events and club nights, and is keeping its community connected and enriched during the crisis the best way: dance music. From recorded live sets and mixes, to live streams and playlists, the weekly virtual gigs tie in with different charities and organizations organizations instrumental to improve the current situation. So far, the generosity of its community has aided urban poor families, Covid-19 test kit production, as well as help for the LGBTQI community affected by the virus. You can catch the sets via
www.unknwn.asia
. The videos are uploaded on our YouTube, too.
Lady Gaga One World Together At Home
Lady Gaga has partnered with WHO and Global Citizen to launch an online festival on April 18 called "One World Together at Home." The global special will air on major television networks and streamed online on Saturday and will feature Alanis Morissette, Andrea Bocelli, Billie Eilish, Burna Boy, Chris Martin, David Beckham, Eddie Vedder, Elton John, FINNEAS, John Legend, Kacey Musgraves, Keith Urban, Kerry Washington, Lang Lang, Lizzo, Maluma, Paul McCartney, Shah Rukh Khan, and Stevie Wonder among many others.
Editor

Tora Northman/Hypebae
Share this article